Kvelertak featuring Black Tusk and Cancer Bats at Webster Hall in NYC.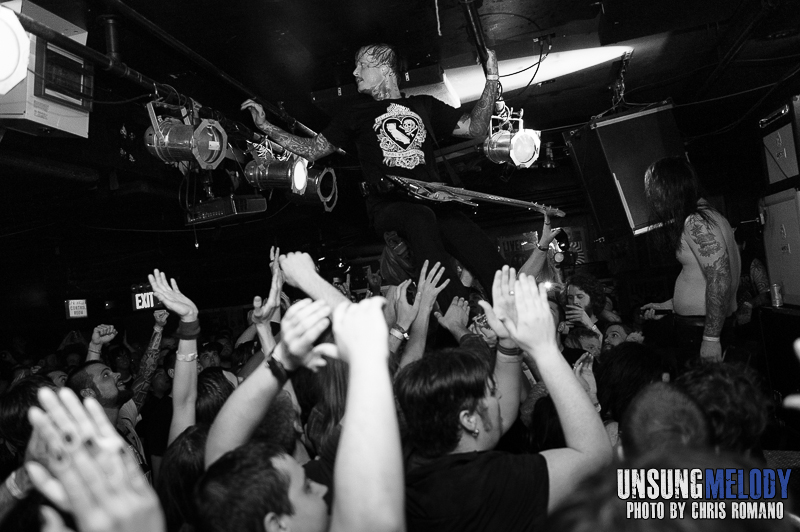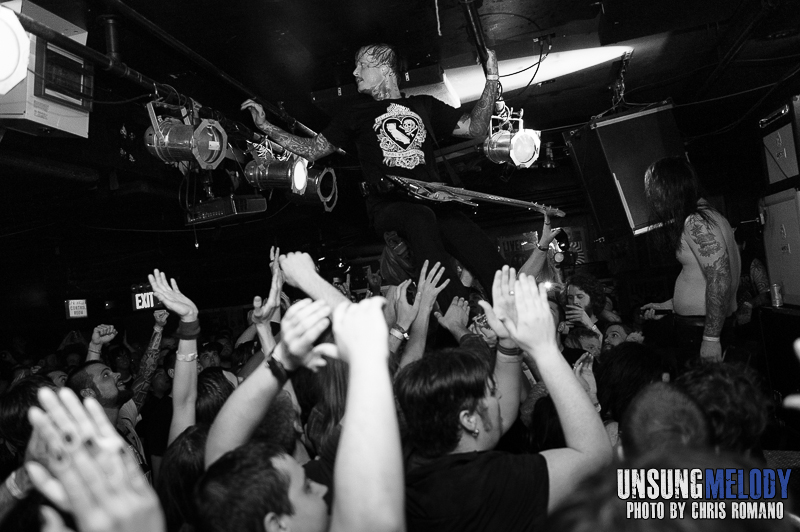 Three bands, three different countries. Similar musical twists and feel, but each unique in their own way. This is the basic definition of what comes with this year's Meir tour. The Studio is a smaller venue nestled underneath the historic Webster Hall in New York City, and has hosted not just smaller bands, but big bands that often play large arenas and want something of a more intimate show. While Kvelertak may not be an arena band (yet at least), they did manage to sell out the venue, just like those bigger bands do, and for good reason.
One of the bands on this tour riding with them is Black Tusk. A three-piece group of hard rockers from Georgia, I've seen them a few times now, and always love what they do. If a band were to ever ask me, "Who do you think has good stage presence?" I would immediately answer, "For small stages, Black Tusk".
When I arrived at the venue, I saw the bassist, Jonathan Athon, sitting at the front of the stage, just hanging out and drinking a beer. Once the band's intro finally kicked on, Jonathan grabbed his bass, jumped into position and was joined on the stage by drummer Jaime May and guitarist Andrew Fidler.
The three southern boys kicked things off with This Time Is Divine and instantly displayed their well-tuned stage skills for the early audience. With Andrew's guitar still ringing, Jonathan told the crowd, "I want everyone to put their metal horns in the air and say six, six, six!" as Black Tusk broke into Bring Me the Darkness. With Jonathan, Andrew and Jaime all taking lead vocal duty at times during songs, when Jaime was the vocalist Jonathan and Andrew would stand close to each other or back to back, lifting their instruments high up in the air. From all the moving and rocking, by the third song, all three members of the band were drenched in sweat.
Check out the Black Tusk photo gallery here.
Speaking of sweat, being as The Studio is literally a basement, sweating was a common issue for all the performances this night. In a tight space with not much air, and musicians putting all their energy into their playing, it leads to big sweaty guys dripping all over the stage.
The only downside of Black Tusk's set for me was how with the amps for all three bands of the night stacked on the stage, Jaime May was almost hidden at the back of the stage, making it almost impossible to see him unless you were standing in the center of the stage. Luckily, he would make up for it later in the night…
Next in line was hardcore punk group from the Canada, Cancer Bats. The last time I caught them was when they opened for GWAR a little under a year ago. They rocked then, and they rocked even harder this time. They're the type of band that I think excels in a small and intimate venue, as vocalist Liam Cormier loves to shove his microphone into the faces of fans that want to scream the lyrics.
Check out the Cancer Bats photo gallery here.
Beginning their hardcore domination with Pneumonia Hawk, Cancer Bats quickly got everyone crowded in front of the stage and into a headbanging frenzy. A crowd gathered closely to the stage and started to sing along with Liam. Once he noticed this, he quickly got as close as possible to them, yelling alongside the group, even with bassist Jaye R. Schwarzer making his face blue screaming out backing vocals. "I know its early, the sun is still out and we're stuck in a basement, but who wants to get rowdy with me?" Liam asked excitedly. With that, they continued with Road Sick, Pray For Darkness and Drunken Physics, a fine combination of hardcore tunes that had guitarist Scott Middleton shredding away through riffs and solos that were frantic and relentless.
For their last song, Hail Destroyer, Liam made a call for one last circle pit, which many happily obliged. From what I could see, this pit was old school, with everyone just throwing their weight around. There was none of the new style "hardcore" dancing, with flailing arms and legs. Maybe it was the people, or maybe it was just Cancer Bats' music, but I prefer the old school style, and I liked what I saw.
Now before I begin explaining what occurred during the headliners, Kvelertak, set, I'm going to out right say, this was one of the greatest live music experiences that I've ever had. Leading up to the show, I knew that many heavy metal icons had been making sure not to miss this tour when it came to their area, including Robb Flynn of Machine Head, James Hetfield of Metallica, and Randy Blythe of Lamb of God. Just knowing that those guys would take their time to see a band playing in small venues like The Studio had me pumped, and knowing I was about to be a part of something special.
From the first riff, the floor was lively. No matter how tight the space was, no matter how sweaty they would get, when Kvelertak was playing, people were moving. The first song I think may have been Åpenbaring, but as I did not see a setlist posted anywhere, I'm going completely off of memory.
Check out the Kvelertak photo gallery here.
At first, vocalist Erlend Hjelvik came out wearing a vest, but by the time they played Fossegrim, Erlend was fully drenched in sweat, so he threw it to the back, never to be seen again. Erlend excelled at the same feat that Liam Cormier of Cancer Bats did earlier, with gathering a rowdy crowd into a frenzy. Only for Erlend, it was much easier, as instead of just a few select fans knowing the lyrics, nearly the entire room did. Norewegian language lyrics did not stop the New York City crowd from singing along to every song, especially brutal hard rocker Bruane Brenn.
Guitarist Maciek Ofstad seemed to struggle with technical problems most of the show, primarily with his guitar amp output, but he never seemed to let it stop him from rocking out. At one point, the crowd at the front of the stage pushed the microphone stand he was using to provide backing vocals into an awkward position. As it was in his way of playing guitar, Maciek threw the entire mic stand down to the ground, laughing away. As a crew member dashed to the stage to replace the microphone, he discovered Maciek had damaged the mic in some way, preventing it from working at all. It took nearly two songs for a fresh microphone to be replaced on a stand in front of Maciek. It was a pretty punk rock move of him, but I did feel bad for the crew member who had to frantically repair all the nuances on such a small stage. The one missing link from the show however, was drummer Kjetil Gjermundrød, who by reports was experiencing some arm pain early on in the tour, and decided to fly back to Norway to get it properly examined. In his place on the throne has been Jay Weinberg (son of drummer Max Weinberg, of Late Night with Conan O' Brian and Bruce Springsteen and the E-Street Band fame), and at least at this show, he did a pretty solid job. While I'm not a drummer myself and can't comment on his skills entertainment-wise,Jay was on fire. It was a common occurrence to see Jay jump off his chair constantly, crashing down on his cymbals with a fury and energy that must surely make Kjetil proud.
While all three of Kvelertak's guitarists are quite talented, the one that left me the most awe-struck was easily Bjarte Lund Rolland. While countless guitarists are capable of playing without a guitar pick, typically either on an acoustic guitar or for brief moments on an electric, Bjarte prefers to play his electric entirely without the assistance of a pick. Chords, solos, it didn't matter as Bjarte slammed away at the strings of his Gibson SG with just his palm and fingers, it added an interesting dynamic to the overall guitar sound.
As their set was finally winding down, bassist Marvin Nygaard clearly had grown tired of standing and playing on the stage. I say this because towards the middle of the song, Marvin climbed to the ceiling of The Studio, pulling himself around by grabbing onto the overhead stage lights situated on the ceiling, and crowd surfed over to the nearby bar, where then, and only then, did he continue to play his part.
When Kvelertak left the stage momentarily, immediate cheers, applause and screams of, "One more song!" filled the room. Upon their return, I believe they broke in the song based on the band's own name, Kvelertak. To completely honest, I'm not even sure they finished playing the entire last song of the night, Utrydd Dei Svake. For starters, Bjarte eventually grew tired of standing on the stage, and he passed his guitar to his guitar tech, jumped into the crowd, climbing and surfing around as Marvin did just moments earlier. Meanwhile, Jaime May and Jonathan Athon of Black Tusk came to the stage with a large drum in their hands, and they handed drum sticks to the crowd to beat on the drum with them. Even Jay's drum tech joined along with him, slamming at whatever could produce a beat on the stage. While it was a struggle for the five standing members of Kvelertak to move on the small stage of The Studio all night, it was near impossible once an additional eight or ten others joined them. The entire final minutes of the show was filled with an incredible amount of chaos, but I would be dead wrong if I said that everyone, band, crew, and audience alike, did not have an absolute blast.
Make no doubt, Kvelertak is going to be huge. They've already made a huge impact on Norway, and now they're making strides towards domination in North America. New York City was given a real taste of what the Norwegian punk/black metal/rock band has to offer. Those that attended this sold out show left with a feeling of both exhaustion and adrenaline. Even with lyrics that are completely in Norewegian, that didn't stop fans from gripping onto their catchy hooks and singing along. With their incredible talent and energy, I cannot wait to see Kvelertak live once again, hopefully on a much bigger stage.