Iron Maiden terrorizing the Ball Arena in Denver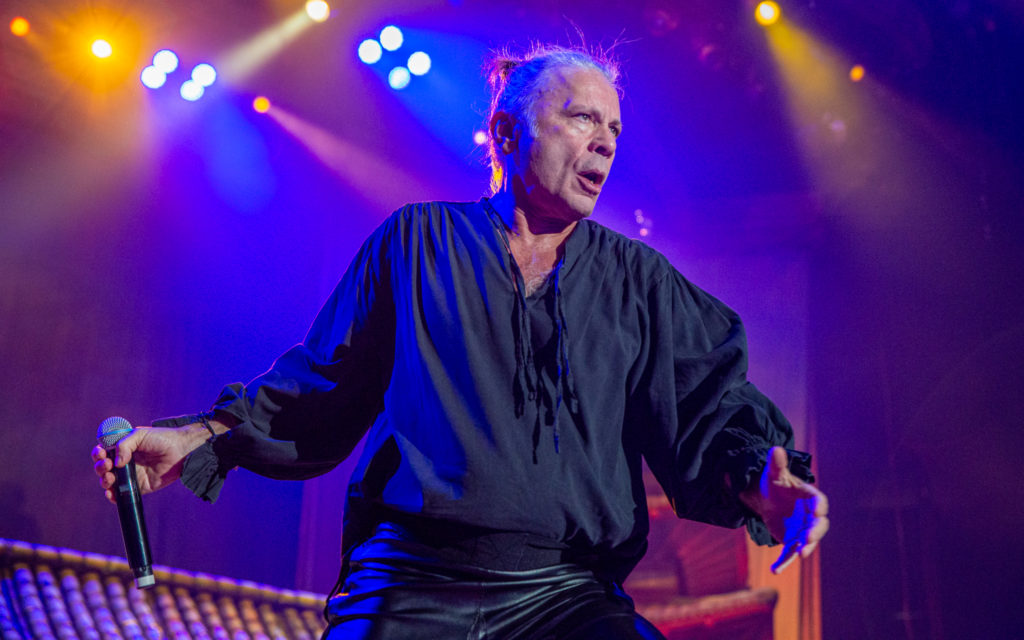 COVID-19 seemed to put a damper on almost everyone. Despite this, many of music's foremost bands and artists powered through, and many of them had written new music. Iron Maiden certainly spent their time wisely and recorded Senjutsu, their latest opus. With new music, the band debuted their new Eddie, as well.
Dressed up as a samurai warrior, Eddie joined the stage during the first song that kicked off the show. "Senjutsu", the title piece of their latest album, was performed with Eddie showing up attempting to subdue the band members, amid their performance in a Japanese-like village setting. A further two songs off of Senjutsu ("Stratego", "The Writing on the Wall") were performed, to much excitement of the fans.
As the band continued to strut and contort and absolutely enjoy themselves on stage, the set pieces changed to a cathedral with "lit" chandeliers, various stained-glass windows that showcased various iterations of Eddie, and a new backdrop. Kicking off this set changeover with "Revelations", it's a cut that the band have rarely performed over the years, and fans were MORE than excited to see it live. Soon, Bruce (Dickinson, vocals) cuts to the chase with a bit of dialog before kicking off "Blood Brothers", and "Sign of the Cross".
My personal favorite was when the set changed again, but this time, to showcase for "Flight of Icarus". The incredible set piece is a stylized version of Icarus, and upon the song's magnificent conclusion, his wings fall down, as he's dropped from the ceiling. Really, a marvelous piece of production.
The next several songs were certainly some of Maiden's best known pieces. "Fear of the Dark", followed by "Hallowed By Thy Name", "The Number of the Beast", and the band's namesake song, "Iron Maiden".
The sheer energy everyone showcased on stage, you would never think that they're all over the age of 60, and certainly melting faces off of the fans in the crowd.
After a relatively short break, they kicked off an encore of "The Trooper", "The Clansman", and "Run to the Hills". I'm pretty sure that almost the entire arena were singing with Bruce the entire time. And, after another short (but a slight bit longer than the first encore), they joined back up on the stage to perform "Aces High". With the barreling and "flying" airplane set piece above the band, it certainly made quite the spectacle.
Certainly one of their biggest productions yet, and this show is tons-of-fun.
Iron Maiden Setlist – September 17, 2022
01. "Senjutsu"
02. "Stratego"
03. "The Writing on the Wall"
04. "Revelations"
05. "Blood Brothers"
06. "Sign of the Cross"
07. "Flight of Icarus"
08. "Fear of the Dark"
09. "Hallowed Be Thy Name"
10. "The Number of the Beast"
11. "Iron Maiden"
Encore:
12. "The Trooper"
13. "The Clansman"
14. "Run to the Hills"
Encore 2:
15. "Aces High"