Resilience. Drowning Pool and Flyleaf at The Paramount in Huntington, NY.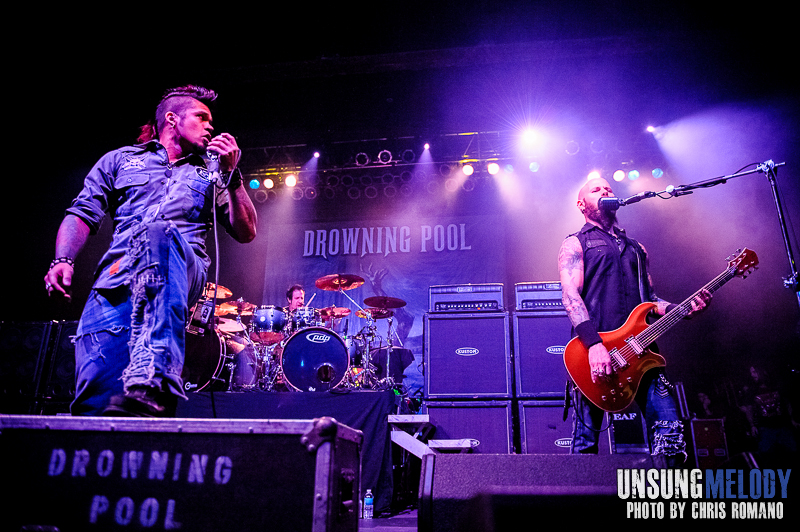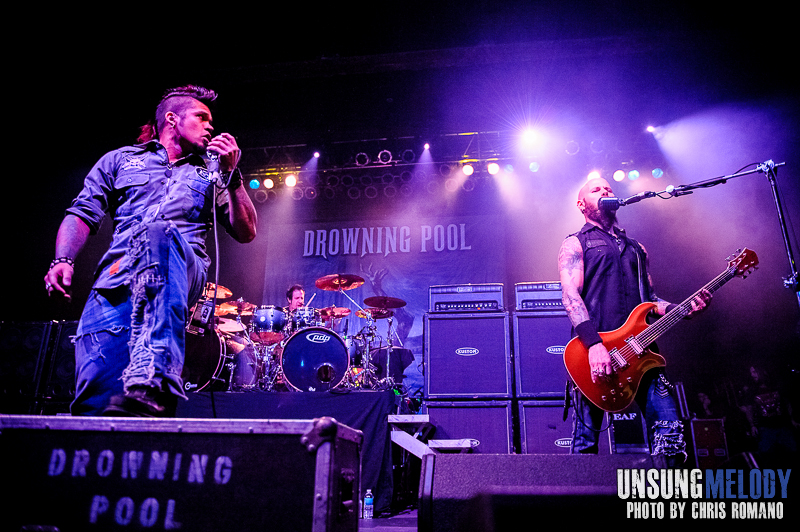 It may seem like an odd pairing, but rock bands Drowning Pool and Flyleaf joined forces for a 21 city US tour this winter. The unique part about the pair is that each band has a new lead vocalist, Jasen Moreno for Drowning Pool (who replaces Ryan McCombs) and Kristen May for Flyleaf (who replaces Lacey Sturm.) This leads to a unique experience, as this is likely the first time many fans are seeing the new front man/woman. I caught the tour recently on its stop on a cold night at The Paramount in Huntington, NY and was excited to see what the Texas rock bands were made of.
The show opened with a short set from local rock band Face the King. Having recently won accolades as, "Best Band of Long Island" and an appearance at the 2012 Rockstar UPROAR Festival, FtK was a great choice as an opener. While perhaps a bit slower and more melodic than what was to come, such songs as "You, Me & the Sound" caught the attention of the crowd. Front man Eric Zirlinger took the time to mention that he was quite happy with the sound produced at The Paramount, and those who arrived early were quite pleased with the rock that FtK brought.
Next up was LA based official tour opener Stars In Stereo. With large boxes on stage behind the members of the band playing multi-colored flashes of light while displaying the band's logo of a star with a lightning bolt, flashes of green and purple lights filled The Paramount as SIS rocked through their set. As it was my first time seeing SIS, I was most intrigued with how front woman Bec Hollcraft handled the crowd. Whether she was equipped with a guitar or just a microphone in hand, she portrayed a constant amount of energy to those in attendance. Meanwhile, lead guitarist Jordan McGraw was up and down, jumping all around and on the stage monitors with a fury and a smile. With their pretty hard rocking set, SIS was certainly able to to win over quite a few members of the audience, most particularly the Flyleaf fans.
Surprising to me, the first of the two headliners to take the stage was Dallas' own, Drowning Pool. As drummer Mike Luce took to his kit, perched on a riser high above the stage, the show started with him yelling to the crowd through his equipped headset, "Are you ready?!" With that, the rest of the band joined the stage and broke into their hit "Step Up".
New lead vocalist Jasen Moreno took control of the front of the stage primarily, jumping on top of black road cases marked with the band's name. As much of the crowd were experiencing his presence for likely their first time, Jasen didn't let it hold him back. Numerous times he shouted for hands and horns in the air.
Guitarist CJ Pierce was a pleasure to watch throughout their set. While often providing backing vocals alongside his shredding, CJ drew a huge grin on his face the entire time. During one of CJ's guitar solos, Jasen and bassist Stevie Benson (whom I had the pleasure of interviewing earlier in the day, you can read that here), ascended the stairs to Mike Luce's drum throne, grooving along one another with heads high.
Be sure and check out my photo gallery of Drowning Pool here.
Before playing the band's latest single "One Finger and A Fist," from their upcoming new album entitled Resilience, Jasen explained to the crowd what the song was about and what to do during the chorus. He had everyone hold their hands out high, point their middle fingers to the sky, and shout out. Taking a picture of crowd really got people pumped to hear the new song.
Coming to a conclusion, the band ended with the songs, "Feel Like I Do," and of course, the timeless metal song that brought them to the spotlight, "Bodies". Before Jasen broke into the first scream of "Bodies", drummer Mike Luce teased the crowd saying, "We have one song left, can you guess what it is?". Certainly, everyone that was there to see Drowning Pool that night did, as chaotic moshing and jumping was prevailed once the song kicked in and went into overdrive.
Working together on a hard rock finish, the band teased the crowd with what sounded like a snippet from the end of Metallica's "Creeping Death." Before leaving the stage, bassist Stevie Benson took the time to bite each one of his guitar picks before tossing them to the crowd and giving his final thanks.
To me, it seemed Jasen Moreno is in the right place, but not completely there yet. It was pretty clear that other than hits like "Feel Like I Do" and of course, "Bodies", the crowd wasn't entirely captured by Jasen as the new singer for Drowning Pool. That's not to say he did a terrible job by any means. I certainly noticed he had a great way of grabbing the crowd when they performed "One Finger and A Fist", as well as their other new songs "Die For Nothing", and "Saturday Night". Trying to step into someone else's shoes and sing their songs is no easy task by any means, but it was clear that the songs he helped write allowed him to present himself in a far more natural way. However, Jasen at least had a good time at The Paramount, and is working his twist in to what could be Drowning Pool's new direction.
After a short turn over, Flyleaf took the stage.
For starters, I will flat out say it: Bassist Pat Seals, is a mad man.
On Flyleaf's stage setup are two 2-step risers. Typically, on the stage right one, vocalist Kristen May and lead guitarist Sameer Bhattacharya would take turns stepping up it, giving themselves a better view of the crowd below them. However, the riser on stage left was reserved solo for Pat Seals, who would run up and jump off of it constantly. At least 5 times a song! The endurance he must have to do that is really something special. Even at some points, he would help provide Kristen with backing vocals or screams at a microphone podium next to the riser, before jumping off again to rock out.
"Cassie", a track from the bands self-titled album, was the fourth song in their set, and quite the heavy attack. Guitarists Jared Hartmann and Sameer Bhattacharya joined in with Pat Seals in jumping and running around the stage chaotically during the song, as strobe lights engulfed the stage.
New lead vocalist Kristen May, formally of the rock band Vedara, is interesting. She is clearly an excellent singer, and brought a fresh take to the songs originally sung by former vocalist Lacey Sturm. However, one thing I noticed is that Kristen seemed rather shy. Many times she mentioned to the crowd, "I'm not really sure what to say, but I am happy that you're all here, and I'm happy to be here!" Her focus seemed to rely solely on singing great, which was a stark contrast to the other female vocalist that night, Bec Hollcraft of Stars In Stereo. At a few points, she did mention some of her favorite songs, including "Great Love", and "Broken Wings". Perhaps she is just growing in to her new position as the front woman of a bit heavier of a rock band.
One of my favorite parts of Flyleaf's set was when Sameer Bhattacharya brought out a violin bow, playing his guitar similar to the great Jimmy Page. I'm not entirely sure how much it added musically, but it was certainly a pleasure visually.
Be sure and check out my photo gallery of Flyleaf here.
A majority of Flyleaf's set had what looked like very little crowed participation. It's possible that the Long Island fans were just engulfed in the music, or just unfamiliar with many of the songs being played from the bands latest album, "New Horizons." It wasn't until the final two songs of the night that there was a really great crowd reaction. "All Around Me" and, "I'm So Sick" certainly earned the best movement and singing along from others.
Oddly, after "I'm So Sick", Flyleaf simply left the stage. No thank you or goodbye from Kristen May, no rocking ending like when Drowning Pool finished their set, simply an exit. It left myself and the rest of the crowd a bit confused as to whether or not there would be an encore, which there was not. Certainly one of the most awkward endings to a show I have ever experienced.
Overall, it was a decent show. I was a bit surprised that Drowning Pool played before Flyleaf, but perhaps they are switching who plays last each night during this tour Jasen Moreno and Kristen May are great vocalists, but in my opinion, it will take a bit of time until they have cemented themselves in the minds of fans as the new lead vocalist of each of their respective bands.