The Band Perry's "We Are Pioneers" Tour feat. Easton Corbin & Lindsay Ell At Rockford BMO Harris Bank Center In Rockford, IL.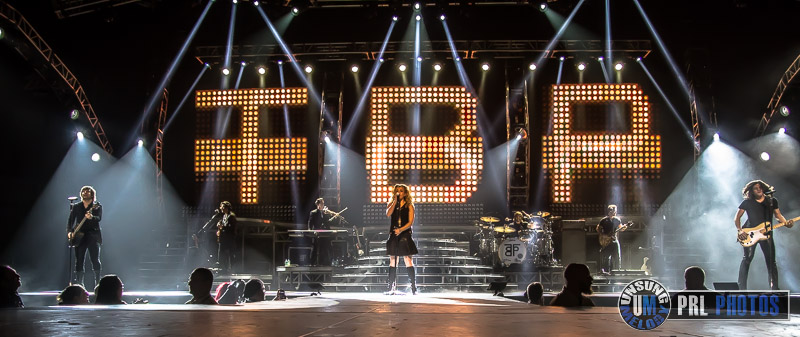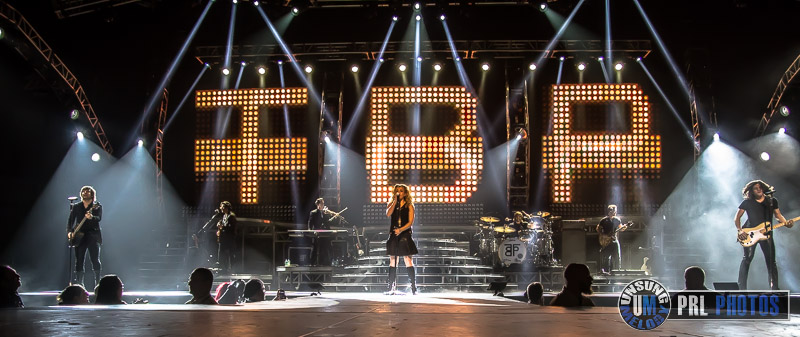 The day started out all over the map: Waking up to snow falling, which turned into rain and temperature reaching close to 50 degrees before walking out of the venue to freezing temperatures, but this is the Midwest for you.
The BMO Harris Bank Center in Rockford has received a makeover in the last year and has been bringing topnotch entertainment to Rockford. The 10,000 seat venue filled up throughout the night as the headliner, The Band Perry, came on to a full house. Opening the show was the talented Lindsay Ell. Lindsay has been cutting her teeth on music for a few years now and has toured with Blues Great Buddy Guy before turning her full focus on country. She brings a very fresh sound with her guitar playing that rivals many in rock. Showcasing her skills with a cover of "American Woman", which opened with signature guitar licks from famous guitar players in rock.
Playing the song "Don't Take Me Home" along with the jaw-dropping acoustic playing and singing in "Not Another Me", she ended the night with "Trippin' On Us", her new single. Keep Lindsay on your radar as I see big things coming from her and her new album to be released this year.
Lindsay Ell:

After such a new take on country music, it was time to bring it back to the old school with Easton Corbin. As the light dimmed, the band walked out and opened with "The Way Love Looks". With his backing band, Easton stood up front with an acoustic guitar and sang away in front of his microphone. I found this a bit strange as he worked up a sweat during his set, and he did not disappoint when he played "A Lot to Learn About Livin'". Playing a 45-minute set, he poured it all out on the stage and played his new single "Clockwork", off his upcoming third album. He ended his set with two covers, the first being the Brooks & Dunn hit, "Brand New Man", and the song made famous by Alabama, "If You're Gonna Play In Texas (You Gotta Have A Fiddle In the Band)", which left the crowd dancing in the aisle and singing along.
Easton Corbin:

The crowd did not have to wait long before the lights dimmed again and screens behind the band lit up with the faces of the sibling group, The Band Perry, as it counted down to them on a platform as they kicked into "Done" off their latest album, Pioneer. While many bands have sophomore pangs after such a successful debut album, The Band Perry have not. With several singles already and still more to come, it was time for them to headline a tour.
The Band Perry have ridden the wave of new country music and are not afraid to push it like they did with several covers. Playing "Night Gone Wasted", "You Lie", and "All Your Life" got the crowd 100% into a full-blown party and celebration of country music. Each member of the band took turns explaining why they were worth something in life before launching into the playful song, "I'm A Keeper". A patriotic version of the Star Spangled Banner had the crowd chanting "USA" before playing a beautiful version of "Pioneer". They then showed their spiritual side with a cover of Chris Tomlin's, "Amazing Grace (My Chains Are Gone)". After such soulful music, it was time to have a little fun.
Pretty much out of left field, they played the Pitbull song, "Timber", and I have to say, it sounded like they could be on the remix version. Not to slow things down, they played "Chainsaw" and the Queen classic "Fat Bottomed Girls". I have to give the band credit for not being afraid to show the large catalog of music they are listening to.
They ended the night with "Don't Let Me Be Lonely" as they teased the crowd for a few minutes before closing with their biggest singles, "If I Die Young" and "Better Dig Two".
This being my first time seeing The Band Perry live, they have me as a keeper. The tour runs for a few more shows before they head out with Blake Shelton with a Chicago date at Wrigley field on 7-19-14.
The Band Perry: