Steel Panther – All You Can Eat (Album Review)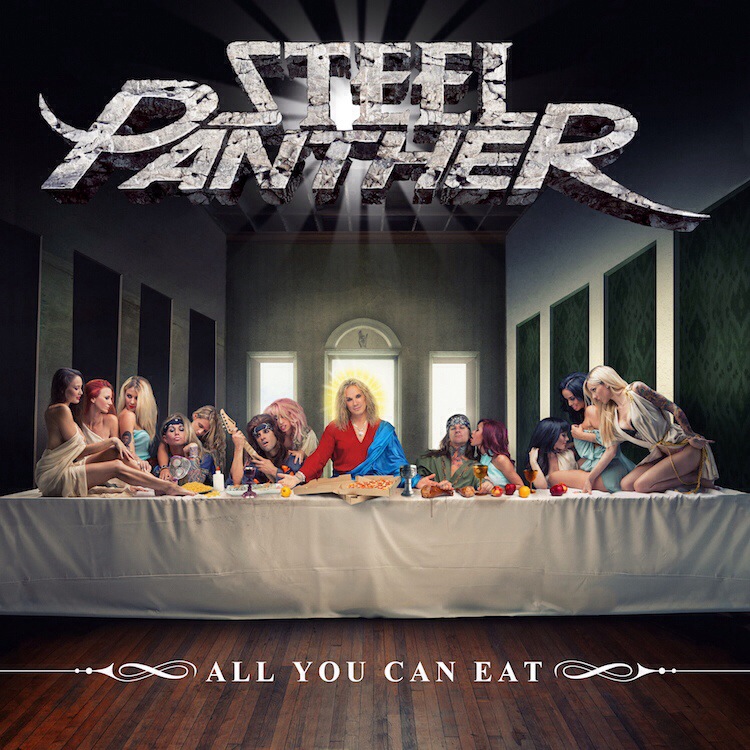 *WARNING: If you have no sense of humor, stop reading now.
If you remember the excess and debauchery of Los Angeles and the Sunset Strip back in the '80's, well you probably read about it; Because no one that was a part of the excess and debauchery of LA in the '80's remembers any of it.
One band has adapted that lifestyle as their own personas. In the process, they've created some tremendous metal and blended it with comedy gold. That band is none other than Steel Panther.
If you put Van Halen, Iron Maiden, Weird Al Yankovic and Andrew Dice Clay in a blender; you'd have a huge mess. BUT, if you mixed that with some Betty Crocker and baked it, you'd have a sweet formula to create your own Steel Panther!
Musically, I'd put put Steel Panther up against any band out there. I've said that before. Don't believe me? Here's a concert review to prove it. Their songs are very well-crafted and the vocal melodies are more hooky than the dark streets of Las Vegas. What makes them who they are and the element that sets them apart, is their raunchiness. I feel like I need to wear a condom every time the chorus of the next song starts. It's sleazy, it's dangerous and it's fun. Unless of course you have no sense of humor and are easily offended, like, you know, most Americans these days.
Their song titles will clue you in on subject matter, but their musical talents will be the reason you stick around. From song titles like Pussywhipped, Gloryhole, Gangbang at the Old Folks Home, Bukakke Tears and She's on the Rag; you'll gather the lyrics are much more sexual than they are intellectual. If you're cool with that, you're gonna love this album.
Party Like it's the End of the World puts us in a scenario of, if you can't figure out what that's about, I quit. The video has topless women galore, so don't be watching at work.
Gloryhole is the next song that is visually aided with a video. It's….well, uhhhhh…You can view that video below, just do not watch it at work.
Tender ballads pull at your heart strings. Songs of love and loss create a….LOLOLOLOLOL Okay, I'll stop. You'll get the idea when I say these two titles; Stop F*cking My Heart in the Ass and The Burden of Being Wonderful. You can check out a video for the latter below.
One of the funnier, more clever thought-provoking optimistic?, tunes is If I was the King. If this one happened, we'd all have fun…for at least a few weeks or months. Then I fear some newly created STD would wipe us off the planet, but boy would we have some stories to share! They'd be told in hell, but yeah, they'd be timeless stories!
Ending on a serious note, the music is great. The comedy, while filthy, is comedy. So expect to laugh, even if it's only in disbelief. Let go of your inhibitions and just laugh. I think a Steel Panther would agree with me when I say that the world simply needs to laugh more; Especially at itself.
Unsung Melody Score: 8 out of 10
Preview or purchase All You Can Eat below: