Initial Thoughts. A review of the self-titled release by Various Cruelties.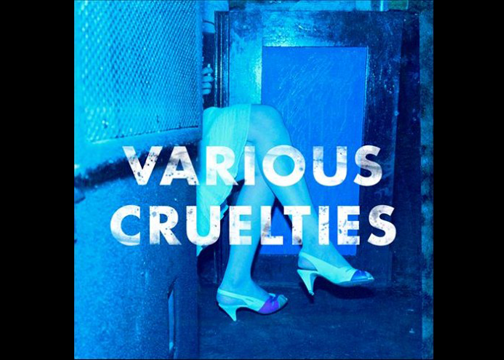 We here at UnsungMelody.Com love to shine a light on artists that we feel deserve it. We created an entire series dedicated to such artists, we call it our Unsung Artists. Today, I'm introducing a slightly different band to the family. A band called Various Cruelties. The band can be described as British Pop, but that's not fair. Sure, they are British, and there are pop tendencies in the music, but for me, there is something more here. I'll try and capture my emotions, as l take you on our journey that we like to call, Initial Thoughts.
First up, is the new single, Chemicals. The song has already garnered the band a lot of attention, and it's gaining traction here in the States as the release date slowly approaches. There is a certain calmness delivered by vocalist Liam O'Donnell, no matter the subject matter. It's as if he's in a peaceful place, and he is sharing that place through his voice. With a sense of melody, not unlike the Arctic Monkeys, Liam adds in something extra. I can't quite put my finger on it, but I hear a familiarity in his voice. Almost, as if we've been friends for years, and I'm hearing him on the other end of a phone call after some time. As for the song itself, it's brilliant. It has a nice driving beat, the flow is captivating, and the chorus is an undeniable delight.
The Great Unknown is up next. This song has a spacey feel to it. The guitar work is amazing. It has a great driving beat, and the Oh's will have you singing along whether you want to or not. As far as Indie Rock, Alternative Soul, British Pop, or however you want to classify this is concerned, this would have to be a shining example of how it should be done. I can't get enough of this song, and hopefully, you feel the same way.
If It Wasn't For You carries a classic rhythm reminiscent of the Funk Brothers, and all those classic Motown sounds. Stripped down in its nature, the song, in its simplicity, is pure beauty. There is nothing flashy about this, and that's why it's so compelling. Apparently, this song was chosen to be used in a Zales commercial (Which can be viewed here) this Christmas season. So, be on the lookout for that. I personally hope it helps get their sound out to the masses, because it deserves to be heard.
The next song I want to bring to your attention is, Cold As You. It's a song that will have you tapping your foot immediately. With an infectious backbeat, quirky guitars, delayed vocals, and a great melody, this song is bound to be a killer live. I'm dancing in my chair just imagining it! If you are familiar with the band NeedToBreathe, you may hear a hint of the intensity, and stylings of vocalist Bear Rinehart mixed in this one. Great song!
Beautiful Delirium is a song that has hit written all over it. Once you hear the band, and you understand who they are, the beginning notes of this song will be instantly recognizable. Being unique in a saturated musical landscape is not an easy task, but I honestly feel that Various Cruelties has done just that. Those spacey guitars, over the classic backbeats, with huge open singable choruses, has drawn me in like a moth to a flame. I can't get enough of this album.
Listen, there are so many good songs on this album, I can't possibly cover them all. From the single Chemicals, to the super-catchy Great Unknown, to the blues infused She Is The One, to the upbeat album closer Neon Truth, it's simply one great song after another. If you are a fan of talented musicians that write simple, catchy songs…this band is totally for you. I've honestly tried to find something bad to say about the album, and it's just not there. This album is terrific.
★★★★★★★★☆☆ 8 out of 10 stars. UnsungMelody.Com APPROVED!!
Keep up with Various Cruelties below:
www.variouscruelties.com
Facebook
Twitter
Purchase or preview your copy of Various Cruelties from Amazon below:

Check out the video for Chemicals by Various Cruelties below:

Check out the video to The Great Unknown by Various Cruelties below: