Initial Thoughts. Soundgarden's King Animal.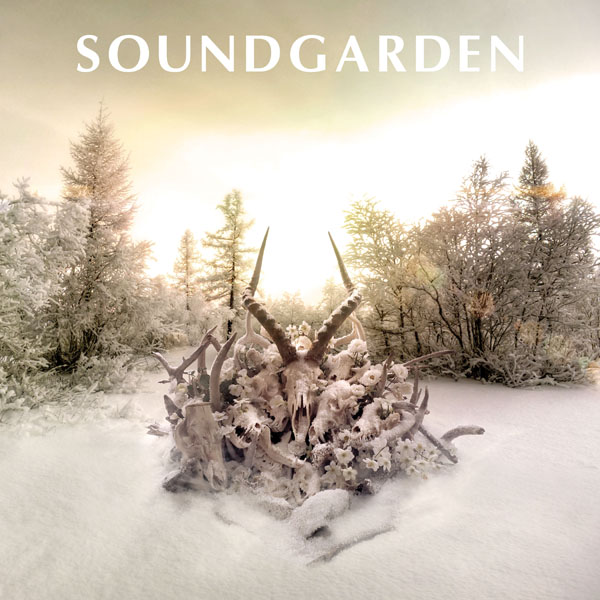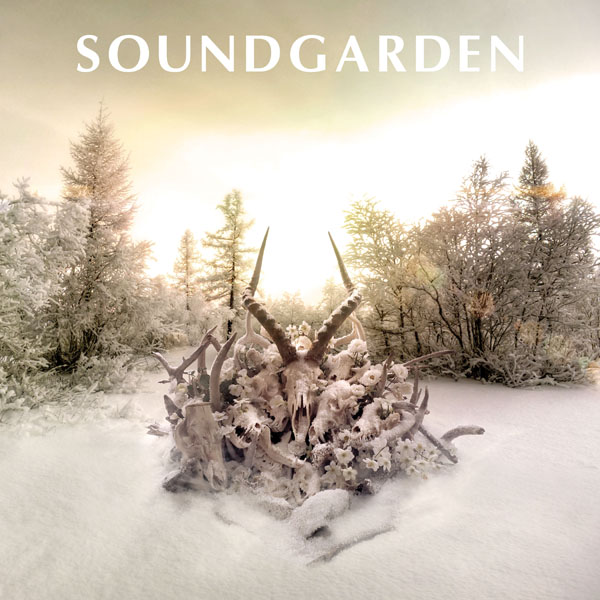 Soundgarden is back after a 12 year hiatus and 15 years since their last studio album. The grunge era royalty, who left an indelible mark on the rock world, singer Chris Cornell, drummer Matt Cameron, bassist Ben Shepherd, and guitarist Kim Thayil break back into recording with King Animal. During the split, Thayil and Shepherd worked on various projects. Cornell delved into a few different things; solo projects in addition to fronting the supergroup Audioslave. Cameron did his own project for a while, and is of course still part of another seminal grunge group, Pearl Jam.
King Animal, Soundgarden's first new album since 1996, is a solid return to reclaim their throne. This is the band's sixth studio album, which they co-produced with their long time friend Adam Kasper (Foo Fighters, Nirvana, Pearl Jam). Kasper also plays on a few tracks. King Animal leans towards the nostalgic in a post-grunge era' and brings us thirteen new tracks, about 40 minutes of total deliverance, proving time is just a bunch of numbers; it's experience that counts.
Been Away Too Long: The album opens with the balls-out blaster as a fitting homecoming. The band crafted the music around Cornell's lyrics in this one; sort of a new Frankenstein sound experiment. Not their usual writing style. Thayil's chunky guitar work is slightly less ethereal here than elsewhere on the album. It's reminiscent of My Wave. "You can't go home, no I swear you never can". Welcome home again.
Non-State Actor: Kim Thayil's aggressively written lyrics on power and politics recreate the atmosphere of an old Soundgarden song. Ben Shepherd wrote the music and Thayil and Cornell wrote the lyrics. The socially conscious theme is somewhat different territory for this band, though I am sure not new for the members in everyday life.
By Crooked Steps: Matt Cameron wrote the riff that holds this track tightly to its twisted spine of odd time-signatures. When it starts, for a second it sounds like it might launch into Spoonman from "Superunknown." Though this track has a pure Soundgarden sound, the lyrical melody and the musical undertones feel almost like two different songs. Yet it all blends together perfectly, starting in with mellow guitars before opening up to a blistering riff, followed by Cornell vocals. Chris Cornell cuts loose in this one, bringing full vocal majesty to deliver his compelling lyrics. This song is a musical live-wire, pure Soundgarden at it's best.
A Thousand Days Before: The Eastern-themed cut features a winding hook, a horn section and Thayil strumming mandolin lend an air of grandeur. It echoes of an old Soundgarden song with a similar name, Room a Thousand Years Wide.
Blood On The Valley Floor: Thickly-lacquered reverberating vocals, ala Burden in My Hand from "Down on the Upside," combine with Thayil's winding guitar riffs and explosive solo, bringing musical ecstasy.
Bones of Birds: My favorite song on the album, I am not sure if this is because it just has such a familiar feel that I am transported back, or because parts of it sound nothing like anything they have done before. It's fresh, sensual, sullen, tender and I think I am in love with Thayil's tones of transcendent psychedelia.
Taree: The music of this tune was written by Ben Shepherd in the 90's, sometime pre-break-up of the band. Which explains why the song seems like a throwback to pre-grunge rock. Lyrically, the song is an ode to the great North where Cornell was raised.
Attrition: With lyrics written by bassist Ben Shepherd, this track is more tried-and-true basic rock, but not quite what you expect from Soundgarden. At times the song gets raw and bares a savage edge, but you are pulled away from that when the band joins in unison to sing "Woo woo, woo woo".
Black Saturday: Lyrically, this is classic Cornell, even down to what might be inferred as religious themes. This song has a nicely-composed progression of guitar melodies in a refreshingly simplistic flow.
Halfway There: This pretty tune is a wistful ballad sealed with the full-blown kiss of Cornell's lush lyrical delivery. Sounding a bit like it could have made it onto one of the singer's solo albums – a whisper of "Euphoria Morning." Another deviation from the band's usual signature, but thoroughly enjoyable.
Worse Dreams: It attacks you like a thick, ticking time-bomb, a dizzy, slick, and foreboding trip into a lush musical landscape. "Steaming in the line of fire, you're wild and free". Shepherd's chugging low end is what builds the tension in this track.
Eyelid's Mouth: Built up from a foundation based on Matt Cameron's drums, the rest of the band works magic from there. Cameron smacks some tasty fills going in and out of the Cornell's meditative and chant-like choruses. With one foot out of the time-machine and back in "Badmotorfinger," the band captures you with this blues-inspired psychedelic track. Pearl Jam's Mike McCready joins in for additional guitars on this song.
Rowing: A haunting, chain-gang dirge, wading through a treacherous swamp filled with the venomous vermin of a rock and roll nightmare. This dark little ditty is a fine finish; both a satisfying smirk from the crown princes and perhaps the delicious promise of more to come. "Don't know where I'm going, but I just keep on rolling…"
The 13 sturdy tracks of King Animal carry Soundgarden's compositional attitude into the 21st century. Epic rock in the modern age, they are still tightly crafted, highly innovative, and solid musicians. King Animal carries on their signature sound as if it never stopped, or ever will. It echoes where they have been, and surveys the landscape of where they might be going.
★★★★★★★☆☆☆ 7 out of 10 stars.
http://soundgardenworld.com
http://www.facebook.com/Soundgarden
http://twitter.com/soundgarden