Initial Thoughts. A review of the self-titled EP from 68-75.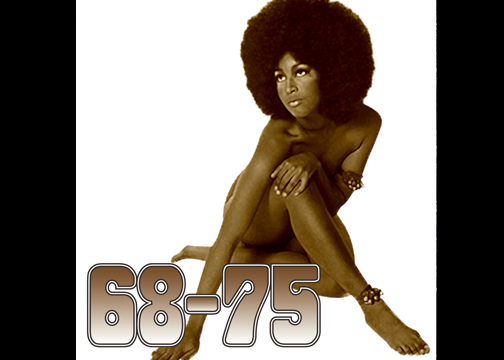 Could we be in the midst of a Rock and Roll Revival? When you look at the charts, of course you see a lot of pop acts, hip-hop acts and the likes, BUT there also seems to be a movement. A movement that includes Retro Rockers and Folk/Americana artists making a strong surge. Acts like The Black Keys, Alabama Shakes, Grace Potter, Mumford & Sons, Rival Sons and Leogun all have a retro element to their sound that seems to be resonating with fans of music today. For me, I hope and pray it continues. I love that classic sound. Bands like Clutch have always had those elements and they've been a favorite for years. Having said all of that, I want to bring another band to your attention. One that is definitely not afraid to wear their influences on their sleeves. Hell, even their name harkens back to a classic era. Let me introduce you to 68-75! Led by frontwoman Suzanne Sledge, 68-75 combines a dynamic female vocal with classic guitar tones, driving backbeats, and all the soul one could ask for. The band has shared the stage with likes of Leon Russell, Joe Bonamassa, and fellow Atlanta natives, Blackberry Smoke. Drawing from influences such as Rod Stewart and the Faces, Janis Joplin, Humble Pie, and Jeff Beck; 68-75 brings us their first EP and today, I'm here to review it in our Initial Thoughts series. As usual, I'll hit the highlights, it's up to you to discover the rest of the album. Please, buy it, don't steal it. These artists don't download their instruments for free. Believe me they cost plenty of money. Support the artists, or lose the art.
Let's start with the album opener, Play With Fire. The groove laid down by drummer Jack Massey and bassist Steve McPeeks will keep you bopping, but the sweet guitar licks of Andrew Cylar will keep you dancing. The song is a rocker through and through, reminiscent of artists such as Jefferson Airplane and Heart. Suzanne Sledge delivers a powerful performance and really showcases what she can do. A great way to kick off the EP.
Next up is Drowning. This song is quite possibly my favorite track on the EP. Everything about it is just right. There's no overplaying. There's no overproduction. There's no one trying to steal the spotlight. It's the way music is intended. Four musicians creating something greater than the sum of the parts. Great song!
Bulletproof is the next song I want to touch on. It's got this killer vibe, one that makes you just kinda snarl up your lip and rock out. The groove is pure blues and one of my favorite tracks on the album. This song isn't flashy, it isn't intended to be. It's meant to deliver the goods, and that business my friends, is good.
Trail of the Dead is the last song I want to talk about. Like Bulletproof, the groove steals the show. With it's upbeat tempo, killer 2nd guitar in the chorus and free for all delivery from Suzanne, this song has something for everyone.
If the fact that Andrew Cylar is not afraid of a solo, or that Suzanne Sledge has soul, or the fact that the rhythm section of Jack Massey and Steve McPeeks are terrific isn't enough to have you check out the band; How about the fact that these guys are still available on a local level in and around the Atlanta area. Do yourself a favor and catch these cats on the way up, that way you can say…."I was a part of the Rock and Roll Revival!"
★★★★★★★☆☆☆ 7 out of 10 stars.
Purchase your copy of the EP on Bandcamp for only $4! Just click the link.