VISTA CHINO Announce North American Tour Date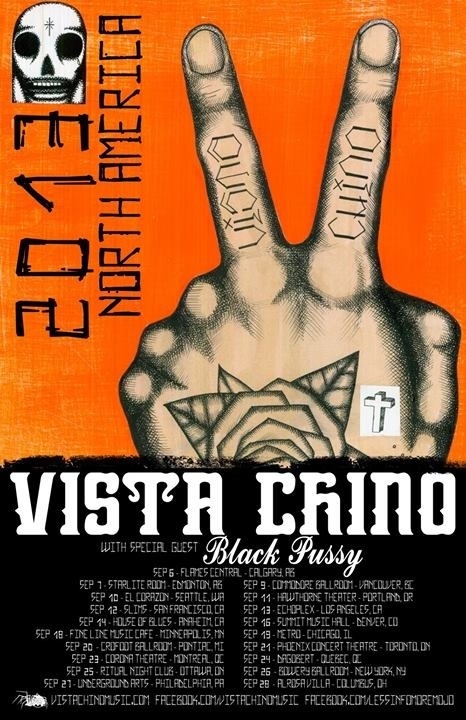 VISTA CHINO the band formed by John Garcia and Brant Bjork (formerly of Kyuss) are gearing up for the release Peace. The album will be released September 3rd in North America via Napalm Records. The artwork for the album was created by the renowned California art collective – The Date Farmers.
Following their much heralded debut North American performance as VISTA CHINO at the "Orion Music and More Festival", the band have confirmed a North American headline tour in support of Peace. Support on the tour will come from the Portland Oregon rock outfit known as Black Pussy.The tour kicks off September 6th in Calgary, Alberta and runs through September 28th in Columbus, Ohio.
Drummer Brant Bjork cannot wait to showcase the new music for the fans:
"VISTA CHINO is super excited to bring the fresh VC rock to the American fans. We'll be rocking songs from our new Vista Chino record "Peace" along with some Kyuss classics and the legendary Mike Dean from COC will be bringing the electric bass…so, be there or be square."
The band debuted the "Dargona, Dragona" on their Facebook Page. When visiting the page, clicking the "like" button will enable the audio.
Rising from the desert sands that birthed Kyuss Lives, VISTA CHINO's sound is instantly familiar. With the trademark soulful vocals of John Garcia, the songwriting and production of Brant Bjork (drums) and the fuzz-laden riffage of imported guitarist Bruno Fevery, VISTA CHINO's debut is one of the year's most anticipated heavy rock albums. A new band born of a storied past, right now it's about these players playing these songs.
VISTA CHINO North American Tour:
9/6: Calgary, AB @ Flames Central
9/7: Edmonton, AB @ Starlite Ballroom
9/9: Vancouver, BC @ Commodore Ballroom
9/10: Seattle, WA @ El Corazon
9/11: Portland, OR @ Hawthorne Theater
9/12: San Francisco, CA @ Slims
9/13: Los Angeles, CA @ Echoplex
9/14: Anaheim, CA @ House of Blues
9/16: Denver, CO @ Summit Music Hall
9/18: Minneapolis, MN @ Fine Line Music Café
9/19: Chicago, IL @ Metro
9/20: Pontiac, MI @ Crofoot Ballroom
9/21: Toronto, ON @ Phoenix Concert Theater
9/23: Montreal, QC @ Corona Theater
9/24: Quebec, QC @ Dagobert
9/25: Ottawa, ON @ Ritual Night Club
9/26: New York, NY @ Bowery Ballroom
9/27: Philadelphia, PA @ Underground Arts
9/28: Columbus, OH @ Alrosa Villa
VISTA CHINO European Dates:
7/25: Tienen, Belgium @ Suikerrock
7/26: Feldkirch, Austria @ Poolbar Festival
7/29: Vienna, Austria @ Rock Im Wald Festival
7/31: Pinarella di Cervia, Italy @ Arena
8/3: Lierpop, Holland @ Rock Planet
8/7: Munich, Germany @ Backstage (Free & Easy Festival)
8/8: Geneva, Switzerland @ Usine
8/9: Puttlingen, Germany @ Rocco del Schlako
8/10: Eschwege, Germany @ Open Flair Festival
For More Info Visit:
https://www.facebook.com/VistaChinoMusic
http://www.vistachinomusic.com
http://www.napalmrecords.com