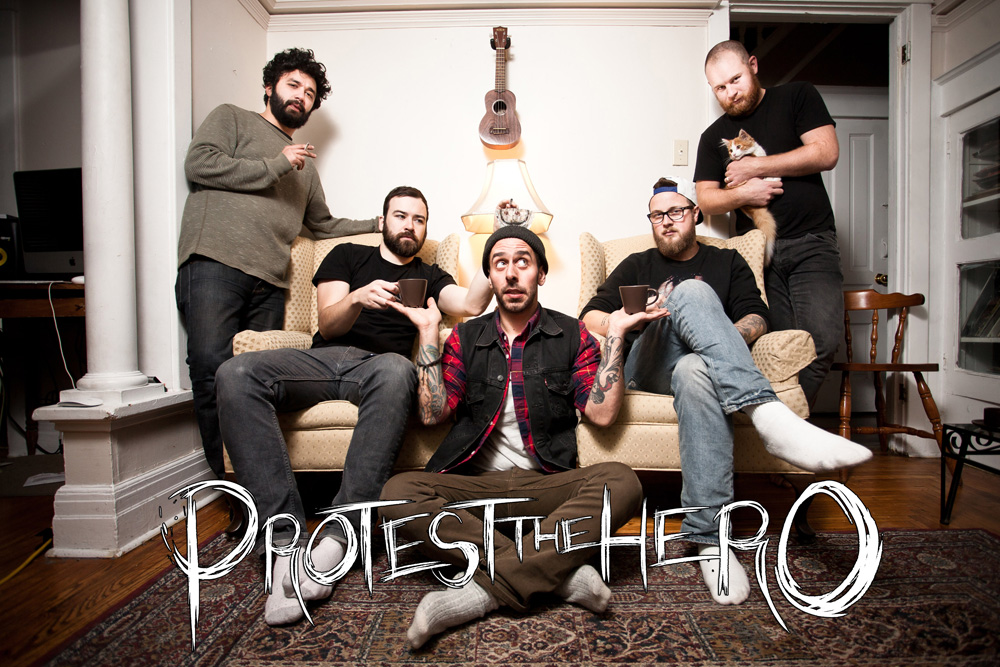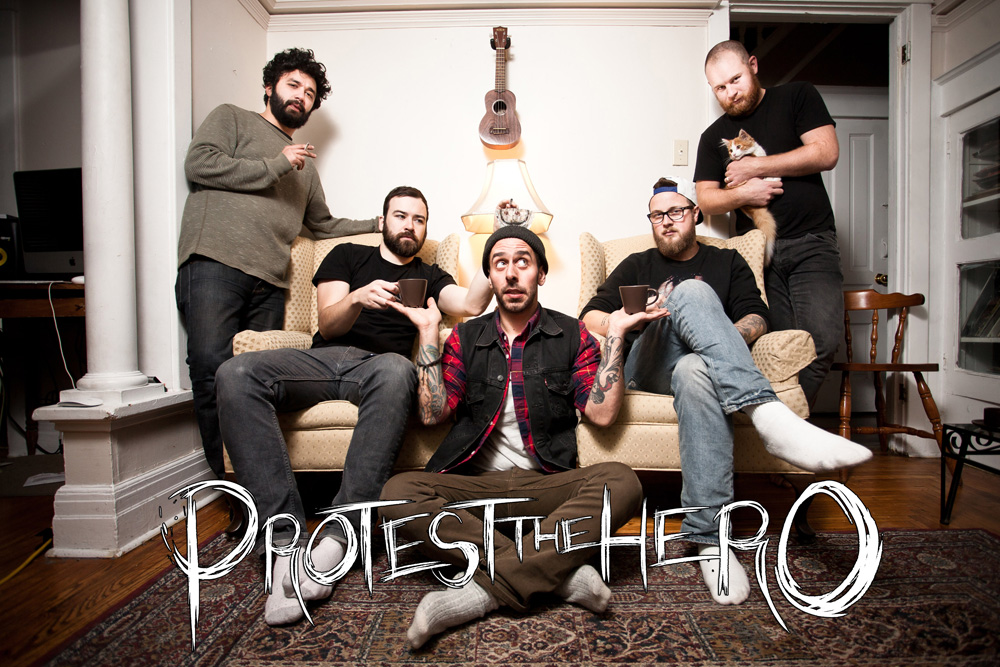 In the midst of a successful six week European/ UK tour, Protest The Hero announce today a new run of U.S. and Canadian dates. The U.S. portion of the tour runs from March 1st to April 6th and features support from Battlecross, The Safety Fire, Intervals, and Night Verses. The Canadian section begins April 8th running through April 19th and features support from Intervals and Motorleague.
Protest The Hero aren't the only ones excited for this tour. Battlecross Guitarist Tony Asta comments; "BATTLECROSS is very excited to hit the road with Protest The Hero! They seem like a very successful, humble group of guys who don't take things too seriously yet are serious about the business — a good role model for all modern bands and we can't wait to get to know them on the road. Oh yeah and they're shredders! Being direct support is a huge honor and we won't let anyone down. This is a very unique tour package and we can't wait to play to new crowds as well as expose some of our fans to bands they may not have seen yet. See you all in the road this spring!"
Volition was released on October 31st, 2013 and debuted at #20 on the Billboard top album chart. The band will tour throughout 2014. Dates for the March/April run are below.
U.S. Tour
Sat/Mar 1 – BUFFALO NY – THE WAITING ROOM
Sun/Mar 2 – CINCINNATI OH – BOGARTS
Mon/Mar 3 – GRAND RAPIDS MI – THE STACHE @ THE INTERSECTION
Tue/Mar 4 – DES MOINES IA – WOOLYS
Wed/Mar 5 – MINNEAPOLIS MN – GARAGE YOUTH CENTER
Fri/Mar 7 – MILWAUKEE WI – THE EAGLES HALL @ RAVE
Sat/Mar 8 – JOLIET IL – MOJOES
Sun/Mar 9 – LINCOLN NE – BOURBON THEATER
Mon/Mar 10 – FT. COLLIN CO – AGGIE THEATER
Tue/Mar 11 – GRAND JUNCTION CO – MESA
Wed/Mar 12 – SALT LAKE CITY UT – URBAN LOUNGE
Fri/Mar 14 – SPOKANE WA – THE HOP
Sat/Mar 15 – BOISE ID – KNITTING FACTORY
Sun/Mar 16 – RENO NV – KNITTING FACTORY
Mon/Mar 17 – SACRAMENTO CA – ASSEMBLY
Tue/Mar 18 – ANAHEIM CA – HOUSE OF BLUES
Wed/Mar 19 – TUCSON AZ – 191 TOOLE (SKRAPPYS)
Fri/Mar 21 – LUBBOCK – JAKES BACKROOM
Sat/Mar 22 – AUSTIN TX – RED 7
Sun/Mar 23 – LITTLE ROCK AR – JUANITAS
Mon/Mar 24 – BATON ROUGE LA – VARSITY THEATER
Wed/Mar 26 – TAMPA FL – STATE THEATER
Thu/Mar 27 – FT LAUDERDALE FL – CULTURE ROOM
Fri/Mar 28 – JACKSONVILLE FL – JACK RABBITS
Sat/Mar 29 – WILMINGTON NC – ZIGGYS BY THE SEA
Sun/Mar 30 – RALEIGH NC – LINCOLN THEATER
Tue/Apr 1 – CHARLOTTE NC – TREMONT MUSIC HALL
Wed/Apr 2 – WASHINGTON DC – ROCK & ROLL HOTEL
Thu/Apr 3 – HARTFORD CT – WEBSTER THEATER
Fri/Apr 4 – ROCHESTER NY – MONTAGE MUSIC HALL
Sat/Apr 5 – CAMBRIDGE MA – THE MIDDLE EAST (DOWNSTAIRS)
Sun/Apr 6 – AMITYVILLE NY – REVOLUTION
Tues/Apr 8 – Moncton, NB – The OC Nightclub
Candadian
Wed/ Apr 9- Halifax, NS- The Pavilion
Thu/ Apr 10- Halifax, NS- The Marquee
Fri/ Apr 11- Fredericton, NB- Lava Vodka Bar
Sat/ Apr 12- Quebec City, QC- Dagobert
Mon/ Apr 14- Laval, QC- Studio Theatre
Tues/ Apr 15- Cornwall, ON- Vu Night Spot
Wed/ Apr 16- St. Catharines, ON- Michun Nightclub
Thurs/ Apr 17- London, ON- London Music Hall
Fri/ Apr 18- Windsor, ON- The Dominion House
Sat/ Apr 19- Guelph, ON- Vinyl
Keep up with Protest The Hero below:
Official Site
Facebook
Protest The Hero – Volition: