POYNTE Announces Tour With Screaming For Silence and Guns Out At Sundown. Teases New Video For "Take Control".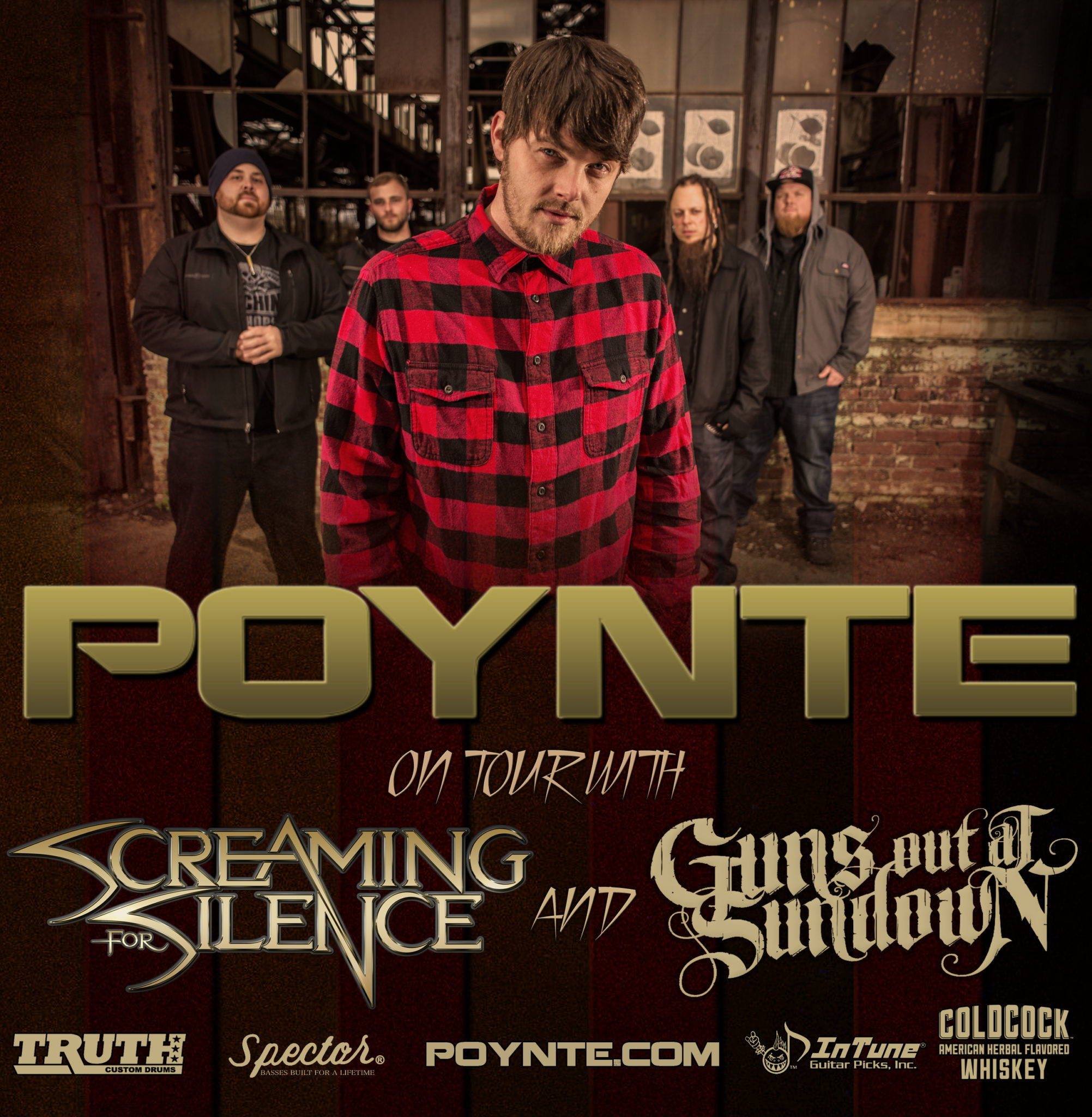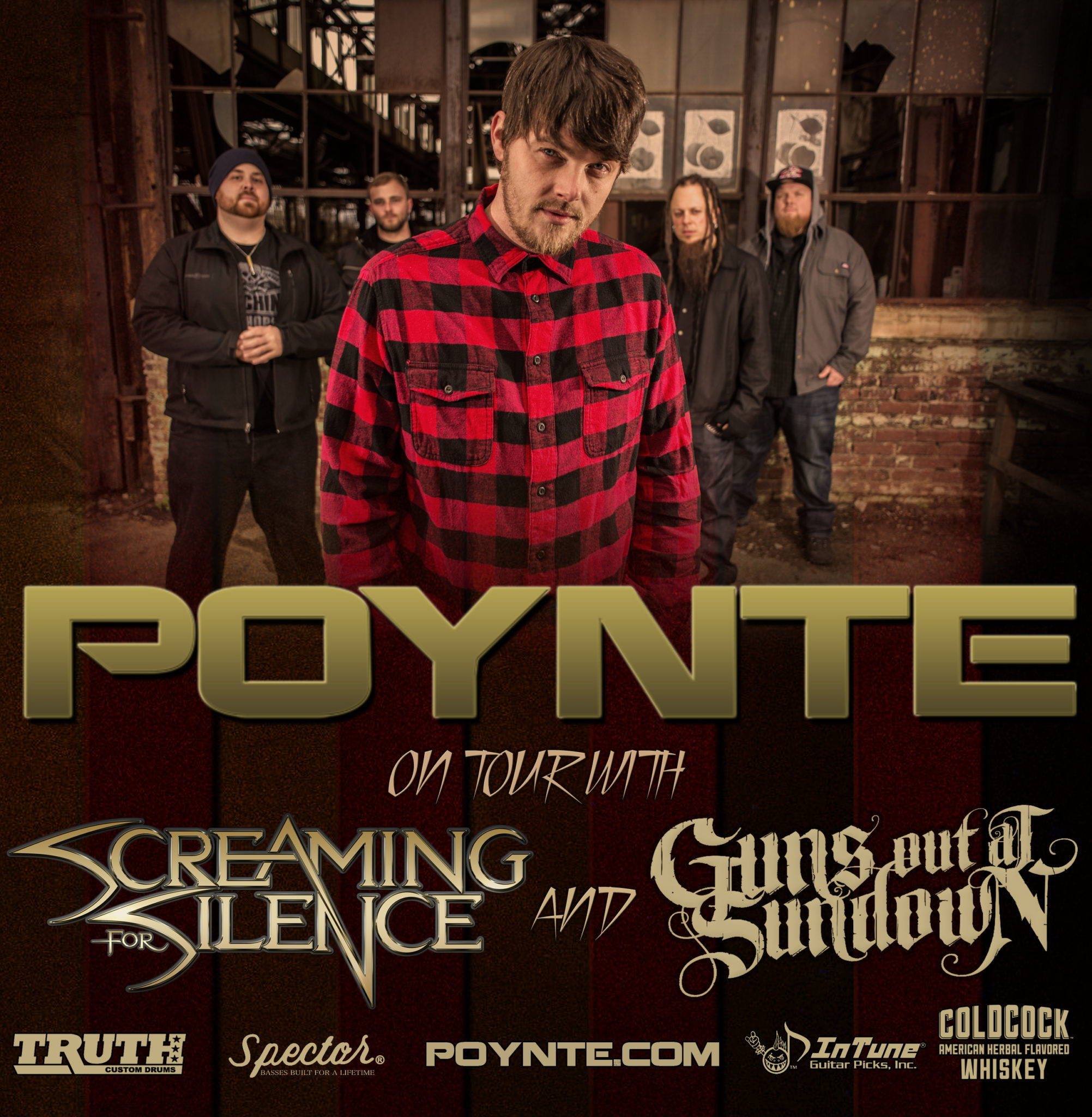 Atlanta-based modern rockers POYNTE (Pronounced Point) are proud to announce a month-long tour with headliners Screaming For Silence and their bearded brethren in Guns Out At Sundown.
POYNTE is riding an incredible wave of independent success onto a tour that features 2015 Ernie Ball Battle of the Bands Rock on the Range winners,Screaming For Silence. The tour will see POYNTE hitting the Midwest and the East Coast with 2015 tour mates Guns Out At Sundown. Both POYNTEand Guns Out At Sundown were on tour with Trapt and Sons of Texas in 2015. They forged a great musical relationship and both bands knew immediately that a tour together was someday inevitable.
POYNTE 2016 Take Control Tour:
(POYNTE and Guns Out At Sundown only 3/29-4/6)
3/8 – Atlanta, GA – Masquerade w/Drowning Pool
3/29 – Atlanta, GA – Smith's Olde Bar
3/30 – Columbus, GA – Soho
3/31 – Clarksville, TN – The Warehouse
4/1 – Elkins, WV – Captain Ron's
4/2 – Tera Alta, WV – Shorthorn's
4/9 – Sioux City, IA – Chesterfield
4/3 – 4/11 Dates Pending
(Screaming For Silence, POYNTE and Guns Out At Sundown 4/7-4/29)
4/12 – Indianapolis, IN – The Fifth Quarter
4/14 – Battle Creek, MI – The Music Factory
4/15 – Warren, MI – The Ritz
4/16 – Akron, OH – The Empire
4/17 – Marietta, OH – (Pending)
4/19 – Morgantown, WV – (Pending)
4/21 – Syracuse, NY – Rock Garage
4/22 – Cranston, RI – Oak Bar
4/25 – Teaneck, NJ – Mexicali Live
4/27 – Baltimore, MD – Angel's Rock Bar
4/28 – Richmond, VA – Canal Club
4/29 – Fayetteville, NC – Drunk Horse Pub
POYNTE is also poised to unleash a powerful video in March for their track "Take Control". The second single and video from their critically acclaimed debut, 'Discreet Enemy'. The track is featured on over 50 online radio stations and will be serviced to terrestrial radio in March. "Take Control" was recently featured on the MMA World Series of Fighting on NBCSN.
Working with Director Andrew Burn, POYNTE shot the video in Atlanta recently and released a movie poster style image to excite their fans. Founding Guitarist Matt Bryant stated, "Everything we do has a purpose. From the intro of the album, to the artwork, to this video…it all ties together. We took our vision and the art that Alan Barnes created and we brought it to life and we can't wait for everyone to see the end result."
'Discreet Enemy' was self-recorded in POYNTE's own studio, The Audiovault. The band called upon mixing guru Andy Reilly (The Police/Iron Maiden/Bon Jovi/The Cult) and engineer Matt Dalton (Chiodos/Royal Blood/Hed Pe/Attila/Tantric) to master their debut. Which was released on their own label, Subsonic Media Group.
Check out POYNTE.Com or connect with the band on Social Media:
Facebook | Twitter | Instagram | Youtube | Bandcamp | iTunes