Neanderthal (Mick Murphy From My Ruin) Releases New EP And Video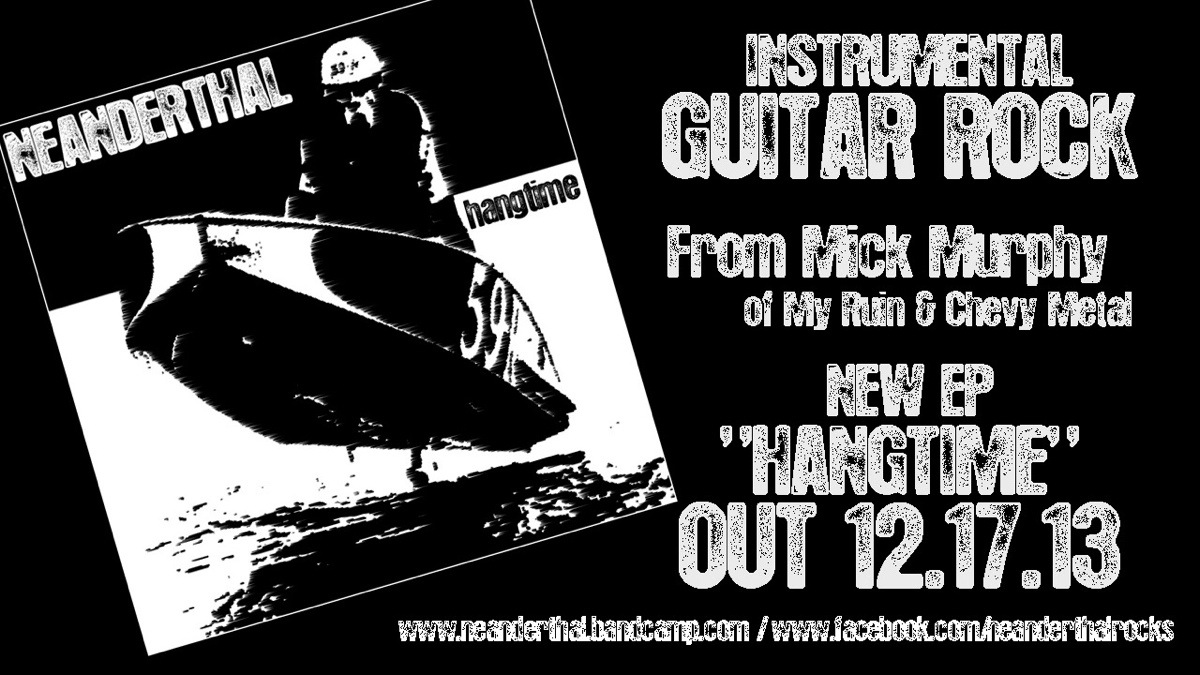 My Ruin guitarist and multi-instrumentalist Mick Murphy has just released a new digital solo EP entitled "Hangtime" from his instrumental solo side project Neanderthal via Bandcamp. The EP features five brand new tunes packed with Murphy's signature shredding leads, sophisticated heavy riffs and high energy hard driving adventurous rock as well as one "live in the studio" bonus track.
To accompany the release is the new DIY style video for opening track "Booster" featuring vintage footage from the seventies which Mick created as homage to the EP cover art.
Neanderthal – Booster:

You can preview or purchase the EP here:
www.neanderthal.bandcamp.com
Besides releasing "The Sacred Mood" (My Ruin's 8th album) with wife and musical partner of 13 years, Tairrie B Murphy in 2013, Mick has spent much of the last year touring with Taylor Hawkins "suped up" classic rock cover band Chevy Metal which led to sharing the stage with various rock luminaries such as Dave Grohl, Perry Farrell, Joan Jett and Nikki Sixx. An original project has sprung from the cover band as well in the form of the Birds of Satan which is Hawkins' new prog rock side band. An EP is set to be released in the very near future and includes a 9 and a half minute song co-written by Hawkins, Grohl and Murphy.
Not long after Mick began playing with Chevy Metal, he was introduced to legendary guitar designer and visionary Grover Jackson of GJ2 Guitars who soon asked him to become a part of the GJ2 family of artists. On Mick and Grover's shared birthday of July 17th, Jackson and business partner Jon Gold gave him the prototype of the "Spirit of 79" Glendora guitar at a Chevy Metal gig at The House of Blues in Anaheim. In September 2013 OC Weekly named Mick #3 on their "10 Best Metal Guitarists" list alongside rock icons Tony Iommi, Dimebag Darrell and Jeff Hannemann. He is currently playing the Glendora & Concorde models and looking forward to debuting something special in the works with GJ2 at the NAMM show in 2014.
Another project Mick is involved with is Teenage Time Killers, a proto-hardcore musical beast in which he joined forces with drum legend Reed Mullin (Corrosion of Conformity) for a unique album coming in 2014 and featuring different metal, hardcore and punk rock vocalists with the majority of the music written by Mullin and Murphy. Some of the singers include Randy Blythe, Neil Fallon, Lee Ving, Jello Biafra, Phil Rind, Clifford Densmore, Pete Stahl, Matt Skiba & Tairrie B Murphy to name a few, with much of the bass on the album provided by none other than Dave Grohl.