Mac Sabbath – Moxi Theater – Greeley, CO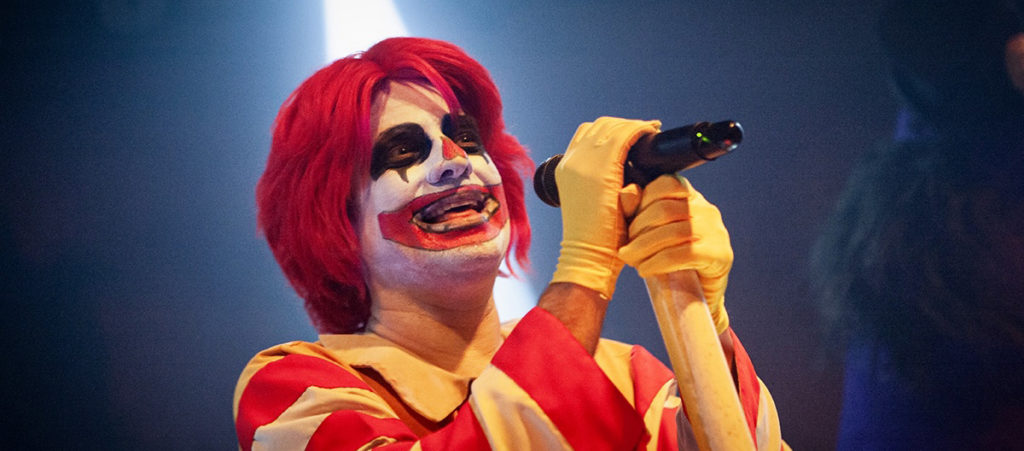 Greeley's Moxi Theater got a supersized helping of some "Drive Thru Metal" Thursday night when Mac Sabbath stopped by on their current More Than Meats the Eye tour. Iconic metal anthems took on a fast food spin as "Iron Man" transformed into "Frying Pan" and "Killed by Death" became "Grilled by Death." But even as fun and witty as their parodies are, it's the parade of quirky details on stage that really make a Mac Sabbath show.
At the helm of the maniacal operation is Ronald Osbourne. Part beloved fast food mascot, part creeptastic clown – the band's frontman is a sight to see as he travels back and forth across the stage, dishing out non-stop antics. Ronald was flanked on all sides by demented versions of other Playland characters. A slightly ominous Grimace, a.k.a. Grimalice, was on bass, while Slayer MacCheeze and The Catburgler held down the guitar and drums.
It's difficult to pick the highlight of their stage show. Pulling an 8 foot straw out of a jumpsuit is a pretty cool trick. But the makeshift burger fry, condiment showers and large inflatable cheeseburgers all had their merits too. Personally though, I thought is was the plastic bat burger (a fitting tribute to the Ozzy Osbourne incident in the eighties), that took the prize.
Check out our photos of all the mayhem (including some from opener Cybertronic Spree) below: