Industrial Legends LORDS OF ACID Release Highly Anticipated LP, 'Pretty In Kink'!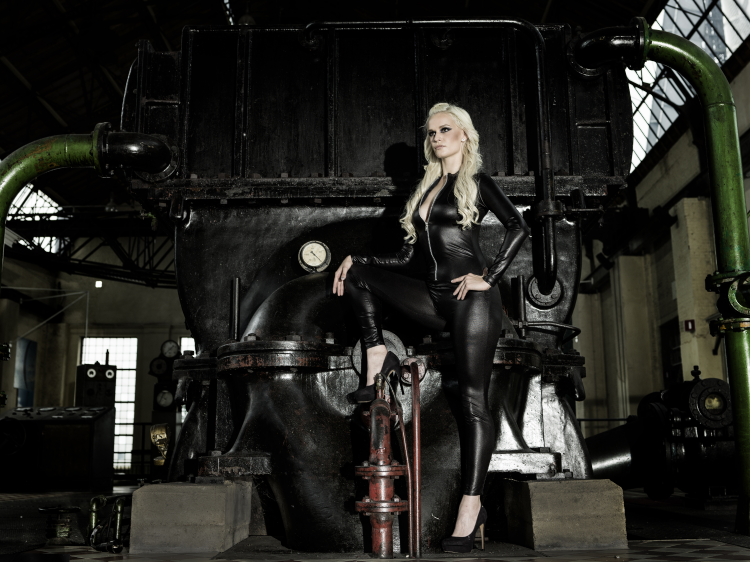 After great anticipation and a handful of eye opening sneak peaks, iconic electronic band LORDS OF ACID has released their highly anticipated first LP in 6 years, Pretty in Kink! The fan driven and committed album, out now via Metropolis Records, is a refreshing throwback to the group's legendary dance roots while continuing their reputation for creative innovation and polished showmanship.
Advance Praise for Pretty in Kink
"Wrapping up on a positive note of knowing one's own self-worth and accepting individuality as the spice of life, Praga Khan has found yet another entertaining band of misfit toys to take his vision to fruition in a modern yet true-to-their-roots body of work. Pretty In Kink can be listened to in any order and still reeks of success as an album, plus it can hold its own next to the greatest hits from the late '80s into the '90s." Cryptic Rock
"Lords of Acid are back with a highly anticipated new album on May 18. Clever as always, the title Pretty in Kink is a subversive take on a pop culture institution, chock full of the hardcore techno that the Belgian group has been pumping out for decades." – Matt Matasci – mxdwn
"Pretty in Kink is an amazing album that mixes all your favorite elements of Lords of Acid and adds a few more into the mix. The album has newcomer vocalist Marieke Bresseleers. Pretty in Kink starts off with 'Break Me,' which for me is a perfect way to start the album. The music in this one is like a very dark gothic industrial sound and the vocals just add to it. 'Sex Cam Girl' and 'Flow Juice' bring back the nasty side of Lords of Acid, and that's exactly how we like it. No filters and straight to the point sexual advancements. One of my other favorite tracks is 'What the Fuck.' It's got that more rap/hip hop flow to it but still has that Lords of Acid sound. This one makes me want to bang my head and makes everyone else look and ask "What the fuck are you listening to" and I just turn it up louder and flip the bird. The album ends with 'We are the Freaks,' it's got the a rap feel to it as well and slow nice flow with it. The vocals are in Spanish but still kills." – Empire Extreme
"There's been a void in rave music and EDM over the past decade. There aren't as many acts as there used to be who, in addition to having rock star status and pop cache, cover more than one genre at a time and bring together entire scenes with their music. With Pretty In Kink, Lords of Acid is poised to fill that void and show younger EDM'ers just exactly "What the Fuck!" is up." – Layla Marino – Your EDM
"A full-length hardon has been created and will be released on May 18th to LOA fans. Electronic dance music has never tasted this good. What is even more thrilling is that this album seriously offers up something for everyone's tastes. As pioneers in the world of electronic dance music Lords Of Acid's longevity and survival of the contorted bits of drugs, sex, and rock n roll have continued to survive. How often can you take twenty years of deviant behaviors and raise a glass to the skies and still create some of the most complex electronic music found?" – Lolana Deetwick – RockAllPhotography
"Their mind-bending attitude fits well with their music, certainly with regard to this exciting sexual creation. If you're feeling frisky, mentally undress yourself and get busy with the latest from Lords Of Acid." – Tyler Trew – The Music Ninja
"Sex. Drugs. Danceable beats. Lords of Acid have been making sweet love to our ears since 1988's "I Sit On Acid," and clubs the world over haven't stopped cumming. While they have experimented with various sounds over the decades, at the core of every track is rhythmic sensuality and ferocious energy, just waiting to splash across the dance floor. Most songs feature multiple sound bytes and samples, and the live stage shows often feature graphic sexual imagery, and even simulated sexual acts, to the delight of many a concert-goer. It should come as no surprise, then, that the latest album rekindles the passion and lust we felt all those years ago…Overall, the album is a welcome advance into the next chapter of the band's career. The album has deeply penetrated my psyche, and I hope it is as good for you as it was for me. That IS what she said." – ZTP Magazine
Track List:
1. Break Me
2. Ma Fille De Joie
3. Sex Cam Girl
4. Flow Juice
5. Like Pablo Escobar
6. Before the Night is Over
7. Androgyny
8. Goldfinger
9. What the Fuck!
10. So Goddamn Good
11. My Demons Are Inside
12. We Are The Freaks
Download / Order Pretty In Kink Online:
Metropolis | BC Bandcamp | Amazon MP3
From his first single, "I Sit On Acid", released in 1988, to the present, Belgium's Praga Khan remains one of the most innovative acid house musicians in circulation. Thanks to extensive experimentation with drugs, Crowley-ian sex magic, and esoteric paths of self-deprivation and mutilation known only to himself, this orgiastic orchestrator created the LORDS OF ACID to further encapsulate the seductive messages and raw sex of his ever-evolving musical vision. From the raw carnality of their 1991 release Lust to the electro-thrash of 2012's Deep Chills, Lords of Acid has re-defined the pure pleasures of drugs, hedonism, and deviant sex for thirty years. Now, despite numerous lineup changes, world tours, over 2.5 million album sales, and every possible point of crisis and conflict a band can face, Lords of Acid is returning to the unsuspecting again, this time with a new crew of deviants, dilettantes, and sonically transmitted diseases.