Your Secret's Safe With Me. An interview with Jeff Angell from Walking Papers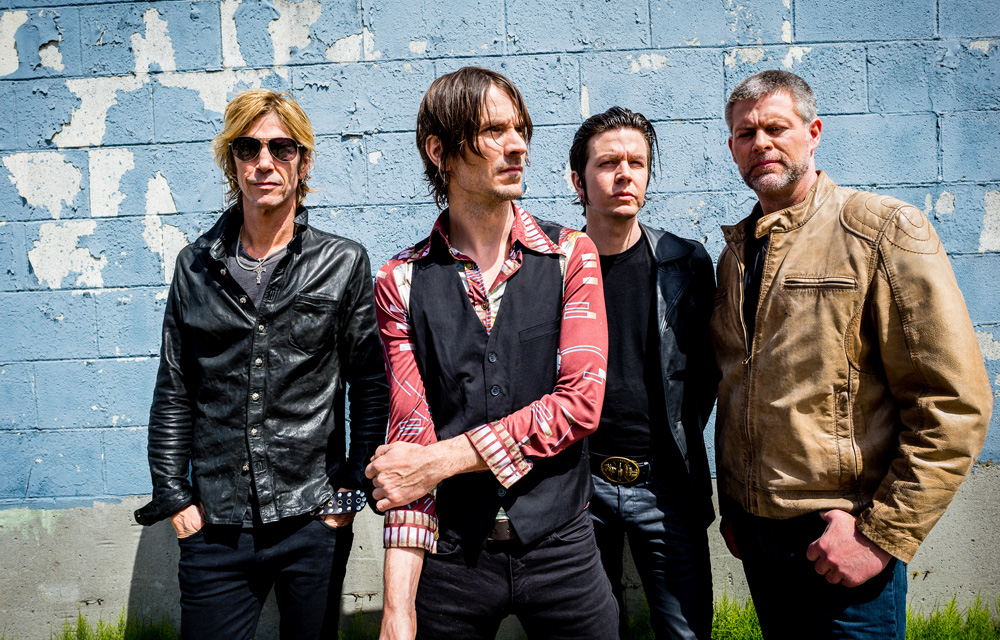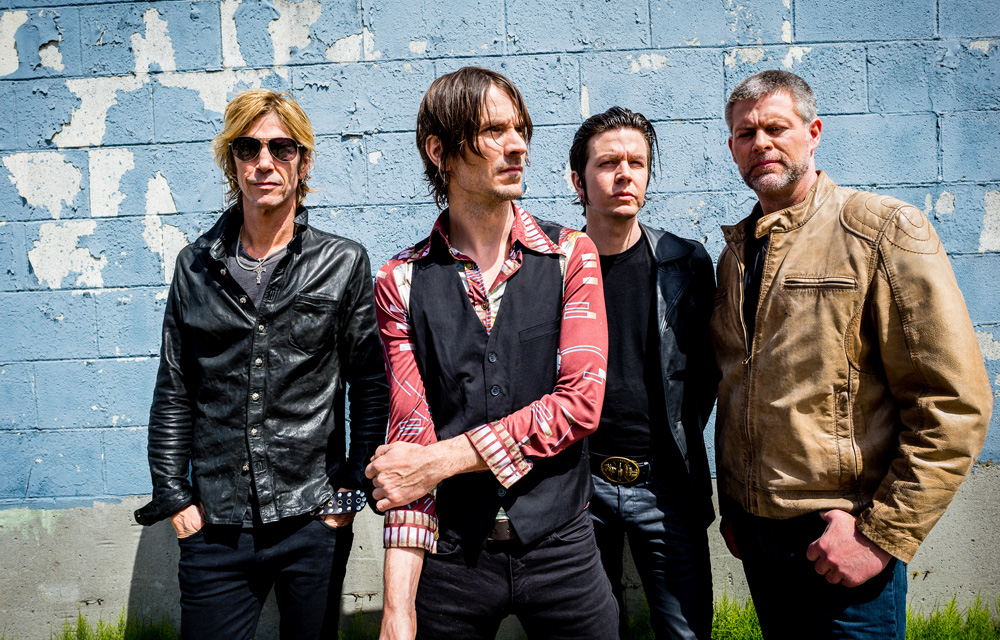 Walking Papers is one of the most buzzed about bands so far this year. The band features former Guns'N'Roses/Velvet Revolver bassist Duff McKagan and Screaming Trees/Mad Season drummer Barrett Martin. Fellow Seattle alum Jeff Angell handles the guitar and vocal duties, as Ben Anderson plays the keyboards to round out the lineup. Their sound is rock. Their sound is bluesy. Their sound is refreshing. It's simplistic in nature, yet it overflows with depth. The music is a akin to looking at a picket fence, the individuals and their instruments are all there as the boards, but you can see or in this case hear clearly between them. You can see just enough of what's going on behind that fence to keep you captivated. There's little room to hide on this album and it's absolutely brilliant. Each musician stands alone, but it's completely cohesive. A very difficult sound to sum up. Having said all of that, I'm thrilled to be able to have Walking Papers be a part of our site.
Listen to the entire Jeff Angell interview below:
[ca_audio url_mp3="http://www.unsungmelody.com/wp-content/uploads/2013/07/Jeff-Angell-from-Walking-Papers-interview.mp3″ url_ogg="" skin="regular" align="none"]
Today I'm joined by Jeff Angell. Jeff is the guitarist and vocalist for the band Walking Papers. Thanks so much for taking the time to speak with me today and welcome to the Unsung Melody family.
Thank you Jonathan. Thanks for letting people know about us.
I'll jump right in here, from what I've read, the band came together pretty quickly. It was basically started by Barrett and yourself. Tell me how that came together.
Well, I had first met Duff. He had come and watched the band that I was in at the time, called Post Stardom Depression. He invited me to come and try out for the Velvet Revolver thing. Of course, they went with the guy that sold 40 Million records and I'm still not sure if that was the right choice, but I'm happy to have remained friends with them through the whole time. We're still friends. I just kept plugging away doing my own thing and then in my travels and adventures, I came across Barrett Martin. He was playing some jazz at the time, but I think he was looking to start another rock project with a singer guy. So, he picked me out too and said, "Hey, you want to try to do this thing?" So, we started jamming and he was recording it. After only like three practices, he was like, "I've got some studio time. Let's record some of these ideas." I was like, "I don't know if we're ready." But then he says, "We'll have like another three or four more practices." So, I dug in. I had the opportunity to play with a legendary killer drummer here. So, I did my homework and we went right in after six or seven practices. We started recording it and then we invited Duff to come down and play some bass. Just hoping to get him to do a song or two and he ended up that he liked what we were doing, so he tracked and started writing with us. We did this before we ever played a show, because nowadays with telephones and technology, you don't want fans first experience of your songs to be of a crappy cell phone recording. Then Anderson is one of my favorite people that I've ever played with. I played with him in the band Missionary Position also and he's kind of a Swiss Army knife. It was nice to have him come in there. You never know when you might need the tweezers, or the toothpick, or the saw. He's the guy I go to if I need that.
Every band needs a MacGyver.
Amen. (laughter)
Having heard the album, I kept having one recurring thought. I kept thinking that this is not an album that a bunch of teenagers could ever make. There's a lot of life in this music.
Thank you. It's an interesting time. Sometimes I think people hold onto to hold ideas, in both good ways and bad ways. What are we living in the 50's? After 25 you can't listen to fun music anymore? I think what happens, when you get over 25, a lot of what is being shoved down people's throat, people over 25 aren't falling for that trick anymore. So, they need something a little deeper and with a little more experience. I try to write songs that interest me and I'm not 25. I write what maintains my interest. Funny enough, for me, I had never heard of Tom Waits or Leonard Cohen and stuff. At like 26, I was kind of like, well I guess I'm not going to make it in music. So maybe I'll hang it up. Then someone showed me a video tape of Tom Waits Big Time. I was like, "Wait a minute this guy is like 40 something and he's the coolest rocker I've ever seen." Half Keith Richards. Half Howlin' Wolf. A little Louie Armstrong, all in one dude and he's embracing the blues. He's not trying to reinvent the wheel, but the stories are so good that it held my attention a lot more than…I don't want to say an example. Just because I'd rather not put anybody down. I'm still thinking the thought anyways. (laughter) Then that kind of changed my perspective. So, that made me realize that I love music and I love songwriting and I'm going to do it. It's not based on becoming a pop icon, it's based on the passion for the craft. I wouldn't make a good icon anyways. I've got a big nose and crooked teeth. (laugh)
You keep it incredibly simple, but it still feels complete and it has a certain depth to it that's incredibly hard to describe. Did that happen organically or was that a goal when this band came together?
We didn't really have any direction. This is the most care-free, organic thing I've ever been a part of. The only thing is, I really like a good turnaround and a good change or a good set of chords, but I'm obsessed with lyrics and stories and stuff. I try really hard to, hopefully not put out anything that I don't feel confident in the lyrics. If it's a simple song and it has a deeper thought behind it, that gets in there. Also, Barrett is an instrumentalist. He's playing some odd instruments on there. We got some vibes and marimbas and I don't even know what some of the things are even called are on the album. There's other songs that are literally, I don't guess literally is right, it's audiolly…(laughter) It's just a guitar, drums and a vocal. It's just a one take, no overdubs kind of thing and sometimes that ended up sounding bigger than when you try to layer a bunch of things in there. I actually saw a thing with Bruce Springsteen. They're talking about making Darkness on the Edge of Town. They wanted the biggest snare drum they could get, but every time the snare drum got big, the guitar got small. They wanted the biggest guitar you could get, but then once the guitar got big, the snare drum got small. That's because there's only so much sonic space to deal with there. What actually makes something seem loud or seem big, is actually the space that goes between it. So, I think we're all big fans of space there.
As I was doing my research and writing my lead-in to this interview, I kind of described the album as looking at a picket fence. Each member and the instruments are there as the boards, but you can clearly see or hear in between each instrument. I just thought it was intriguing. It's something that's really difficult to describe. I don't know how to explain it. You've hit something cool here I think.
Now you're writing songs Jonathan. (laughter) Because that sounds like, that's one of the most beautiful metaphors for a song that I can think of. Good artists borrow and great artists steal, so I'm going to steal that and my next interview, I'm going to be saying, "I like to think about it as a picket fence." Because it's beautiful and I think it's true. You can kind of see what's going on there, but it kind of makes you want to know what's going on there more since they are holding that fence up in front of you.
There's a bit of a political slant at certain points on the album. Specifically the first single, The Whole World's Watching. Was that song written early on in the process or was it a late bloomer?
Well, sometimes I have lyrics that I'm mining for ideas. Sometimes even song ideas that just never got finished. You get like a junkyard full of these things and you pull the wheels off of one, the engine out of the other and you've got a street rat rod when you're done. Getting political is an interesting thing. I have a couple of political conspiracy theorists in my family, that man I just wish they would stop talking about politics. (laughter) I definitely feel that I do get a voice in music a little bit and if something is pissing me off, then writing about it is just a natural thing to do. But I don't necessarily put someones name on it. That's the beauty of a song is you can wrap up your whole concept and your ideas and hopefully it will inspire other people to think or feel. I can't seem to not have one or two political songs here and there. I also think that anything good comes with a dose of humor. So, I try keep a little bit of humor in there too. I don't know. There were a bunch of other lyrics to that song that I really liked, but I couldn't finish putting them in there. Like, "Where's this generations Martin Luther King, He's afraid he'll be shot if he says anything." I think there's a lot of people that aren't happy with the way that things are going, but the only solution is to communicate and to talk about it. Any environment where ideas aren't allowed to flow freely, it's going to be hard to find a solution. So, that's the best that I could do for keeping the communication going.
One song in particular that really intrigues me, is The Butcher. Is that based on a true story?
I like your picket fence thing so much, that I haven't really been talking about it too much when people ask me about it, but I'll tell you because that picket fence thing was so great. (laughter) When I was a kid, my Mom was a nurse and we got this step-dad. We lived in this townhouse and these guys lived downstairs and one of the guys had gotten out of prison and he moved in with them. That was the first place he'd went. My Mom being a single Mom of two misbehaved, rotten little hoodrats, that was me and my brother, she had slim pickings for finding a boyfriend. So, she got this guy who had been in jail from 23-33 years old. She was probably in her 40's and they got married right away and this and that. So, he kind of entered our life. A lot of why he was in jail was with drugs and this and that. They went through this process and he may or may not have burned our house down to get the insurance money. He got the insurance money and he was trying, my Mom wouldn't let him do it in the house, but he was trying to flip the money in a cocaine deal. Then he ended up getting his throat slit in the process of it, but to me as a kid, the thing about it, it was a pretty dark time. So, in a lot of ways I kind of felt relieved from the situation. I don't want that kind of harm to come to anybody, but the hard part about it, was I didn't feel devastated. More like I could finally inhale or exhale, whatever you do. I kind of had that song hanging around for a while. I draw a lot from experiences for my inspiration and I think that a tragedy, the saying goes tragedy with a little time becomes a comedy. I think that song is just that. All that darkness becomes funny once you're past it and the light is behind you.
I appreciate you sharing that. I certainly wasn't aware that it was that personal, so I apologize for bringing that up but I appreciate your honesty.
No, it's fine. I know some other people would be bothered by it. I have lots of humility about it and I don't get boohoo about it. It's a little weird to talk about it sometimes, but I don't actually. All those things to me are just life. People make their own decisions. It's unfortunate that anybody would have to have a tragedy, but it's my own tragedy and I can laugh if I want and that's what I do. I don't sit around and cry about it. I'll write a song about it.
Music truly is therapy. So, there you go. I'm right there with you.
Yeah. A lot of people really like that song. I think it's a special song. It's not the first song that's ever had someone die in it. There's tons of great songs in every genre. It's always a good conclusion. I mean, everybody's doing it. Sooner or later.
That's right. There's no escape. It's going to happen sooner or later.
When I go out, I'm going to go out special. I've decided how I'm going to die and I'm going to plan it ahead of time. The way I'm going to do it, is naked lady avalanche. What do you think? I mean, if you've gotta go.
That one caught me off guard. (laughter)
I mean, if you gotta go, why not a naked lady avalanche? That's what I'm saying.
I think that's a brilliant idea right there. I really do. Alright, I'm going to switch gears a little bit. You guys are hitting the Uproar Festival in support of the self-titled release. Which drops on August 22nd, I believe it is and the tour starts on August 9th. What can the fans expect the setlist to look like? Are you playing the entire album?
No. We don't have enough time to do that. I sure wish we were. We'd be playing the entire album and half of the next one. We're just trying to figure that out right now. Every single song on there really stands on it's own and comes off really well live. So, we're trying to figure out what will draw people in and get them to listen to the record. A lot of the time a band gets out there and rocks it. I mean I love the Ramones, AC/DC and Motorhead and stuff like that, our band's beauty is in the fact that we're eclectic. We're trying to find a way to give people an invitation to listen. So, I'm not sure what jams we're going to do with the time we've got. Are you going to make it to one of the shows?
I won't personally be there, but hopefully we'll be covering Uproar on the release date in Chicago. We're still awaiting approval. We'll see if we can make that happen. It would be a very interesting show I think. I'm sure there will be a tour after Uproar. Will there be more chances to see you guys?
Well, there is a couple of things in the works, but for as far as America, I'm not sure. There's certain commitments that when you do a tour like Uproar, you can't come right back out on tour and you can't go out right before, You've got to try and get the people to that show. I know we do have other tours. Like Australia and Europe coming down the road. As far as America, I'm hoping to do it again. We'll see. I want to play as much as possible. I just love it. It's good work if you can get it.
Do you have a lot of experience playing festivals? Is it something you enjoy?
No. I've played gutters for years. Then I moved my way up to the sidewalk, then I actually played a couple of venues. Then once I started playing with Duff and Barrett it's been better. The other day I played to like 20,000 people. It was ridiculous. It's a whole new game for me. The last few years, I've done over 100 to 120 shows a year, but it's like a lot was scrapping it out in a club. Sometimes playing three or four hour nights. Then they throw you on the festival stage in front of more people than you played in front of the last two years and you've only got 30 minutes and you've got to make it count. Because the band after you has got inflatable monsters and pyrotechnics and backing tracks and all that stuff. So, you gotta make it count. I've learned the hard way a long time, I'm paying attention. I've got my antennas up all the time. Of course, I've got Duff there. He's a jedi when it comes to this type of stuff. He's like a jedi ninja. He kind of directs me. It's pretty funny. If people heard our conversations, it'd be pretty funny. Duff is like, "Calm down. Take a deep breath. I know it's a lot of people. Make sure your guitar is in tune. Let's start there. Get that handled, at least you're starting out on the right foot."
Let's build the foundation of the house before we build the rest of it.
He's like, "I know you want to jump over that barricade and into the crowd, but let's think about the consequences. Are we going to be able to make the next show if you've got a broken finger?" (laughter) Another one he says, "There's Ireland and then there's Northern Ireland. Unless you want the living shit kicked out of you, you make sure you get that straight." (laughter)
Duff McKagan, the voice of reason.
He's a really inspiring individual.
Alright Jeff, I always end on a random question. So, here goes yours; Who plays the onscreen version of you if a movie is made about your life and why?
Ohhhhh, that's a good one. Do we get a time machine for this thing?
If you want. That'd be fine by me.
I would like Gary Oldman. I don't know. I just think he's an incredible actor. So that would be my guy. Really I don't get too starstruck on actors, but when he was in that stretch of Romeo is Bleeding and The Professional and all that kind of stuff, I was musically inspired by his acting. He can switch accents and styles and he's a skinny little runt with shaggy hair. I wouldn't want no pretty boy. I wouldn't want no Jared Leto or nothing like that, because no one would believe it. Anybody that's seen me in person would never believe it.
So we can mark George Clooney off the list. (laughter) Alright Jeff, I appreciate your time so very much. The site and myself we wish you guys absolutely nothing but the best. Again, hopefully we can get caught up at a show some time.
Keep up with Walking Papers below:
Official Site
Facebook
Twitter
Preview or purchase Walking Papers below:

Check out Two Tickets:

Check out The Whole World's Watching: