The World Is On Fire. An Interview With Michael Lindner From 28 North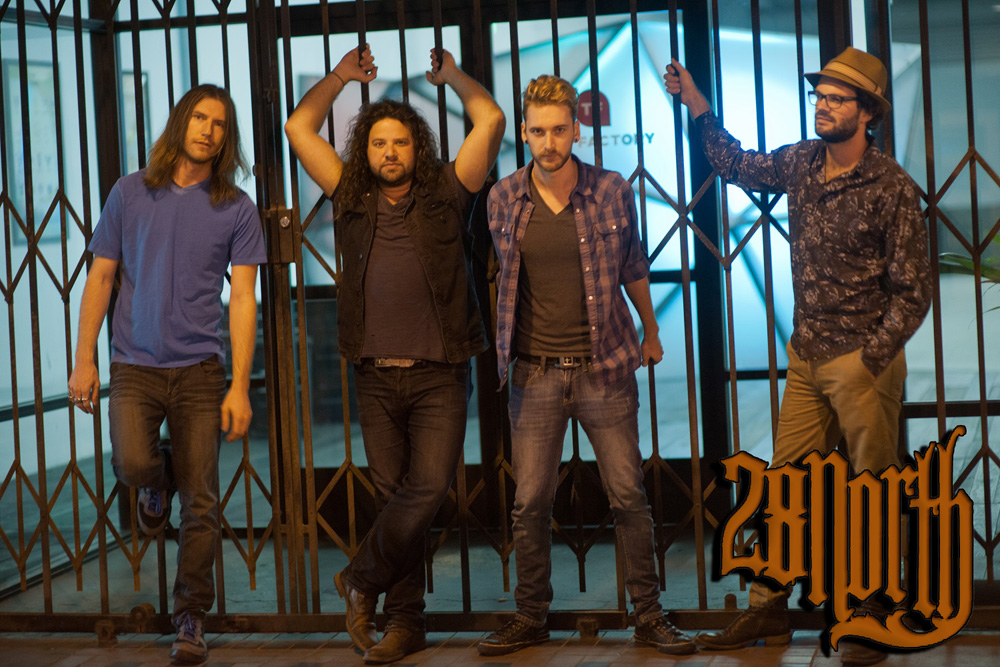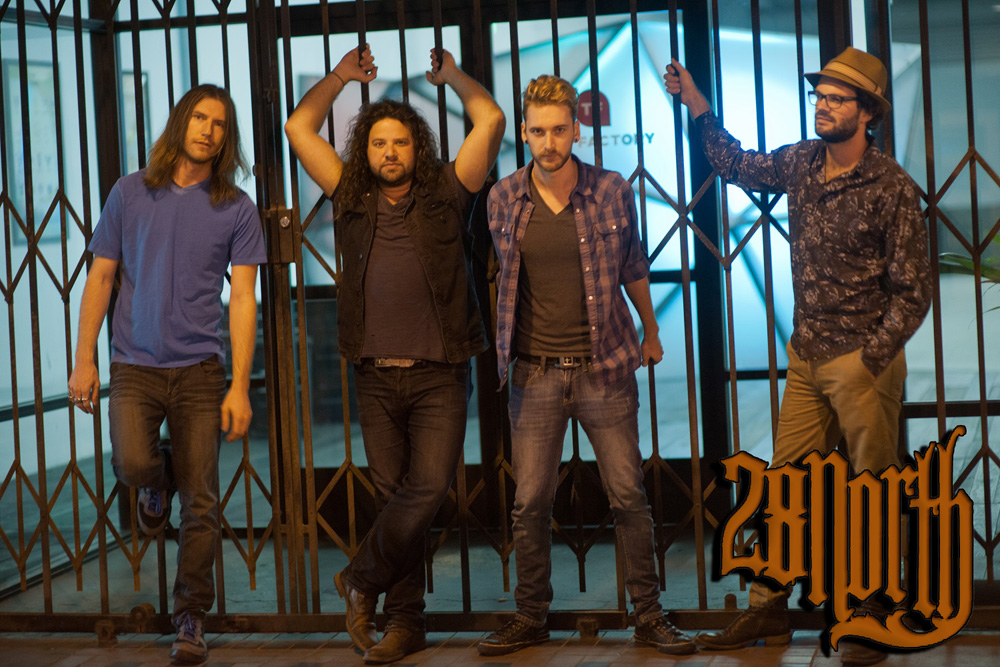 Labeling a band is the thing that I hate most about running this site. I would much prefer you hear a band and develop your own opinion at our suggestion. Unfortunately, that's not how it works, so I thought I'd have a little fun doing the thing I despise.
If you can imagine a magical musical orgy with the Counting Crows, Matchbox Twenty, U2, R.E.M., Oleander and The Eagles; The resulting bastard child would be 28 North….and trust me when I say this, that's a great thing!! So, without further ado, let me introduce you to 28 North!
Listen to the entire Michael Lindner interview below:
[ca_audio url_mp3="http://www.unsungmelody.com/wp-content/uploads/2014/04/28-North-Interview.mp3″ url_ogg="" skin="regular" align="none"]
Today I'm thrilled to welcome Michael Lindner from 28 North. Michael is the vocalist and a guitarist of the band. First off Michael, thanks for your time and welcome to the Unsung Melody family.
Good to be here, man. Thank you for your time.
I've heard the album. I love the album.
Thank you.
Let's start by discussing your roots a bit. The band is originally from Pittsburgh, I believe it is.
Well, the band started in Pittsburgh. We were a Pittsburgh band for quite some time. Over the years, we've adopted three members from Cleveland. Three of the guys are from Cleveland and I am from Pittsburgh, so I guess you could say we are a Pittsburgh band if you wanted to. 28 North is a Pittsburgh thing, so we are definitely a Pittsburgh band, but the personnel has been changed to Ohio.
You've since relocated to Los Angeles, right?
Yeah. We've been there for about three years.
Was that move a needed change or simply a business move?
It was simply a business move. I mean, I guess you could say both. We did need a change. We had been touring all over the US. We didn't have a booking agent or we didn't have very much going on. We had our music, which was special enough for us to continue. One day I found myself on vacation with my family. We were down in Miami where we met a guy named Jerry Heller. He's a very, very famous manager. He's best known for managing Otis Redding and Van Morrison. He was Pink Floyd and Elton John's agent, just to name a few things. We were living in Brooklyn at the time, and he listened to our old record. He said, "Hey, why don't you move to LA and we will make another record and we will push this thing." That's kind of what we did. We moved out to LA, the four of us. We lived in our tour bus for a long time and a lot went on. We lost a member. We had a record deal. You name it, it happened. It was a crazy ride, but now it's really starting to pay off with this new record, without a doubt. We've only released one single and it is climbing its way up the charts every week. It's really awesome.
You mentioned climbing up the charts. Call Me Up is currently at radio. How is it currently performing for you and has it opened any unexpected doors yet?
I think it's at number 65. If I'm not mistaken, it is somewhere between the 60-69 range on the AAA charts, which is pretty exciting because Triple A Radio plays, in my opinion, the best music. Bruce Springsteen, Coldplay, Radiohead, guys I look up to. So, when we see that we are getting added to a station with Imagine Dragons and bands that I just love, it is just so cool. We are really excited to be in that grouping of music. It cracked the top 70, which is huge. There are no signs of it slowing down, which is also huge. Has it opened doors? Absolutely. I can't even tell you, every week it is something different. We've got a booking agent now, so it's a new gig or we get offers for shows. It's not like me having to seek them out. People are coming to us, saying we want you to play here instead of us having to say hey can we play here. It's really a beautiful change. There's more fans, too. Our Facebook, Twitter, Instagram numbers, all of that stuff, every day we get new people connecting. I think over the last three days, we have had 170 people added to our Facebook. That may not sound like a lot, but when you've been doing this for a long time and things seem to just crawl, it becomes a pretty big deal and to see stuff like that, it's a beautiful, beautiful thing.
Right. It gives you encouragement. It adds fuel to your fire.
Well, it's like if someone likes what you do, you feel good about it. Just like anything else, you know. If you are a chef and somebody likes your pasta, you are going to keep doing it. So, if you are a musician and somebody likes your songs, you're going to keep doing it.
Since baseballs Opening Day happened a few days ago, I thought a description of LA was appropriate here. I've heard Los Angeles referred to as the Triple A affiliate for the big leagues of the music world. Would you agree?
Having spent a lot of time in Nashville, Austin, Chicago, living in New York and Philly. We were a studio band in Philly. Having really experienced all of these cities, really experience there, I think I really got to know them. I think LA is definitely a hub for so much greatness and if you can make it there, some people say if you can make it in New York, you can make it anywhere, I think that's true about LA. If you can make it in LA, you can make it everywhere. Our last show at the Viper Room was sold out. The Roxy, House of Blues, we've done very well there. We knew when we moved there, we could end up being the small fish in the big pond, it really didn't change and we were. Once we got out there, we didn't change at all and people responded. So it wasn't like that big of a deal to move to LA. It wasn't that different from being in Pittsburgh, we just thought we are going to keep doing what we are doing, but with more sunshine. We're going to do it with more industry people around. So I think the reason that applies is because that's where a lot of the people that make the decisions in the industry are. I don't think there are anymore music lovers there then in Philly or Chicago or Boston or anywhere. I think people love music equally, if not more… It's more about the music in a lot of other cities, it's very much about the whole package in LA. The look, the history, the manager, the label, what do you have going on. It's easier to get people interested through that, than through strictly your music. And other parts of the country, I think music is first, which is the way I like it, but that's just the reality of LA. It's a hard town.
Just more movers and shakers there. For me, if I'm honest, I hear more California in your sound than I do Pennsylvania. Was there a shift in the bands sound with the shift in zip codes?
Absolutely. Absolutely. We've been working with a very legendary producer named Gavin MacKillop. Gavin was responsible for bands like Echo and the Bunnymen. He did the Church and he did Toad the Wet Sprocket, Goo Goo Dolls, Kitten and Sugarcult. So he's been around for a while doing what he does, but he still has such a youthful ear. He has young kids, young at heart, and he's just very, very in tune to what's happening today. I think that before, when we were making records in Pittsburgh and New York, we were doing what we wanted. We were doing what we figured the fans would want and that was great, but Gavin brought this idea of, "Hey, why don't you try stepping it up to the big leagues a little bit?" We wanted to go sonically, a little more with what we were hearing. So, we could sit with our competitors and be like, well these are our songs sounding this way. It ended up shaping our sound so much because if you have seen us live, the album dictated our sound so much. We really loved the album, but instead of making an album we began just making it sound as good as it can and have it relate to our live show. So you know it's going to be a high energy show, because it's a high energy record. Meanwhile, we still have our roots. If you come see us live, we might close with a 13 minute jam. We might close with a song from The Who. We grew up in the bars. We grew up playing in the bars and that will never leave us. It's fun, it's like the bigger the venue, the better. I've played to five people in a venue in Albany, NY and had the time of my life, but you give me 500 people and I'm going to play that much better. We've been on all sides of the touring band thing. We've played stadiums, we've played outdoor arenas, we've played festivals, we've also played the dive-iest of the dives. That's part of our sound. That's part of what we do. That's part of 28 North. That's where the blue collar thing comes in. I'm glad it sounds that way, though. I think a lot of the best records I've ever listened to were made in LA. I think that it's proven it's doing well. This is our first record that has done as well as it's been doing. It's really cool.
I think you're well on your way. I fell in love with the album.
That's awesome, man. Thank you.
Absolutely. If I'm perfectly honest, and I always try to be, looking at the album as as whole, I think the honesty in the track Los Angeles makes it my personal favorite. Tell me a bit about the mindset of you and the band when that song was written. What ashes did that song rise from?
It's funny because it took me a couple of months to finish it. I had the line, "the one that got away was in the getaway car." I thought it was a pretty cool line. It wasn't my favorite, but I thought that if I could build around upon that, it could be good. I had a girl that I had written all of these songs about that, right when I moved to LA, we decided to move on. I knew it was going to be a hard thing to deal with, but I dealt with it and I wrote about it. Then, it's funny, because each line of that song has its own meaning. If I just took one for an example, "I moved to California in my 25th year with nothing but my brothers in a van full of gear." That's what we did. That's literally what we did. It kind of an autobiography. Once I saw where the song was going, I decided to make it even more autobiographical. "With the sanity, the luxury that not all could obtain, as I was running from my past, we all went insane." We had a little bit of mental strife there for a while. Living out in the middle of nowhere, sure we chose to do that, but at times it felt like the universe or something had forced us into it. We sort of felt like, what else are we going to do? We have to do this. Sure it's lonely or whatever, it was hard. So it came out in that song and it's really cool because a lot of people are responding to it. A couple of radio stations have already added it. It's funny, when I meet people who are getting into the band, I'm like, "Well, if you want to know who I am, come here and listen to this one." This is really about what happens. It's a numbers game. We got into the music business when it was all about Myspace hits and Facebook numbers and Twitter followers. It's not that I had no peace, actually no, it was always a struggle. There was always a hustle. Every time we thought things were going to go one way, they went another way. All of a sudden, we got this team of people together and they've been killing the record. It's been wonderful. It's all been worth it.
The honesty shines in that song and I think that's why you're seeing the success of that. So maybe you stumbled upon the secret of just how open you need to be and have to be.
That's always important in any field. Isn't it always those that are themselves, they're the best. When you try to be somebody else, that's when you fail. When you try to appease other people, whether it's lyrically or musically or sonically, like, "Oh we're going to throw some dubstep in here." Well we're not going to do that. Sure we might explore down the line some different things, but if you stay true to yourself for long enough, you're going to develop your own style. Then you can go on from there and that's where I think we are at now.
Now let's discuss something you guys possess that's a dying art; harmonies. I can hear a lot of classic rock like The Eagles, Little River Band, and Night Ranger. When, where and at what point did you guys figure out that the harmonies would be such a crucial element of who you are?
That's a great question and I'm glad you asked that because when the band started, we all lived together in this house. This house was, first of all, it was haunted. Second of all, it was the last house on the block. It was falling off the hill. There was no heat, no air conditioning. Just one of those places. We got it for like $300 a month between four of us and every night, we'd spend all night. We were school bus drivers, we'd do that, we'd come back, we'd play music and before we went to bed, we put on The Last Waltz and we'd watch The Band. We'd listen to The Band and then we'd get in our cars and we'd put on The Last Waltz and we'd listen to The Band. I think that we were all so influenced by their harmonies, that it just became a situation where it was like, "Oh, you're singing that line? Well, I'm singing this line." Then through time, we learned how, Tyler and I in particular, we've played so many parties, so many barbecues, so many gigs that we just decided to start making our voices sound really good together and that's something that we are really proud of. We were all music school students at first, so we learned about harmony and how to construct harmony, what works, when to put one in, when not to overdo it. You learn all of these different traits by listening to The Eagles and Crosby, Stills and Nash. Even country music these days has great harmony. It's funny, growing up I had a lot of favorite albums, one of them was Dookie from Green Day. If you remember, a lot of people would say that was their first album for this generation. I'm sure you've met the Dookie people. The thing that struck me most, that warm feeling that music gives you the most was vocal harmonies. I remember listening to Aerosmith, like the 90's era Aerosmith stuff, and the things that always jumped out at me and made me need to listen over and over over again were not just the harmonies, but the vocal harmonies. The sounds of two people singing in harmony. There's nothing better. So why not add that to a distorted guitar line. That's kind of where it comes from. It was always a very important part of the band and everyone has to sing, everyone takes singing lessons. It's something that we take very seriously.
I think you guys pull it off fantastically and if I could throw something in there, I think you guys could totally pull off a fantastic version of Lonesome Loser by Little River Band. So that's my two cents worth.
Lonesome Loser. I will have to look it up. I don't know if I know that song.
You'll love the harmonies.
Awesome. Can't wait to listen.
Little River Band – Lonesome Loser:

Alright, ending on a random question is a tradition here. I toyed with baseball a bit earlier, so in keeping that theme, let's do a fantasy draft except with musicians. Living or dead, outside of your band mates, who's your first pick in the draft?
If I'm putting a band together, and I'm not going to be in it, I'd want to see this band.
You're going to play the triangle, right?
Yeah…No, I'm just going to watch. So on lead guitar I'd have to put Jimi Hendrix. I know that's a stock answer, but to just be able to see him play even, that would be incredible. On rhythm guitar I'm going to put James Hetfield from Metallica. Although, I don't want him singing. I'm sorry. On bass, I'm going to have to go with John Entwistle from The Who. On drums, John Bonham from Led Zeppelin. On vocals, I'd have to go with Freddie Mercury. Wouldn't that be a killer band?
I don't think you could top it.
On keyboards and maybe background vocals, I'd put Gregg Allman from The Allman Brothers Band.
Just Gregg Allman. Just throw him out there. He's nobody. Ya know. (laughter)
That's what I want. I want to have him sing backup and maybe have him sing a couple of songs. Our female vocalist would be Aretha Franklin. Then the guy writing the songs will be Bob Dylan and this will be the greatest in the history of time. (laughter)
I can't argue with that point. That would be wonderful.
You just got me really excited. I'm going to go YouTube a bunch of John Entwistle videos.
That's good. You inspire me, I inspire you. That's just how it works. Michael, I can't thank you enough for your time. I think your future is a bright one, so slip on some shades and I hope to meet up with ya on the road.
Keep up with 28 North below:
Official Website
Facebook
Twitter
Preview a few tracks from World On Fire below: