Dead Mans Parade. An Interview with Jacob Bunton From Lynam.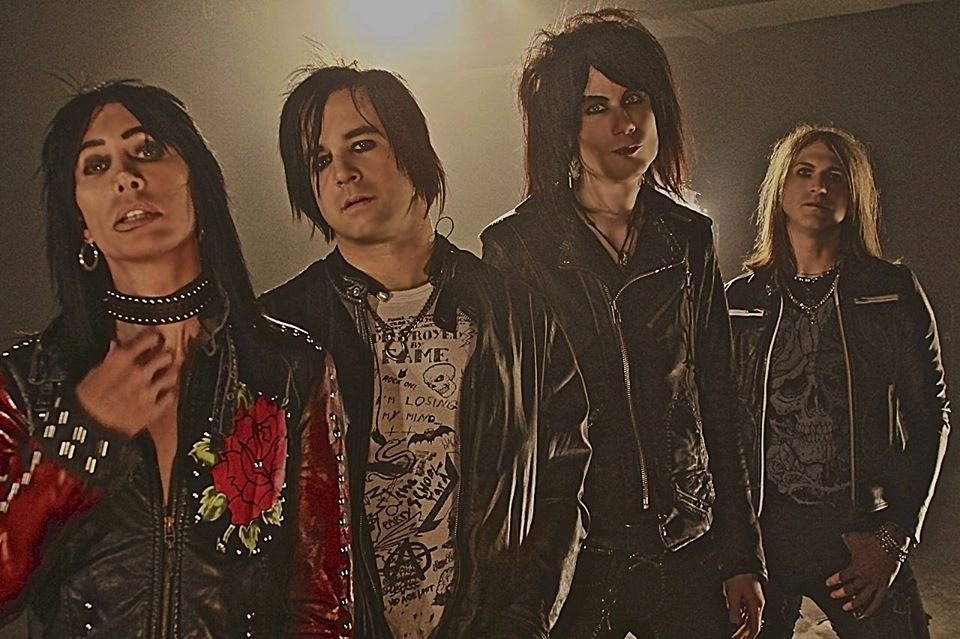 Lynam is a band that has been doing there thang for quite some time now. As I mentioned in my review of their new EP here, you either love them or hate them. We happen to love them here at Unsung Melody. Genuinely good guys who happen to be damn good musicians. What's not to love? The EP I mentioned is titled Halfway To Hell and was just recently released. The band brought in Jacob Bunton's fellow Adler bandmate Lonny Paul, as well as original bassist Mark Dzier. The lineup is set, the EP is out; Now it's time for Lynam to hit the road and melt some faces!
Listen to the entire Jacob Bunton interview below:
[ca_audio url_mp3="http://www.unsungmelody.com/wp-content/uploads/2014/01/Jacob-Bunton-of-Lynam-Interview.mp3″ url_ogg="" skin="regular" align="none"]
Today I'm joined by Jacob Bunton. Jacob is a guitarist and the vocalist from the band Lynam. First I want to say thank you for joining me and welcome back to the Unsung Melody family.
Thank you for having me back again. It's good to chat with you again.
You guys recently releases a brand new EP, so let's start there. I recently reviewed the EP here on the site and I personally loved it. Before that you released a live disc titled Thank You Goodnight and then it was announced you were the vocalist for Adler. Was this EP born out of necessity after the issues with the Adler project or was this the plan all along?
Well, neither one. Lynam's been a band for a long time and when we released the live record, we said we were not going to put out anymore full length records. People took that as we were going to break up and never record again. That was never the intention. The band actually never broke up. Even when Adler was together, the band still continued to play shows on off time. The band Lynam, I'm in a band with my best friends, so I don't see us ever breaking up. (laughter)
That's great news! Vocally, you are really showcasing what you're capable of. For me, it's one of the more adventurous releases with you at the helm, especially using the lower register of your range. Is that just from honing your craft or were you conscious of that going into this one?
I've always done whatever is best for the song. The songs that we've had in the past, especially the first couple of records, they kind of lent themselves to that particular vocal style. Each song has is it's own beast and has it's own character and it's own voice. I just do what's right for the song and these particular songs called for the way that I'm singing on those.
Lonny Paul, who was also a part of Adler, joined Lynam. Tell me about your guys relationship and how he came to become a member of Lynam.
In Adler, we hit off very well. When we started playing shows, we realized really quick, actually let me back up a bit. The drummer for Lynam went on the road with me with Adler as Stephen's drum tech, so me and David, who is the drummer for Lynam, and Lonny, all three of us would hang out a lot on the road. We realized really quick that he definitely needed to be in Lynam as well. We hit it off great. He's a tremendous player. A tremendous writer and we saw the asset that he would bring to the band. So, we invited him into the family.
For me, the band seems as if they are an extremely cohesive unit now. Do you feel that Lonny is a big part of that or is it maybe more attributed to having Mark Dzier your original bassist back?
It's both of those things. Mark has been with us for a long time. He left for a little while to go do the Rock of Ages thing and he came back. It's like the old saying about an old shoe, it just fits. With Lonny, he brought a new dynamic to the band and it definitely feels like a more cohesive unit than it ever has.
I asked about Lonny before I asked this question. I've got to know; Who recorded that nasty tone scream on Wrong Side Of The Grave?
The scream on that particular song was actually Cody, our bass player that took Mark's place for a couple of years. He's a great screamer, doing all of the screamo type stuff. I always wanted to utilize that somewhere in Lynam when he was in the band, but it just seemed the right time on that particular song. It lent itself to it. We're all still really good friends, so it was natural to bring him in to do it.
You guys released a video for Cold. This was your first video in quite some time. A lot of people feel that the video medium is a bit of dying platform. How do you feel?
It's really cool because of Youtube and all of the different sites now that are just video only sites. I think they are just effective now as they have ever been. There's no MTV or VH1 or whatever, but you release something good and people want to see it. The views are there on Youtube to prove it. People like to watch videos, so create something cool and people will go watch.
Lynam – Cold:

I feel that the loss of a physical copy, that always housed the lyrics and credits, are what make the lyric videos so popular.
People like to watch the lyric videos just to see what the people are saying. Lyric videos actually get more hits than official videos. It's crazy, but it makes sense.
Being a photographer, I'd love to know a bit more about the location and the process itself when making the video for Cold.
Yeah. We shot it in Nashville with a director named John Fucile and his team and their company called Smackdab Media. He has a warehouse in downtown Nashville, which is where we shot all of the live footage. All the story line footage, he shot around Nashville with the girl.
Could Dead Mans Parade possibly be about a former bandmate?
Oh no. (laughter) Actually, Dead Mans Parade was written for the Adler project. Lonny Paul wrote that song and we did the Adler record, we brought Steven a lot of songs. I wrote songs, Lonny wrote songs, we wrote songs together. Steven had a very good ear and a really good vision of what he wanted the record to be. The back from the dead album. To be honest with you, Wrong Side of the Grave was an Adler song as well. It was written for the Adler record. So two of the songs on the EP were originally written with Adler in mind. Those are two of the songs that he didn't feel were right for the record. There songs that we absolutely loved and we knew we would find a place for them at some point.
I'm glad to hear that and hopefully Steven is continuing to do well. Hopefully he can get back out there at some point.
I'm going up to see Steven for his birthday. We're going to go to dinner.
I always end on a random question. It's a bit of a tradition around here. So I thought I'd ask you when was the last time you were starstruck?
I don't know if it's as much starstruck as it's like wow, how did I get here? Like a lot of the experiences I had with Adler, when we were in Japan. We're up on stage playing Sweet Child O' Mine and Duff is playing bass, Steven's playing drums and I'm singing. It's just one of those wow moments. I guess it is starstruck, because you're sitting there on stage playing with people that were hanging on your wall when you were a kid. Which is pretty cool. Then, a week later I did the same thing with Cinderella. When Tom Kiefer was sick. They asked me to sing with them. Just another thing. I mean they're my friends, but at the same time, those friends were hanging on my wall when I was a kid. They were big influences, so I guess last year in March, that was the last time that I really recall being just like wow, this is insane.
Jacob, I truly appreciate your time and I wish you all the best. I hope we can get caught up on the road soon.
Keep up with Lynam below:
Official Site
Facebook
Twitter
Preview or purchase Halfway To Hell below: