AWAY Remixes THEY.'s "Motley Crue"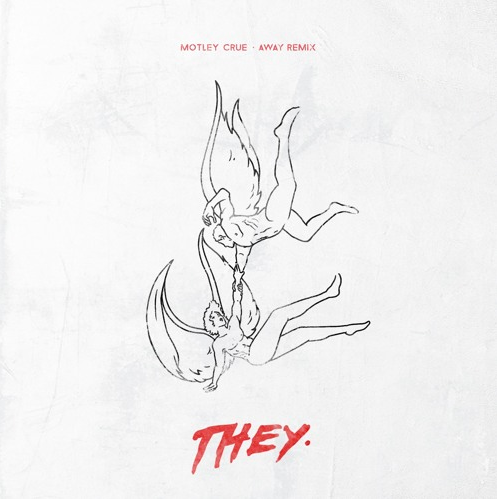 The third signing to emerging label Mind Of A Genius, THEY. (Drew & Dante) caught attention with their debut EP 'Nu Religion' in October of last year. Gaining support from Beats 1's New York anchor Ebro, The Fader, BBC Radio 1 and more, THEY. are making their first inroads into 2016 with a 4 track remix package, that kicked off last week with their track "Bad Habits" remixed by Soulection member Esta. In creating a four track remix package for their EP, THEY. reached out to renowned production groups Soulection and Bromance, the results of which will be revealed over the coming weeks.
This week they reveal a new remix by LA Bred Producer AWAY (Alone With All of You). With deep-rooted influences in experimental rock and 90's electronica, AWAY's style is boundless. His focus is to create art that conveys emotion and a connection to a darker truth that most of us often suppress. A sonic fusion of similar artists like Flume and NIN, the AWAY sound is ripe to cut through the noisy indie/electronic music scene and make it's mark on 2016.
Buy "Motley Crue (AWAY Remix)" on iTunes
THEY. are Drew & Dante. The two were introduced in Los Angeles through Dante's production partner and best childhood friend 'Big Drew'. At the time, Dante was churning out beats in the studio with the elusive producer, and now label mate, ZHU, and Drew had just relocated to LA from Maryland in search of a like-minded writing partner.
In an effort to move away from pop production towards something more boundary pushing, Dante saw Drew as the his ideal collaborator. Without even knowing it, they formed a group. Influenced by the two-singer dynamic of Taking Back Sunday and the nursery rhyme simplicity of Kurt Cobain's lyrics, Drew and Dante meld their diverse musical backgrounds to create songs without boundaries that push forward the cultural needle. Melodically, Dante and Drew have a mutual admiration for late 80s gems such as Babyface and New Edition; "The Ralph" even features as one of Drew's many studio voices. The pair combine these influences with their own limitless and evolving sound to produce something that can't be placed into a box labeled 'Urban' and filed away.
In terms of their label affiliation, this came about in a true THEY. moment of serendipity – Dante ended up playing their tracks for Mind of a Genius founder, David Dann, as he was leaving the studio shared by all the artists. Two weeks later, the deal was penned. Four months later, the pair released their debut 'Nu Religion' EP. Look out for more from this duo throughout 2016.
Connect with THEY.:
Facebook | Twitter | SoundCloud