Yeah Man! Black Stone Cherry featuring We As Human and Kyng at Buster's in Lexington, KY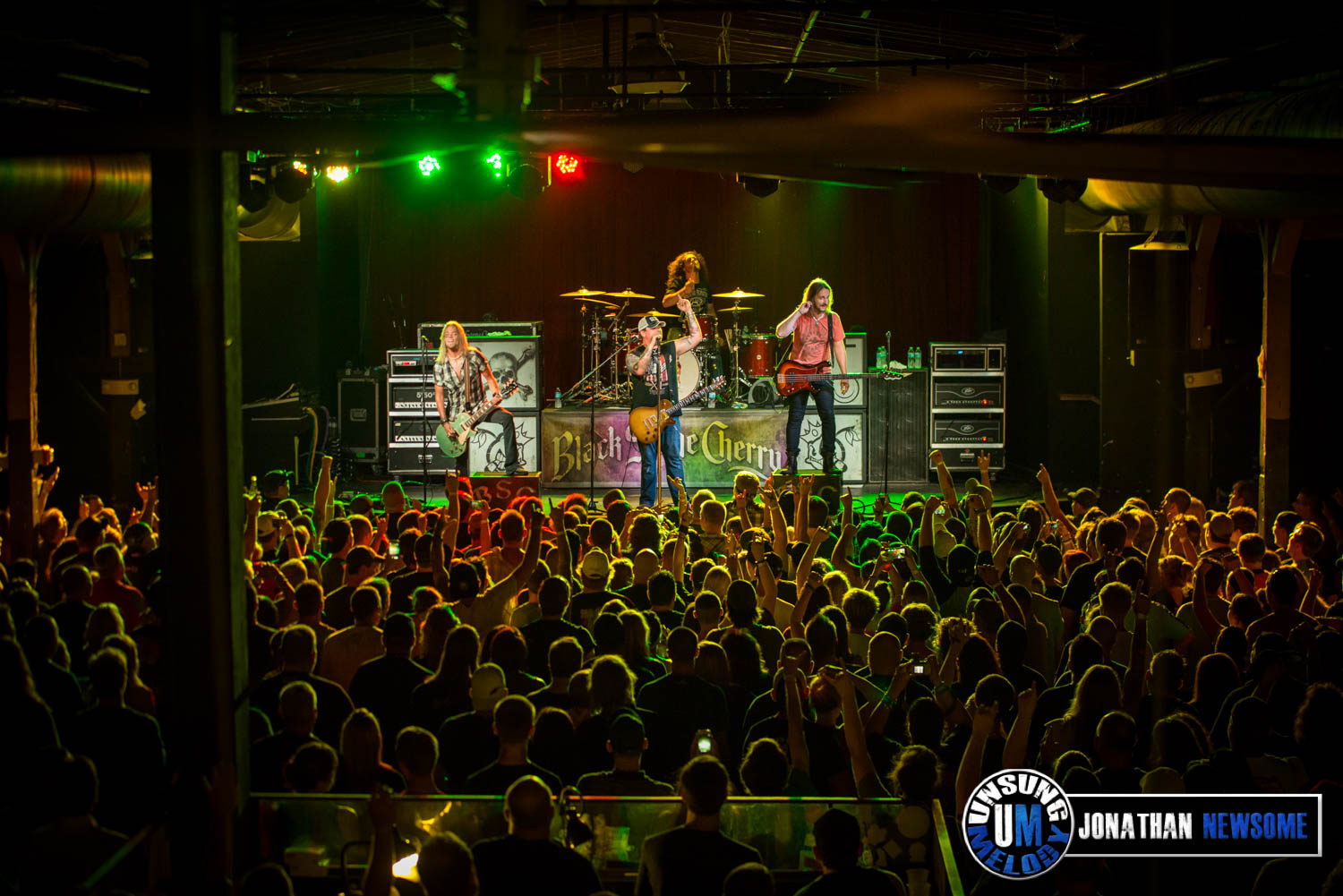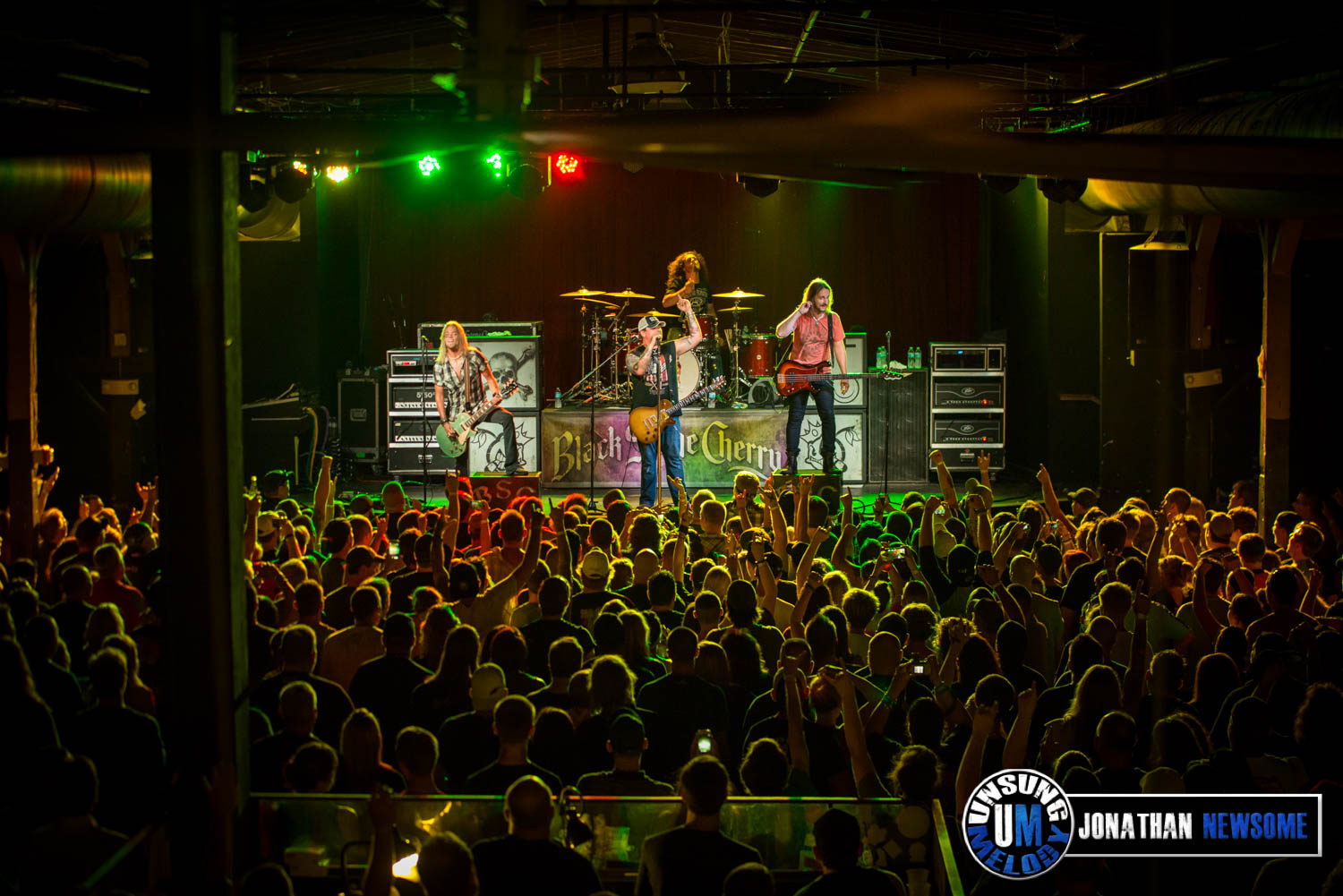 This past Sunday, the 2014 edition of the hardDrive Live Tour rolled into Buster's in Lexington, KY. This year the tour features Kentucky's own Black Stone Cherry, alongside We As Human and our 2012 Unsung Artist of the Year Kyng. With the line for the doors already wrapped around the venue and well into the parking roughly 75 minutes before the doors were set to open, I immediately knew we were in for a packed house. I've said it before and I'll say it again; Buster's is a terrific venue and one of, if not my favorite spot to take in a show.
Kyng was the opener on the night. The band recently signed on with Razor & Tie Records and with the release of their newest album, Burn the Serum, they've returned to the road warrior form that they're known for. Not only are they on this tour, they'll be playing a few dates with Black Label Society and Wovenwar along the way. So keep your eyes open for this band when they roll into your neighborhood.
Kicking off their set with the title track Burn the Serum, Kyng wasted no time in showing Lexington exactly who they are. Black Sabbath-esque riffs and soaring vocals from Eddie Veliz, thundering bass and sweet harmonies from Tony Castaneda, topped off by the driving beats of one of the best drummers going in Pepe Clark. I call that a win. In fact, from a personal standpoint, seeing John Fred Young from Black Stone Cherry and Pepe Clark from Kyng on the same bill was one of the reasons I wanted to cover this tour.
Kyng – Electric Halo:

Tearing through their set that included a mix of tunes from their first independent release and the new album, the band displayed a great variety to offer the crowd. Some of my favorites were Burn the Serum, Lost One, I Don't Believe, Falling Down and of course the current single Electric Halo. There was also a tremendous cover that I won't spoil for you, but you can find it in the photos if you're really curious. For me, one of the biggest improvements for Kyng was that Eddie Veliz took the time to chat it up with the crowd. He was sharing his hilarious personality and showing huge growth as a frontman since I saw them last year with The Sword. For me, this band can do no wrong and I strongly suggest you check them out.
Kyng:

Next up were Christian rockers We As Human. I saw this band last year as well, as they were included on that edition of the Carnival of Madness Tour. I was curious to see how they had grown since and to be honest, the band itself showed no huge changes. That's not a bad thing though, as they were and still are quite good. Their intensity is unrelenting and as with Kyng, We As Human's growth was in their frontman. Vocalist Justin Cordle has figured out how to compel an audience by transferring his intensity as well as the bands energy. Couple that up with the tunes in their arsenal and you have a band that continues to make a splash.
We As Human – Strike Back:

In fact, you can find Take The Bullets Away (Which features Lacey Sturm formerly of Flyleaf on the album) on the current radio charts. For me, the highlights of their set were the opener Severed, Wake Up The Zombie (Which features John Cooper from Skillet on the album), Dead Man, the aforementioned Take the Bullets Away which was possibly the most intense song in the set and the closer Strike Back. If you enjoy bands like Three Days Grace and Shinedown, We As Human should be a rather large ping on your radar.
We As Human:

Now the time had come for the reason Lexington, KY had packed the house. The return of their home state heroes, Black Stone Cherry or BSC for short. Starting the set with Maybe Someday from their debut self-titled album, the boys were back in town and absolutely on fire. Then came current single Me and Mary Jane and the place went complete bananas. I don't think I've ever been more proud of a crowd in Lexington and the love for these guys was tremendous. I had a sneaky suspicion that BSC's new album Magic Mountain (Which I reviewed here) was the perfect combination for many fans and this night simply solidified my belief.
Black Stone Cherry – Me and Mary Jane:

Soon after, the band continued on by playing two songs that were pretty special to the setlist. The first was The Ghost of Floyd Collins from their second album, Folklore and Superstition. Floyd was a spelunker who discovered Crystal Cave here in Kentucky and ultimately lost his life in the Sand Cave. Those caves are located in the area of Kentucky where the guys hail from. It's a bit of a deep cut from the album, but the guys try to play when they come through Kentucky. The second track was Yeah Man. This one was only released on a live album sold at the Astoria show it was recorded at in London, England. It's one of the most intense and fun grooves the guys have ever written and it's one that ALWAYS gets the crowd moving. Guitarist Ben Wells enjoys it too, as he does his best bouncy ball impersonation. That dude was everywhere and I'm not convinced he wasn't riding an invisible pogo stick. For the fans in attendance, it was a really nice treat to see those two songs in the set.
After Like I Roll and a superb version of Rain Wizard, BSC and the crowd had a moment together. You know, something that is so incredible that every time you see someone who was at the show, that's the first thing you both talk about. Midway through In My Blood, the crowd was louder than the band and vocalist/guitarist Chris Robertson knew he had the crowd right where he wanted them. Dropping out vocally, he let the crowd do the heavy lifting and enjoyed every single moment. Even extending the song to have the crowd sing the chorus one more time. What an amazing moment for all involved.
Some songs simply translate better live than they do on a recording. For me, Blind Man is definitely one of those tracks. Just as John Fred Young and his booming kick drum seemingly blasted the crowd back about two feet with each kick, Chris came in and melted their faces. I didn't think the band could get any better, but after the love the crowd showed the band during In My Blood, it was on. The performance was inspired and for lack of a better word, ferocious. In fact, the rest of the set was stunning.
Bassist John Lawhon kicked off Fiesta Del Fuego. It was a fun one and is most likely the next single. That led into John Fred's amazing as usual drum solo. If you've never seen him perform his solo, well you need to. Not only does he pound the drums with everything in him, he also uses his hands for the majority of it. That's right, sans sticks. It's a pretty unique way for the band to take a moment and not do the boring, overused walk off the stage and make people wait for the encore schtick.
As the band rejoined John Fred, they finished up the night with a three song barrage that included Soul Creek, Blame it on the Boom Boom and the song that started it all, Lonely Train. Taking a moment to talk about how far they've come as a band, you could see Chris's eyes beaming with pride and a sense of accomplishment in his smile. It was an awesome ending to an incredible night.
As I wrap up this review, I want to say something here. I've seen Black Stone Cherry at least 15, maybe 20 times over the years and I can honestly say, they have NEVER sounded better. I've watched these guys grow into great men and terrific artists. Their dedication to themselves and then their craft has never been more obvious than on this night. There was a ton of family in attendance at Buster's and the vibe from the crowd was absolutely electric. As much success as these guys have had in the past, I don't think the future has ever looked any brighter. Go see these guys now as they headline these clubs, because the venues these guys play are about to get much larger.
Click here to find a tour date near you.
Black Stone Cherry: