Volbeat, Trivium and Digital Summer at the Louisville Palace in Louisville, KY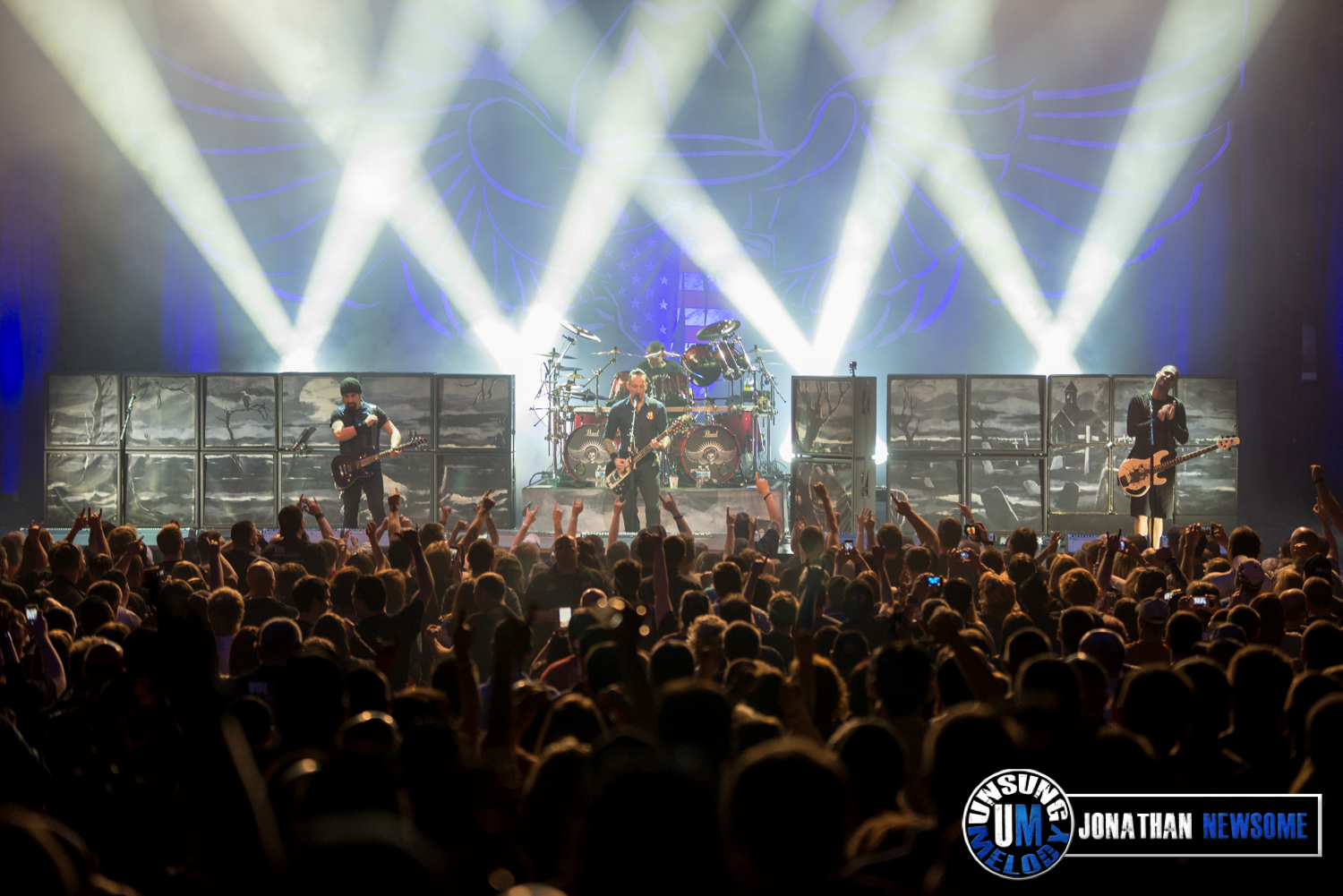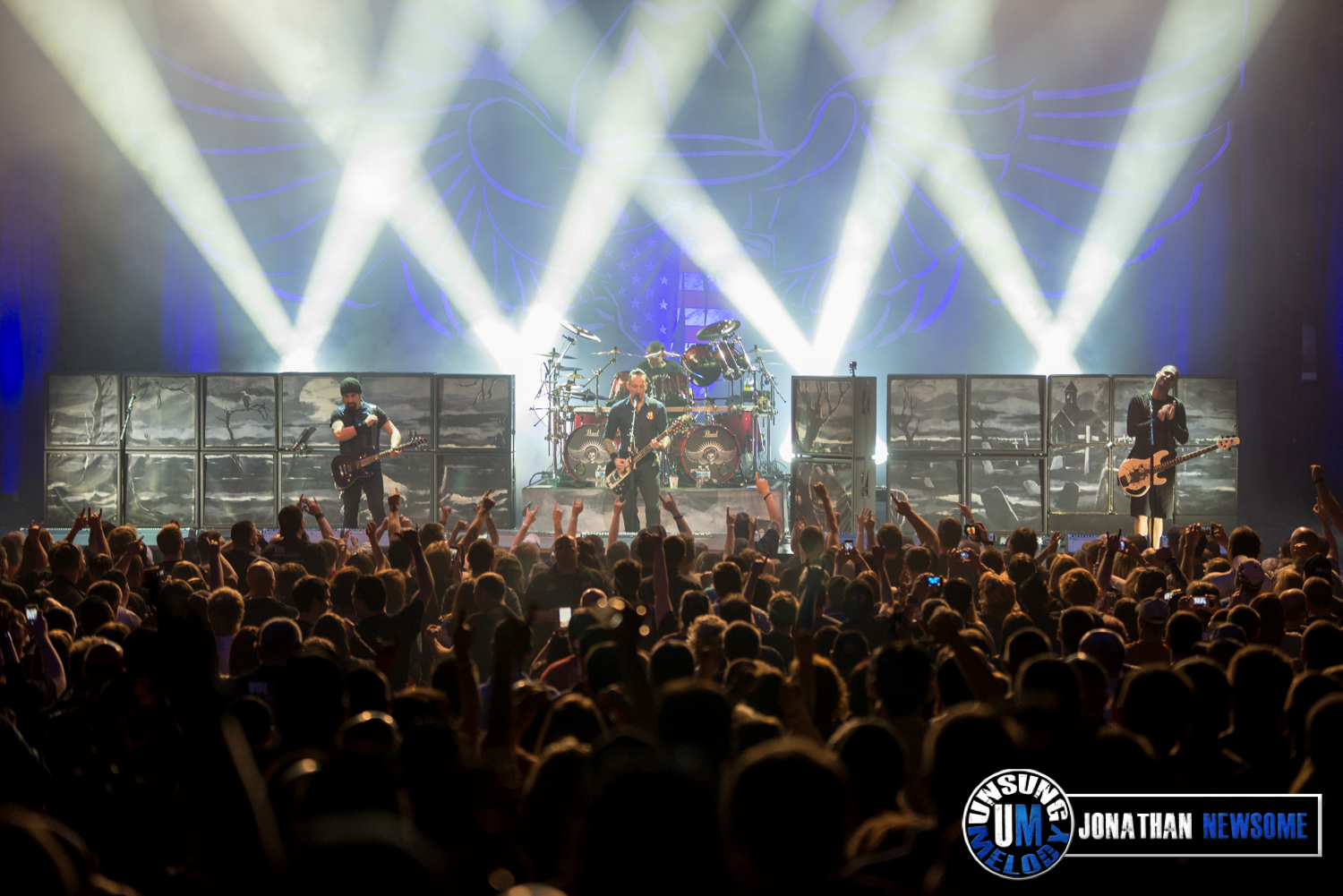 Sixty-Five degrees and sunny. That's the situation I left outside the Louisville Palace. Inside, well that's a whole other story. In the most beautiful venue imaginable, Volbeat rolled into town with Trivium and Digital Summer in tow. I for one was ready for things to heat up.
Starting things off were the Phoenix, AZ rockers Digital Summer. If you follow the site, you may remember an interview we did with their 13-year old drummer Austin Rios. Intrigued, I made sure I was there in plenty of time to see for myself, just what all the hype was about.
Starting off, the band took to the dimly lit stage playing an instrumental track sans vocalist Kyle Winterstein. Standing on risers, all lit in blue, the band played on as Kyle finally made his entrance. Immediately their dedication to bringing a high energy set was obvious. The band was fully aware of the tremendous opportunity they've been given and they gave every ounce of themselves to the Louisville crowd. Their set was tight. Their energy was great and I'm certain they left Louisville with quite a few new fans. With my knowledge of Digital Summer, it seemed I was in the minority, as those around me began buzzing immediately after the set. I was happy to share my insight on the band and also mention the kid behind the kit. Yeah, the one in the band who just collectively kicked their ass. Several assured me they would dig deeper, especially after I told them that Mr. Clint Lowery from Sevendust was involved with the track Forget You.
Digital Summer:

Metal monsters Trivium were up next. Before their set, It was intriguing to see the crowd as it was a pretty decent mix of shirts. I'd say a roughly 60/40 split in favor of Volbeat. That was not necessarily surprising, but it didn't really correlate to the crowd reaction.
In all honesty, it wasn't until Black, roughly five songs into Trivium's set that I saw much crowd involvement. Trust me when I say it wasn't the bands fault. Their energy was infectious and their playing was spot-on. Well, what we could hear at least. You see, I live by the old adage that if it's too loud, you're too old. Tonight though, that adage was blown away. Quite literally. Trivium's volume was so incredibly loud that people were actually heading to the lobby. It was borderline painful as the speakers, or my ears one, we're cracking and popping with the load.
I wish I could say more good things about the performance, but it simply wasn't a comfortable experience for anyone in attendance. Vocalist/guitarist Matt Heafy even mentioned that if a few more people would stand up, they'd play better. Unfortunately for them, it was out of their control. It wasn't their playing that had people uninterested. It was a truly great performance, derailed by sound.
I did hear Built to Fall, Strife, Black, Dying in Your Arms, Down From the Sky and In Waves. At least I think I did. I hope to catch Trivium again soon to get a better vibe of them live. It had been several years since I saw them last and so wanted more.
Trivium:

It was then time for the headliners in Volbeat. With the tremendous ovation just for the crew sound checking, I immediately knew we were in for something special. Bursting onto the stage with Doc Holiday, the band not only lit the fuse for the Louisville crowd, they threw in some extra dynamite as The Palace nearly exploded.
That excitement was present throughout the first couple of songs. Then, I don't know how, but Volbeat took it up a notch. From the first chords of Hallelujah Goat, to the last note of the hit Lola Montez, the crowd was mesmerized and following every note. It was AWESOME.
Taking a small moment to relate with the crowd, Michael Poulsen mentioned growing up in Denmark, Alabama. Okay, that was his joke, not mine though. Michael spoke of growing up in Denmark and how he loved Elvis Presley and Johnny Cash. It was a moment that brought the fans even closer, as they too realized the universal power of music. All of that of course brought on Sad Man's Tongue. Which had the loudest singalong up to that point.
Other highlights included all the girls on the shoulders of their men during 16 Dollars, The Mirror and the Ripper, which was followed by the enormous (and personal favorite) The Nameless One. Then came the beginnings of a brand new song, which is currently unnamed; Two words…HOLY CRAP!! Let's just say it was HEAVY. Wow.
Maybeline I Hoftholder was an interesting showcase, if you will, as the band slowed it down a bit and introduced an acoustic guitar before picking up the pace again. What did they follow that up with? I'm glad you asked. The EPIC Still Counting blew the roof off and ended the main set. There was more hair flying than a barber shop on a Saturday. Let's use the word intense. Yeah that's fitting. I do want to say that the volume was somewhat better for Volbeat, at least up until that point. Then Louisville's united voice pushed things waaaay over the top. Except this time, most were so enthralled in the moment, it was a moot point and didn't seem to be an issue. My ears are STILL ringing and I'm quite okay with that.
After being met with chants of VOL-BEAT!! VOL-BEAT!! VOL-BEAT!!, the band returned and performed a mini-set for an encore. The highlight of that for me was The Hangman's Body Count. Let me sum up Volbeat's set for you, the band wrapped up the Louisville fans into a nice, neat ball; Then kicked the crap out them to end the night.
Go see this tour (Click here for more dates). Take ear plugs, but go see this tour. You can thank me later.
Volbeat: