The Sword featuring Castle at The Music Hall of Williamsburg in Brooklyn, NY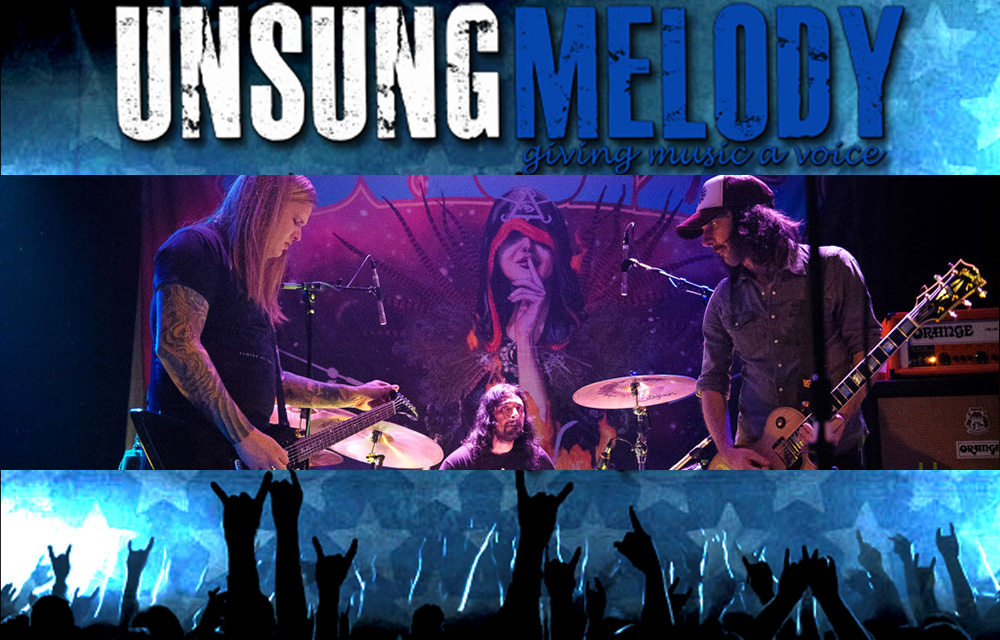 Sure, it may have been only a little over three months since I last saw The Sword live, when they were opening for rock behemoths Clutch. However, after being thoroughly impressed with their performance those few months ago, when I saw they were doing a short stint of headlining shows, in particular at The Music Hall of Williamsburg in Brooklyn, NY, I was more than enthusiastic to see what a full set from The Sword was all about.
When I was walking in to the venue, tour openers American Sharks had already taken the stage. A three-piece band with a sound similar to hard rockers Red Fang, but with a bit more of a punk vibe, I could tell from the mass amount of head banging going on that they had already gained a great reception. Their short but rockin' set helped to set a positive vibe for the rest of the show.
Main support for the stint of shows comes from another trio, heavy metal group Castle. With a female bass player/vocalist, musically, the band has a very heavy, early Black Sabbath vibe. When they were playing, they had a solid reception, even though their set ran in to a bit of electrical and sound problems.
After the bands first song, guitarist Mat Davis seemed to run in to some electrical troubles with his guitar amp. For a bit over 10 minutes, Mat and a few others on stage struggled to get the rig working again. During the gap in music, the band's drummer (who I'm not entirely sure was their usual drummer Al McCartney) helped to fill the dead air by playing a few drum solos, and a few famous drum lines (such as Iron Maiden's "Run to the Hills", Twisted Sister's "We're Not Gonna Take it", and Metallica's "Whiplash"). Eventually, one of the guys from American Sharks grabbed an amp for Mat to play through, which helped get the band playing again. The sound from it wasn't great, but it helped get the job done.
When they were once again playing, Castle sounded quite solid. Bassist and vocalist Elizabeth Blackwell seemed to pour an extra bit of energy in to her performance, knowing that the band would be cut off before they could play through their entire set. Sure enough, after "Corpse Candles", the sound man cut the band off, ending their set. Afterwards, I saw the band at their merch table, talking to new fans who were likely curious at to what happened. It's a shame the problem with Mat's amp happened, but Castle certainly made the best of a poor situation.
I like bands that take the stage earlier than their written set time. The Sword happens to be one of those bands. Starting almost 10 minutes before their 11pm set time, The Sword took the stage and kicked straight in to "The Sundering". While there was no guardrail between the floor and the stage, there was still a bit of moshing that took place during The Sword's heavy metal rocking.
Easily one of my favorite newer songs by The Sword is, "Cloak of Feathers", which they played 4th in their set. Something about just how much of a great head banging song it is, mixed with some clever pauses and vocals lines from guitarist/vocalist J.D. Cronise, the song just sounds even better live.
While most of the songs in the set were lifted primarily from the band's latest effort, Apocryphon, they did mix in a few classics here and there. No matter how many times I see and hear what is probably their most well-known song, Freya, played live, I always enjoy the hell out of it. The riffs that fellow guitarist Kyle Shutt and J.D. work through in it are easily some of the best in heavy metal today.
Even with a few quirks, The Sword has a solid tour on their hands. Both American Sharks and Castle seemed to go over well with the band's fans, with their appreciative attitudes and hard rockin' tunes. The Sword, who is running this headlining tour in-between their main-support tours with Clutch, sounded solid as ever. Of course, J.D. Cronise could maybe move around a bit more, as Kyle Shutt and bassist Bryan Richie are constantly head banging and rocking out alongside him, but his riffing sounded great which really, is all that truly matters in heavy metal.
Click here for more tour dates from The Sword.