The Raven that Refused to Sing. Steven Wilson at Park West Theater in Chicago.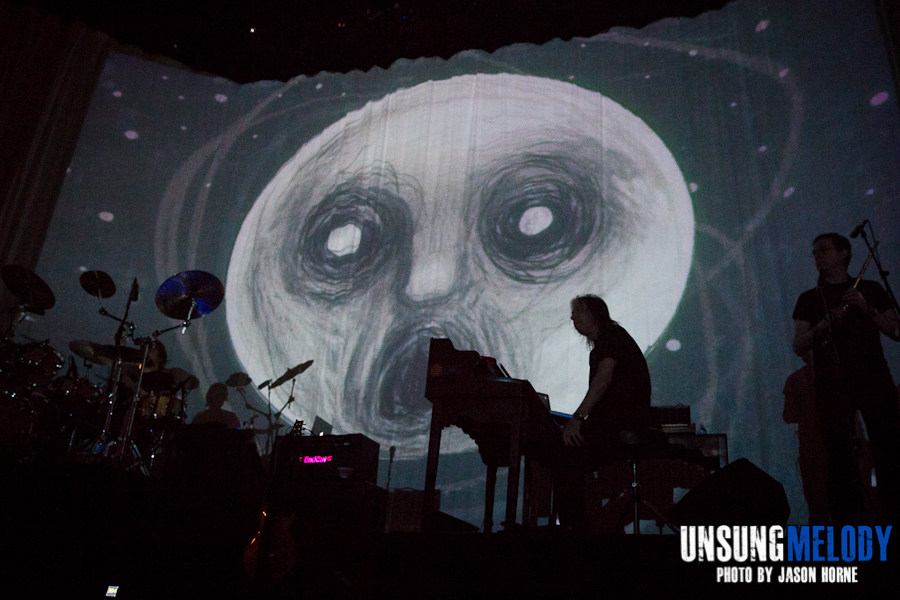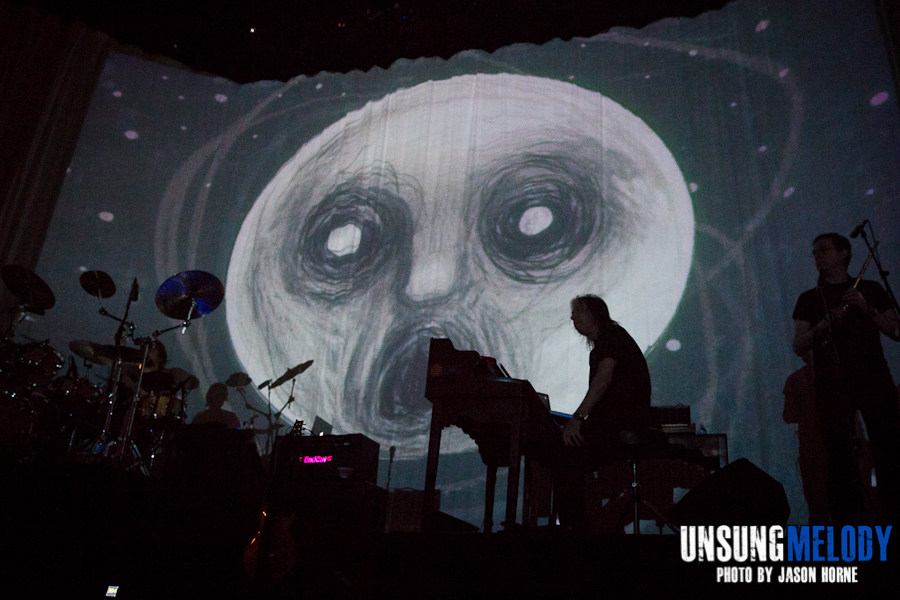 Good music is no stranger when it comes to the great "Windy City". Some of the best music has come in and out of there for years. On Friday, May 3, 2013, it was no different story. This time, it was the multi-talented musician and producer from London, Steven Wilson. Best known as the creator, writer, and frontman for the progressive rock band Porcupine Tree. In recent years, Steven has become very focused on his self-titled solo project, releasing three albums within the last four years. Aside from Porcupine Tree and his solo work, he also spends a lot of time producing and mixing/mastering albums for other bands. Mr. Wilson has also become well-known in the industry for his great ability to mix in 5.1 surround. King Crimson, ELP, Jethro Tull and Caravan are just a few of the bands that have sought him out to remix selections from their back catalogue. As if that wasn't enough to keep him busy, he's also directly involved with several other bands as a main member/writer: No-Man, IEM, Bass Communion, Blackfield, and Storm Corrosion.
This past Friday, I was given the wonderful opportunity to cover the show at Park West Theater in Chicago, IL. Since I attended a show from his 2011 tour, I knew I was in for a treat. After writing and releasing the first two solo albums, Steven assembled an all-star lineup to take that material out on the road. Those musicians are Nick Beggs, Guthrie Govan, Adam Holzman, Marco Minnemann, and Theo Travis. Things went so well on the tour, he decided to record the third solo record as a band. That 2013 release is called The Raven that Refused to Sing, and it was engineered and associate produced by Alan Parsons.
In typical Steven Wilson fashion, they included all the songs from their most current release in the setlist, and intertwined a few selections from the previous two albums as well. First, let me say, Steven always makes sure to not only blow you away with superb sound quality and live mix, but visually as well. With surround sound setup throughout the theater and a huge backdrop with eerie video/art displayed, a Bass Communion song played as they took their positions on stage. As I mentioned, Bass Communion is another Wilson project, mainly consisting of all instrumental tracks of the ambient/drone/electronic type genre. I have to say again, the sound was just amazing at this show.
The band started the intro to the first song of the night as Steven entered the stage throwing his hands in the air like a true maestro conducting his orchestra and acknowledging the crowd before arming himself with a beautiful, golden-colored PRS electric guitar. The first song of the show and off the album, Luminol, is an up-tempo, jazz-like song that quickly got everyone in the place tapping their feet and bobbing their heads to the beat. They quickly rolled through the next two tracks from the album Drive Home and The Pin Drop before breaking away from The Raven and playing a track from his second release (Grace for Drowning) called Postcard. Postcard is beautiful ballad, in which Steven shows off his ability to play the piano very well. At this point, it wasn't hard to tell just how tight this band is in terms of musicianship and musical ability. Everyone is always on time and on key. The harmonies provided by the bassist, Nick Beggs, were absolutely perfect. Which says a lot, because Steven writes some really complicated, multi-layered harmonies on most of his material.
Next was The Holy Drinker, one of my favorite songs on the album. It appeared that was the case for the band too, because everyone was really getting into the heavy groove of the song. Steven actually grabbed a bass and played for a couple parts of the song. Nick Beggs played a shaker and tambourine at the same time during a section of the long instrumental piece in the song, all while smiling and making faces at the crowd.
If you haven't had the chance to read up on Nick or follow him on Twitter, please do so. You'll thank me for it. He's hilarious and a bit twisted to say the least!
Anyway, back to the music. During the last part of this song, Steven plays the keyboard, which sounded like an organ going through a Marshall stack. It literally felt like the speakers were going to explode! The sound just filled the whole theater shaking the ground beneath us.
Next up, Deform to Form a Star, which was another selection off the Grace for Drowning album. The piano intro Adam Holzman plays at the beginning of this song left everyone speechless and completely quiet. You could've heard a pin drop in that place! A nice job indeed, Adam.
Preceded by a video on the backdrop, the next song was The Watchmaker, the next to last song on the new album. A so-called ghost story that talks about a meticulous watchmaker that's been in a marriage for 50 years, even though there was never a strong feeling of love between them. It was simply convenient and comfortable. Then one day, the watchmaker kills his wife and buries her beneath the floorboards. She then comes back to haunt him, not letting go after 50+ years, and eventually taking him with her forever.
Breaking away from The Raven again, we visit another track from Grace for Drowning called Index. Usually, Steven introduces this song in the dark with an effect on his voice to make it sound devilish in a way, saying "I AM A COLLECTOR…". This time, he joked around with the effect on his voice saying, "If you thought the watchmaker was crazy, this next guy is really fucked up!". It was nice seeing Steven open up a little and become more chattier during the show than usual. He asked "If anyone in the crowd was in a band?", following that up with "Well, don't ever, ever, ever read any reviews on Amazon if you ever get the opportunity to release your record on there." He talked about a positive review he read where some guy said how he like Wilson's Tolkien-esque lyrics…." Steven said, "I don't ever remember writing anything about hobbits, elves, or goblins in any of my songs!".
After a lengthy chuckle from the audience, the band got back to the set. Starting with the instrumental track Sectarian, then followed by the title track from his debut solo album, Insurgentes.
Be sure and check out my Steven Wilson photo gallery here.
This was the first time I've ever heard the "band version" of Insurgentes. Usually, it's just Steven and his piano. This was a nice surprise, and I thought they did the song justice.
Before the next song, Steven asked the crowd, "Has anyone seen Springbreakers? And be honest!". There were actually a few people in the crowd who looked like they had no idea why he would ask such a question, but little did they know, Steven is a big fan of the director, Harmony Korine. Steven alluded to us that he might not have enjoyed this movie as much as Korine's previous films. Jokingly he said, "Come on, you know you would like to see it. Especially, the scene in which James Franco is playing the piano out by the ocean with girls in bikinis and ski masks singing Britney Spears!". Well, that next song was indeed titled, Harmony Korine, another selection from Insurgentes.
Next was the epic, 23 minute song, Raider II from Grace for Drowning. This song was written about the infamous B.T.K. (bind, torture, kill) killer, Dennis Rader. Weird how such an amazing song can be written about a disgusting, twisted individual like that, but I think that is what sets Wilson apart from the rest. Dark, chilling lyrics mixed with intricate arrangements and changing tempos throughout this track. It's a wild ride, let me add in the fact that the band played it in it's entirely, and played it flawlessly. I truly believe I enjoyed it live more than I do listening at home or in the car.
He then ended the set with the final and self-titled track from the new album, The Raven that Refused to Sing. A song that can rip and tug on the heart strings of anyone who has lost a loved one, especially long before it's supposed to happen. It was another beautiful piece by Wilson with a very nice orchestral arrangement throughout most of the song.
Just as we all thought that was the end, everyone came back out on stage for an encore. Steven spoke to us a little bit about how he created and released the first couple of Porcupine Tree albums. Back then, he composed, wrote, and played all of the instruments to all of the songs. So, he felt that it would be okay to play a track from the first Porcupine Tree record called Radioactive Toy, without the regular band members present since it was more of a solo project during that time. They proceeded to finish up the night playing that 10 minute classic, which was probably the best version I've ever heard of the song to date.
If you've never heard of Steven Wilson or Porcupine Tree, I highly recommend taking the time to listen to their discographies in their entirety. Steven's music at times, brings in elements from some of music's greats like Pink Floyd, King Crimson, Genesis, Black Sabbath, and others. Also, if you get the opportunity to catch a live show, do it. It has to be some of the best live performances I've ever experienced in my lifetime.
For Steven Wilson tour dates, click here.
Preview or purchase The Raven That Refused To Sing below:

Check out Steven Wilson performing The Watchmaker below: