The Devil Wears Prada Featuring The Ghost Inside, Volumes, And Texas In July At Best Buy Theater In NYC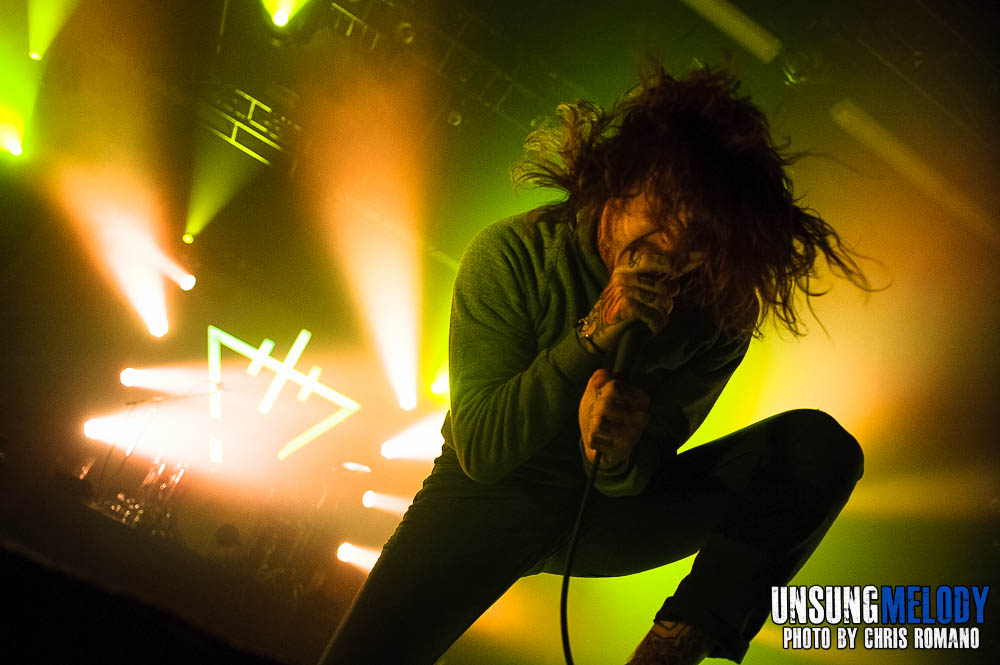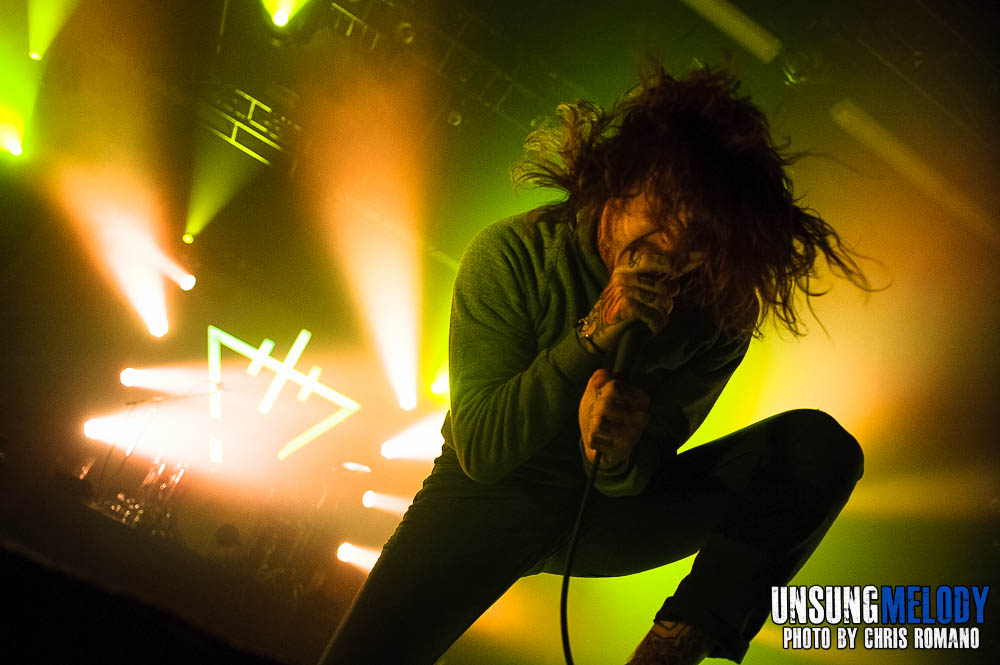 Sometimes, it only takes a few months for your opinion on something to change drastically. Maybe its some sort of Christmas miracle, but my opinion on The Devil Wears Prada, is one of those changed opinions.
Touring in support of their latest album, the simply titled 8:18, the Christian metalcore band paid a visit to New York City recently, stopping at Time Square's Best Buy Theater. While I was not been much of a fan of TDWP's previous work, I did decided to give 8:18 a chance, and surprisingly found it to be one of my favorites of 2013. This made me quite excited to see what they had in store for a full headlining set in support of the new album.
Opening for the 8:18 tour was Texas in July. I have a lot of friends who love these guys, even going so far as to drastically copy their stage presence and style for their own bands, but it was my first time catching them. While they sounded pretty solid all around, I later discovered that they had gone through quite a few line up changes recently. Looking back at the performance, I could tell things weren't as tight as they could be. Many times, each band member on stage almost ran in to one another, something that almost never happens with bands who are used to one another's movements. However, this didn't stop the band from bringing together a great amount of energy to the fans in the pit, who were slam dancing and doing cartwheels during the constant barage of heavy breakdowns.
View the Texas In July photo gallery here.
The second band of the night was the groove metal/djent band Volumes. I've heard a lot about them, but I've never caught a live performance from them. With two vocalists, both screaming their lungs out in somewhat different styles, (neither vocalist sings "clean," as is the typical setup with metalcore bands who have two vocalists) they present a very unique twist on a typical metalcore set.
View the Volumes photo gallery here.
Many times during their set, vocalists Michael Barr and Gus Farias jumped down in to the crowd, shouting out, "let's see what you've got east coast!" They both clearly preferred to be down by the fans than up on the stage away from them, and it certainly made the security at the barrier panic for their entire set. While there was very little light on the crowd as Volumes played, it was clear afterwards that nearly everyone in the New York city crowd was highly impressed by them.
Main support came from one of my absolute favorite bands, The Ghost Inside. The last time TGI was in New York, they sold out the Gramercy Theatre for a headline show, and this time, there was just as much, if not more energy than there was then.
Surprisingly, they opened their set with their most popular song, the melodic hardcore "Engine 45." It was perhaps the best way to quickly grab everyone's attention, as the song has a great mix of hardcore riffs and parts that can be easily sung along to.
Perhaps one of the most momentous points during their set was during the 4th song, "The Great Unknown." During the songs breakdown, the house lights went on over the crowd, and the band held out the last note before it, to give the mosh pit time to organize. I even caught guitarist Zach Johnson taking pictures with a point and shoot camera of the fully illuminated crowd! After a few moments, vocalist Jonathan Vigil continued with the words, "keep those you trust right by your side!" And along with every person in the crowd, "only the strong will survive!" as the pit erupted in a flurry of bodies spinning and pushing one another every which way.
View The Ghost Inside photo gallery here.
Their far too short ended with "Dark Horse," a song they did not play last time I saw them, which certainly made my night. "I never dreamed we would get this far, to be at Times Square in New York City playing for you all is really a dream come true," Vigil told the crowd, almost teary eyed but proud of the immensely positive reaction the crowd gave The Ghost Inside.
I was left a little less than impressed when I saw the headliner, The Devil Wears Prada, last. They were playing alongside As I Lay Dying (just a few weeks before Tim Lambesis' arrest) and I honestly felt they were only alright. But I'm always open giving a band another shot… And I'm glad I did.
Opening with "Gloom," the first track from 8:18, front man Mike Hranica paced around the stage, stretching his arms and legs before grabbing a microphone and commencing his unique form of screaming and growling.
If there's one thing I am now sure of, Mike Hranica is one of the best front men in all of metal. The way he moves and contorts his body, covering the entire stage from left to right and front to back, is something like no other.
I must not be the only one who digs 8:18; when they reached "Sailor's Prayer" in the set, which features a chorus sung by guitarist/clean vocalist Jeremy DePoyster, I could hear nearly everyone in the crowd singing along, "It's like the same thing, you're just a little late!" For a new song, it was quite an impressive site to see and hear.
With the way Hranica paces around the stage, you would think he would need to take frequent breaks to catch his breath…but rarely, if ever, does he. In fact, when the band slowed things down a bit to play the instrumental, "Kansas," Hrancia only left the stage for a split second, and that was to grab a guitar to play alongside the rest of the band. Easily my personal highlight of the set, "Kansas" seemed to stretch on beautifully, before moving on to "War."
View The Devil Wears Prada photo gallery here.
The lighting work for the entire set was quite a high point. I discovered the lightning designer then and for this show, was Brian Lareau. The work he did this time around was out of this world; blending strobe, spots, and different colors to set unique moods for each and every song in the set. During "8:18," a slower and more progressive song, the light was a very dark blue; but as soon as the band kicked in to "First Sight," things went bright and the strobes blasted along with the bass kicks of drummer Daniel Williams.
Ending with "Dead Throne" and finally "Mammoth," I was shocked. This was the 4th to last show of the two month tour, and The Devil Wears Prada showed no signs of losing steam. The entire show, Mike Hranica was on point with a constant full burst of energy most people only dream of. Looking back, I can't really pinpoint what it was about them that had me underwhelmed back in March. Between the lights and the energy, The Devil Wears Prada, and the other bands on the 8:18 tour, easily overwhelmed New York City in Times Square this night.