The All Stars Tour Featuring Every Time I Die, Chelsea Grin, Stray From The Path, Terror, Veil Maya, And More At The Paramount In Huntington, NY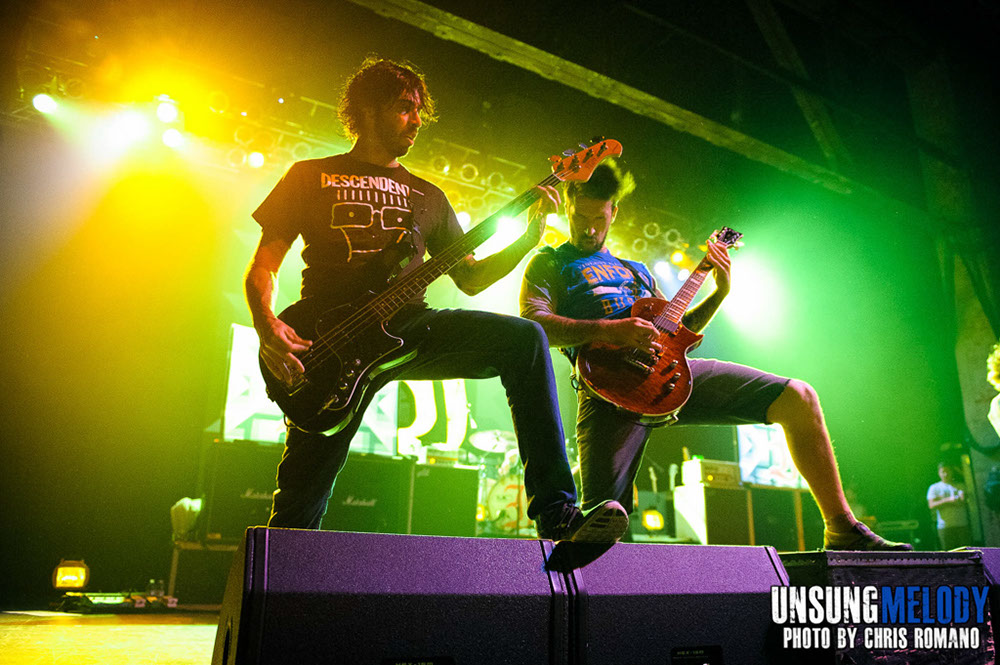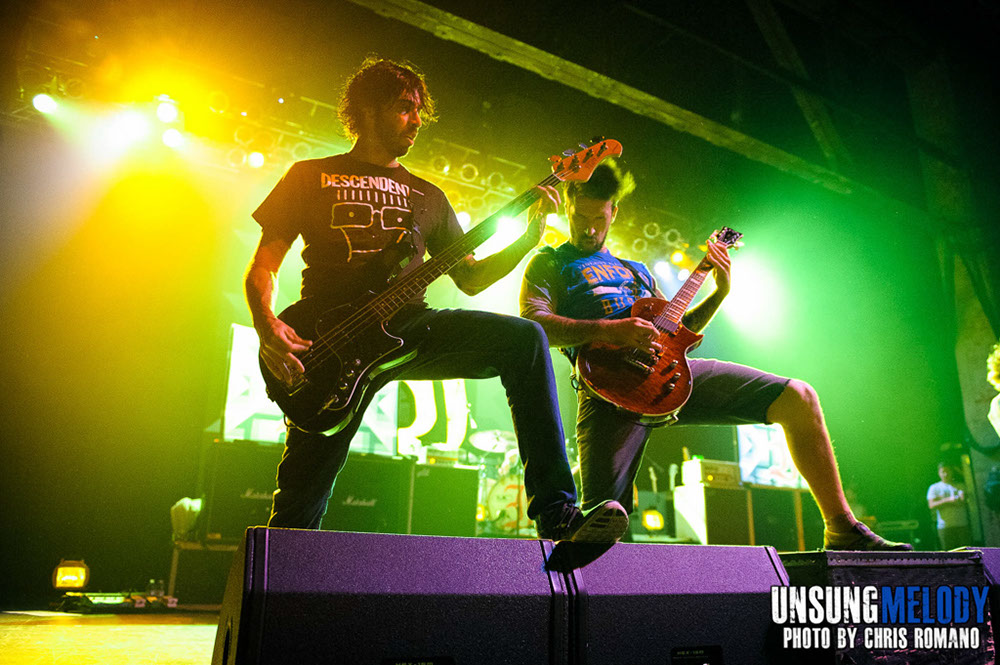 Well Hot Damn!, another night, another chance to see the two Buckley brothers and three of their friends run around a stage like maniacs. Bringing with them some of that good old southern fried hardcore that only they can cook up just right, Every Time I Die is headlining this years iteration of the All Stars Tour. Boasting a total of 11 bands on the bill, the All Stars this year kicked off at The Paramount a venue located in the center of Long Island in Huntington, NY.
I missed out on seeing show openers Dayshell, Ice Nine Kills, and Structures, but I did get there in time to see a bit of For All Those Sleeping, iwrestledabearonce, and Capture The Crown. All three bands drew rather small crowds, but played as if the venue was packed to the brim. When iwrestledabearonce in particular played their wild mix of avante garde metal, with screams, sings, trumpets, bells, and honks, I couldn't help but laugh at the security guards at the front of the stage baffled by the type of music being played. iwrestledabearonce essentially plays whatever they want to play, never settling to one distinct style, and they play it quite well.
Next up was Long Island's own, Stray From The Path. With a new album set to come out in September, the alternative hardcore group that grew up in the in the same town as I did opened up with a new track entitled, "Badge & A Bullet". While the crowd was certainly excited for Stray (I felt like I saw 80% of those in attendance were wearing Stray from the Path t-shirts) I noticed the reception at first was a bit lukewarm. This was most likely because they were playing a new song that had just been released a few days earlier. However, once they kicked in to "Negative and Violent", the room erupted. Bodies flew over the guard rail by the dozens, and a massive circle pit, easily the grandest of the night, spun around the room. For the next 30 minutes, Stray went nuts for Long Island and Long Island went insane for Stray.
You can check out my Stray From The Path photos here.
After being blown away by the reaction Stray From the Path received, hardcore band Terror was met with trying to impress the out of breath fanatics. I wasn't able to catch much of Terror's set, but I could certainly hear vocalist Scott Vogel doing all he could to try and get the crowd moving again.
Thing had calmed down a bit when Veil of Maya took the stage. Having seen VoM just a few months ago, I couldn't help but feel they were a little off this time around. It just felt to me that the setlist was perhaps not as well rounded as it could be, with vocalist Brandon Butler standing around and not doing much more than banging his head for about 10 minutes as the band played around him. But man, guitarist Marc Okubo really is a pleasure to watch (and as a photographer, to shoot also!)
You can check out my Veil Of Maya photos here.
The last band before the headliner of the All Stars 2013, Chelsea Grin, was up next. Usually, I'm pretty adamant about how much I dislike deathcore, but for one reason or another, I felt like Chelsea Grin packed a decent punch. When guitarist Jason Richardson began riffing away with plenty of trills and tremolos, I found myself really digging what they did. Those in attendance did as well, as fans stormed the barrier to try and get as close as possible to vocalist Alex Koehler.
You can check out my Chelsea Grin photos here.
Prior to the first night of the All Stars, I saw Jordan Buckley of Every Time I Die post a picture of their second album, "Hot Damn!" on his Instagram and asked, "if we played Hot Damn! from front to back at All Stars, how hard would you pit?"
Storming the stage as they usually do, running all over the place while spinning and flapping their heads as if they were possessed, ETID opened with "We'rewolf", "Bored Stiff", and one of my favorites, "Partying Is Such Sweet Sorrow". The amount of energy all 5 band members pour in to their performance is something that must be seen; from Jordan running around like a chicken with its head cut off; to Keith Buckley spitting water like a gyser and dropping his mic more than a rap MC; to Ryan "Legs" Ledger and Steve Micciche bringing any other hardcore rhythm section to its knees; and of course Andy Williams, with his tall stature and impressive moustache, jumped constantly while riffing away, being both intimating and a pleasure to see.
The only real break in the set was after the band finished up my personal favorite ETID song, "Underwater Bimbos from Outer Space'. When the band returned and kicked in to "Romeo a Go-Go" and then "Off Broadway", it was clear that what Jordan Buckley has teased on his Instagram had become a reality; Every Time I Die played their second full length release, "Hot Damn!" in its entirety. The pit that grew and spun for "Godspeed Us to Sea" in particular was massive, and must have met to Jordan's approval.
You can check out my Every Time I Die photos here.
In the end, Every Time I Die cranked through 23 songs total on the opening All Stars night. The next morning, Jordan Buckley sarcastically commented on his Instagram saying, "the first night of tour is always a lil' rusty, so our set list was reduced to a mere 23 songs. Sorry Long Island."
This years All Stars Tour gives a pretty diverse selection of hardcore bands. It may not be as incredibly diverse of selection as something like Warped Tour, but then again, Warped tends to have something from almost every music genre there is. If anything, it's worth seeing Stray From The Path and Every Time I Die, as both bands are certainly on fire and not to be missed.