That's How It's Done. Queens Of The Stone Age Featuring Guards At The Louisville Palace in Louisville, KY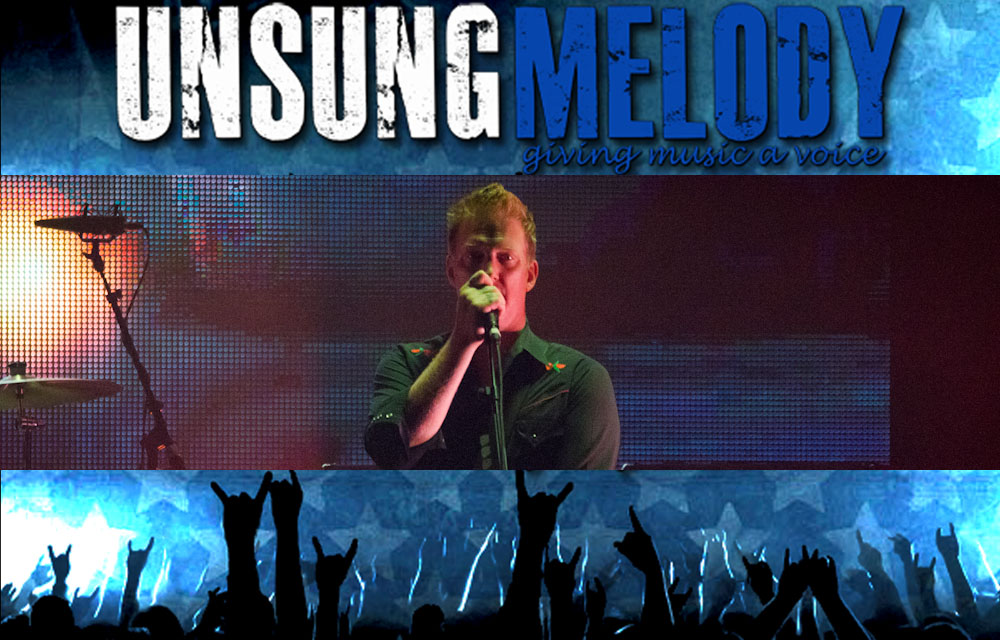 On a dreary, rainy night in Kentucky…sounds like a Stephen King novel, but I'm going with it. On a dreary, rainy night in Kentucky, I made the journey to our largest city, Louisville. The city is host to some of the nicest venues you will ever visit and on this night, I was at the crown jewel of them all. The Louisville Palace Theatre. That name is one that is certainly earned in my book. The Palace, truly is a palace and it's hands down my favorite venue in the state. Why am I here you ask? Oh, that's easy!! Queens Of The Stone Age are in town. Let's discuss!!
As we found our seats, the show was all set to begin. Opening up were indie rockers Guards. This New York based quintet, led by Richie Follin, gave their all and seemed to win over quite a few of the late arriving crowd. Bathed in mainly red and blue lights for the first couple of songs, the band swayed their way through their set. Pausing only to say thank you. There was a little more talk as the crowd seemingly warmed up to Guards, but for the most part, they chose to let their music do the talking. Their atmospheric rock was certainly a welcome surprise, but I'd be remorseful if I didn't say that I wish site favorites Leogun were on this bill.
As the lights went dark and the video board sprang to life, there was an absolutely deafening roar coming from the crowd…And that was probably the quietest part of the night. Queens Of The Stone Age had taken the stage hostage and the fun was just beginning. Tearing into one of my personal favorites from the new album, My God Is The Sun, QOTSA put the pedal down and never looked back. Playing a hit early in a set can work to your advantage or it can hinder you. In this case, QOTSA played the massive hit No One Knows third. I was surprised to hear that one that early, but with the music they have created over the years, there were plenty more bullets in the chamber.
One of the highlights for me was the slow groove of If I Had A Tail. I worried how it would come off live, but my goodness it was insanely heavy and absolutely fantastic. With the videos of skulls floating in an ocean of blood, the band delivered a nearly flawless performance. There were aisle dancers, air guitarists, trippy hippies and headbangers alike jamming to this one. Certainly a sight to see.
Slowing things down, Josh Homme took center stage to play the piano on the hauntingly beautiful The Vampyre of Time and Memory. With the video board showing the album cover, the stage was washed in red light and what I witnessed onstage was nothing short of epic. It was magnificent. QOTSA followed that up with In The Fade, which led directly into Kalopsia. The multi-layered beauty of Kalopsia was clearly evident in the live setting and completely entranced me. I was in complete awe at this point.
After introducing the band, they jumped into the frenetic Little Sister. While Josh Homme is clearly the superstar here, I want to take a moment to mention drummer Jon Theodore. With the quirktastic beats within Little Sister and the thundering Smooth Sailing, Jon was absolutely on fire. For those two songs at least, he stole the show for me. While I'm at it, a friend at the show sent this text about bassist Michael Shuman, "That bass player is kick azz!! That dude is a beast!!" I think that sums it up rather nicely and I too share that same sentiment.
Queens Of The Stone Age photo gallery
Some other highlights included a tremendous version of I Appear Missing, the staggering Sick, Sick, Sick and of course the mind blowing Go With The Flow. This all before ending the main set with one of the greatest performances I've ever witnessed live. The breathtaking Better Living Through Chemistry. Unbelievable.
After a very short break, the band returned for their encore and went straight into the slow grooving I Wanna Make It Witchu. I couldn't help but think, that if QOTSA wrote a song for the BeeGees, this would be it. Then, I remembered that the BeeGees suck and couldn't handle this awesomeness. I'm just saying!! By the way, have you ever seen a crowd surfer at a seated venue? I just did and it was AWESOME!
All in all, QOTSA rocked nearly two hours and played roughly 20 songs. In today's market of high ticket prices, the $35-$50 tickets for this show were an absolute steal. Go. See. This. Tour. I can't tell you how long it's been since I was so pleased with a performance. Mr. Homme, you sir and your band have my upmost respect.
Luckily for me, it didn't turn out like a Stephen King novel, but I bet I did look pretty hideous, because QOTSA absolutely melted my face!
Click here for more QOTSA tour dates.