SOLD OUT! Chris Stapleton featuring Caitlyn Smith at the Mountain Arts Center in Prestonsburg, KY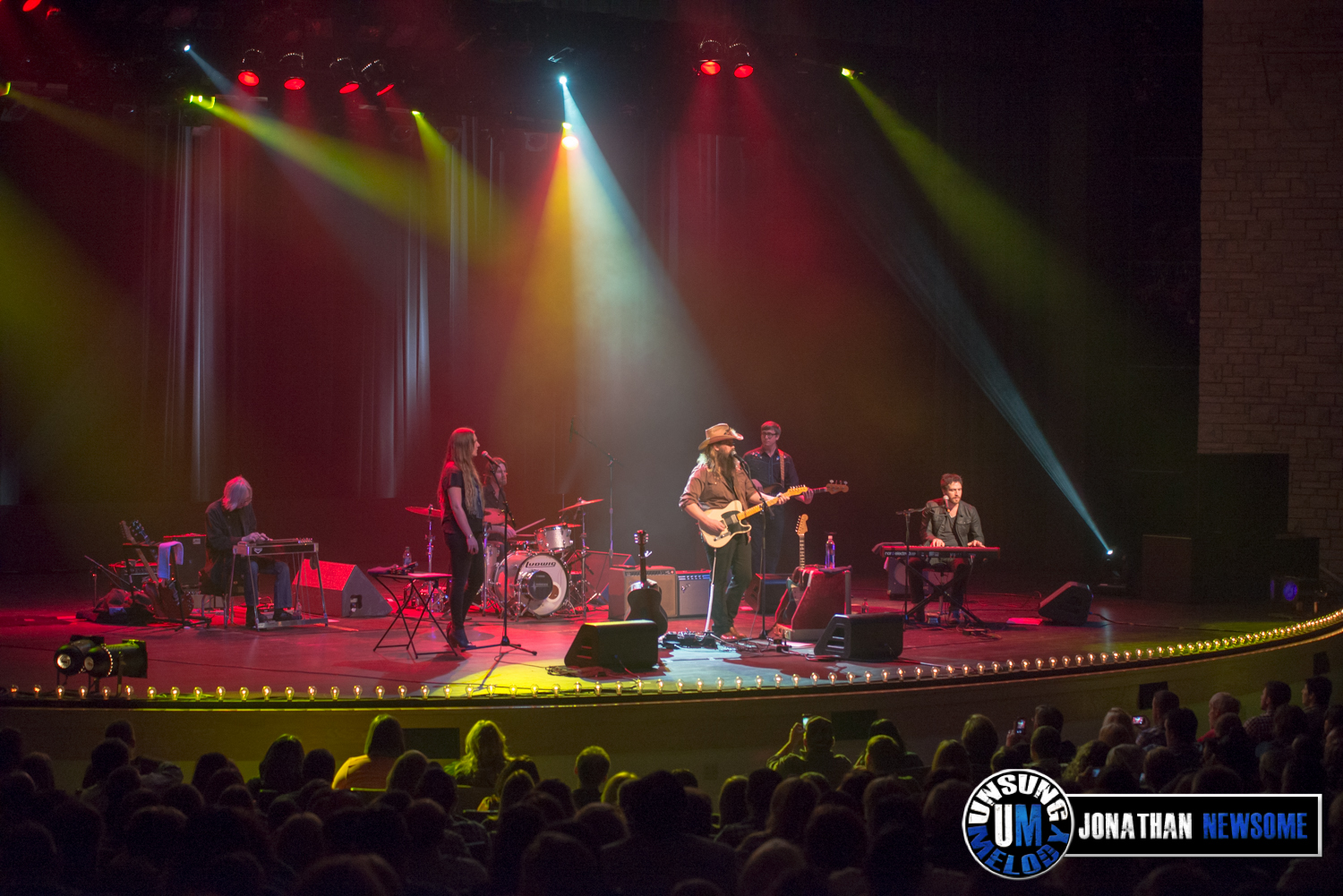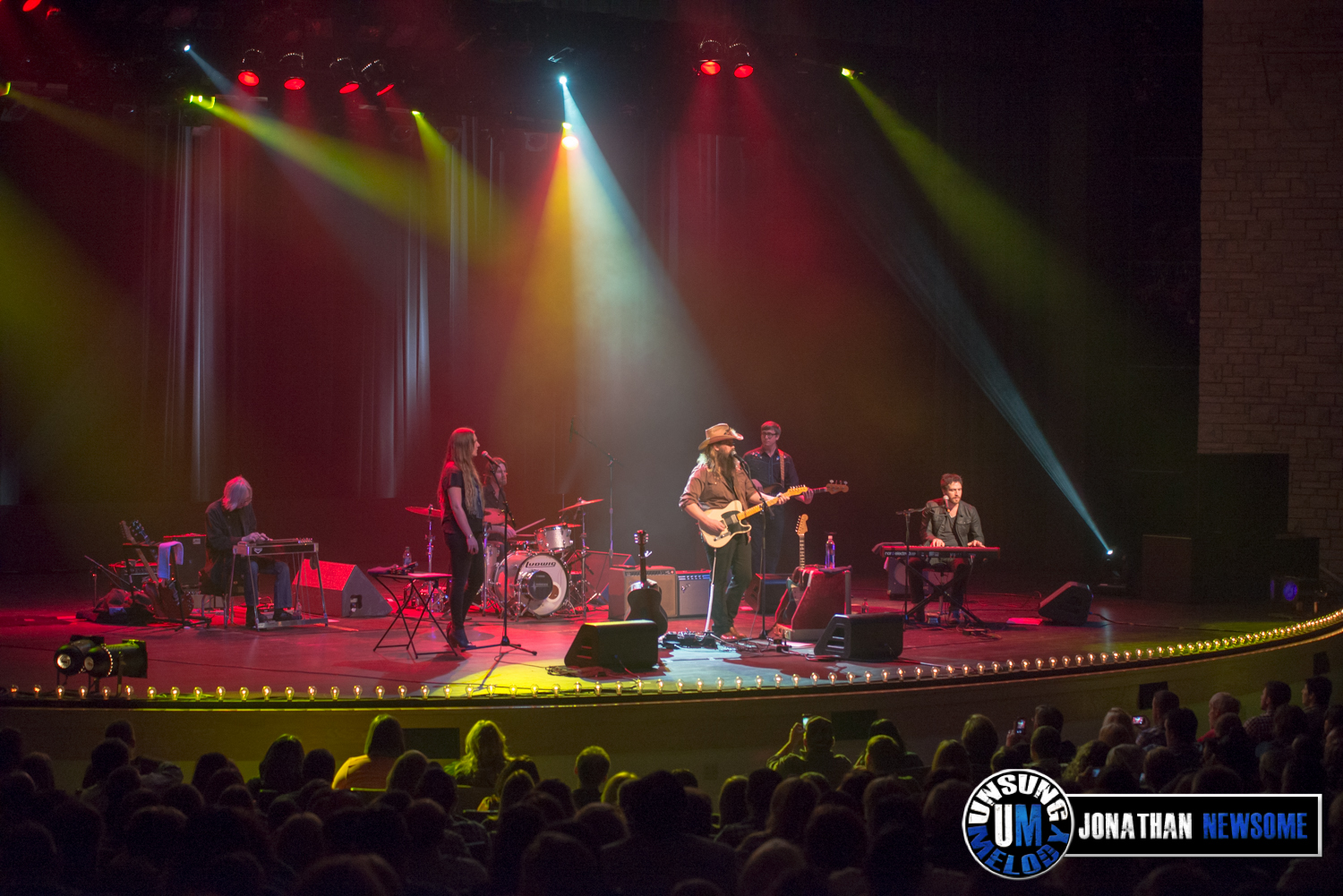 *Be sure and check out my photo gallery below the article.
It's not often when that you're given the opportunity to cover a three time Grammy nominated artist in their hometown. Luckily for me, I was afforded just that opportunity, as Chris Stapleton returned to his roots. The show took place at the 1,054 seat capacity Mountain Arts Center (Or the MAC as it's often referred to) in Prestonsburg, KY. Prestonsburg is a neighboring town to Paintsville, KY which is where Chris grew up. Chris is currently best known for his work in the bluegrass band The Steeldrivers. While his work there is what garnered all those Grammy nods, it's his songwriting prowess that could very well end up making him a household name. You see, Chris has already penned several number one songs. Such as Never Wanted Nothing More recorded by Kenny Chesney, Love's Gonna Make It Alright recorded by George Strait and Come Back Song recorded by Darius Rucker. He has had over 170 songs recorded, performed or co-written by a truly diverse range of artists that include Tim McGraw, Adele, Sheryl Crow, Josh Turner, Peter Frampton, Gary Allan, Vince Gill and Brad Paisley. He's poised to release his debut solo album titled What Are You Listening To very soon.
This show was an extremely special one for Chris. He's headlining in his hometown, not one night, but two. And both are sold-out performances So the support that this tiny, scenic mountain has shown him is something terrific. In the lobby, I met kinfolk, classmates, friends and plenty of fans. This is a homecoming in every sense of the word and we're honored to be a part of it.
Opening up the show was Caitlyn Smith. Her acoustic set was a wonderful addition to the night and the Minnesota native was a joy to watch. Her biggest songs, Wasting All These Tears and The Heart of Dixie, were released by The Voice winners Cassadee Pope and Danielle Bradbery respectively. My favorite tracks were Everything To You, What Could Possibly Go Wrong and Tacoma. Clearly she's a talented young lady, who was grateful to be a part of the night.
Caitlyn Smith:

Finally it was time for the return of the hometown boy. Chris Stapleton took the stage with his wife Morgane for a three song performance of purely acoustic tracks. They began the night with three very important songs. Kicking it off were the Steeldrivers track Where Rainbows Never Die, Josh Turner's hit Your Man (Which Chris co-wrote) and Chris's debut single What Are You Listening To. During the last chorus, Chris tapered off to hear the crowd singing What Are You Listening To back to him. It was the first of many great moments on the night. As his soulful vocals were accompanied by the slightly higher, haunting melodies of his wife, it was as if you could feel the pride swelling in the room.
Once the band came out, they broke into another track co-written by Chris. The track Draggin' The River which appeared on a Blake Shelton record and featured his wife Miranda Lambert. It was a great transition song to ease the band into things and the crowd was exceptionally responsive. Next came another Steeldrivers tune. The track that garnered them a ton of attention. Mainly because of a little British lady you may have heard of. Her name is Adele and she covered If It Hadn't Been For Love. On this night, hearing Chris deliver the chilling story was fantastic.
One of my favorite moments came as Chris and the band covered my personal favorite country artist of all time. With a rousing rendition of Don Williams' classic hit Tulsa Time, the crowd was immersed in a full on rock show as Chris was warmed up and finally unleashed those inner rock star vocals. That. Was. Awesome.
Following that up was one of the most beautiful performances I've ever witnessed. The band brought it down and the steel guitar cried it's lonesome cries as Chris delivered Whiskey and You. The song originally appeared on Tim McGraw's Let It Go record, with Chris obviously being involved as a songwriter. The slow moving grind was hauntingly beautiful and in my opinion, it put's Tim McGraw's version to shame. He just doesn't have the emotion in his voice to pull off what Chris can.
A couple new songs were tried out on the crowd. The first new song was Parachute and it was a foot stompin' beauty. Actually, someone already uploaded it…so hear it for yourself!
Next came a song that Chris co-wrote with Dan Wilson. Dan was in the band Semisonic and had his own hit with Closing Time. He also wrote the song Someone Like You, which of course was a massive hit for Adele and Chris told the story of how he and Dan wrote When The Stars Come Out. He said they found it funny that in Los Angeles, you can see no stars in the sky, but you can see movie stars and such. So they found that interesting and wrote the song together. I fell in love with it and can't wait to hear a recorded version. It was awesome to get some insight into some of the things that inspired Chris on the night.
Next came another Steeldrivers song, Drinkin Dark Whiskey. While a departure from the original bluegrass version, it was more in along the lines of the Gary Allan version and it was a really fun one live. A few new songs were played. Such as the seductive tale woven within You Should Probably Leave, that one has hit written all over it.
Chris then took a moment to thank the crowd for being there. He said that the last show he played in Paintsville, was also the last time he saw his Dad alive. He mentioned how many in the audience had sent flowers and stopped by the funeral home to pay their respects. This wasn't your normal chatter that an artist spews at a concert, this was Chris sharing what his family and his hometown meant to him. He spoke of passing the coal mines where his Dad had worked and had to stop talking. The wound was still too fresh and he simply had to move on. It was a moment that I know all too well myself, as I've lost my Dad and I felt my pain through his words and actions. It was a touching moment where the support of everyone had helped carry Chris through and as bad as he wanted to give back, he just couldn't form the words. Believe me though, being from Eastern Kentucky myself, everyone there knew the pain and the effort that it took to even attempt that onstage.
One of the last new songs he played was White Horse. He told the story of how his publisher called him to say that they were looking for songs for the new Lone Ranger movie. This tale is about a love that isn't quite up to the cowboy who rides in on a white horse, but if you give him time he just might be. So it obviously didn't make the movie, but I sure hope it makes his album.
Ending the set was the cover of the Bob McDill classic Amanda. The song was of course made famous by both Don Williams and Waylon Jennings. On this night, Chris played the part of Waylon and his wife Morgane was his Jessi Colter. It's hard to describe just how beautiful they do this song together. I had chill bumps from head to toe. I think instead of trying to describe it, I'll let you watch a performance for yourself.
Obviously, that brought the crowd to their feet for a well deserved standing ovation. As the crowd just wouldn't sit down, Chris and the band returned for two more songs that were perfect choices for this night. A song that Chris co-wrote with Sheryl Crow, which appears on her album Feels Like Home, titled Homesick was up as the first song of the encore. With it's lyrics, you can't help but think the song was a tribute to his Dad.
"I turn the key, open up the door
I sit my suitcase down on the hardwood floor
And I call your name, and I climb the stairs
Then I realize that you're not there
And I get homesick
I get homesick
I get homesick
For anywhere but home"
Sometimes I Cry was the last song of the night. It's another new one and it is one of the most emotional songs you will ever hear. It is absolutely gorgeous and if you love powerful, emotional songs with a soulful delivery, you will fall in love. I'll leave you an acoustic version of it below:
This night was amazing and I am so happy I was able to share it with Chris and so many of the people that helped shape him into the man he has become. He pours his heart and soul into every lyric, every chord and every note he sings. His personality is just as big as he is. On this night he made us laugh, cry, sing, scream out, stomp our feet, clap our hands, spill our drinks, act a fool and have a blast; But most of all, he made us feel. And that's where the true beauty and magic of Chris Stapleton lies.
Keep up with Chris Stapleton below:
Official Site
Facebook
Twitter
Chris Stapleton: