SOLD OUT! Buckcherry with The Virginmarys at Austin's Fuel Room in Libertyville, IL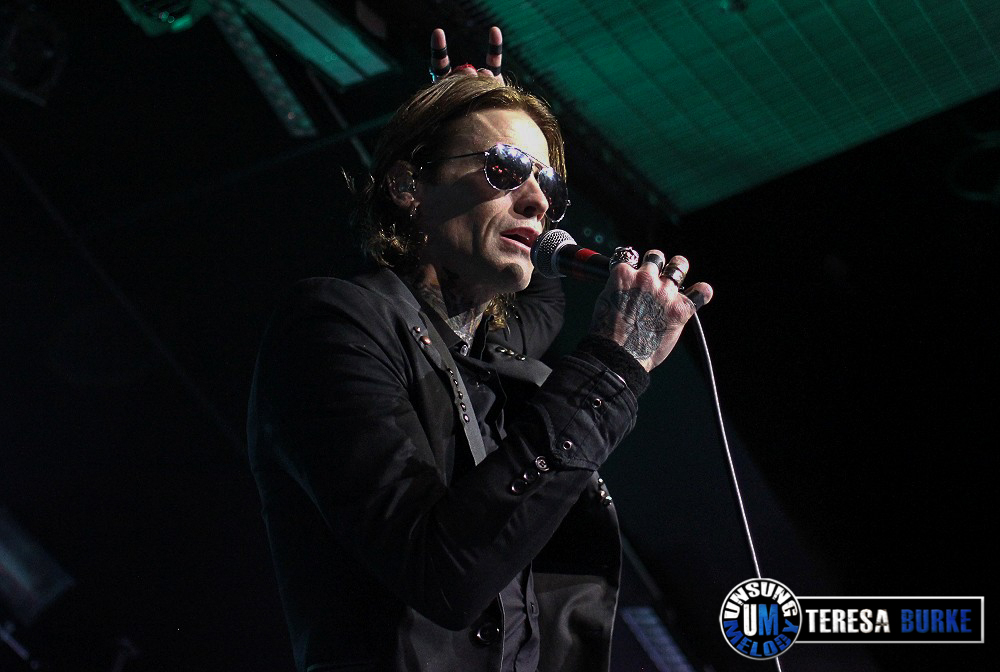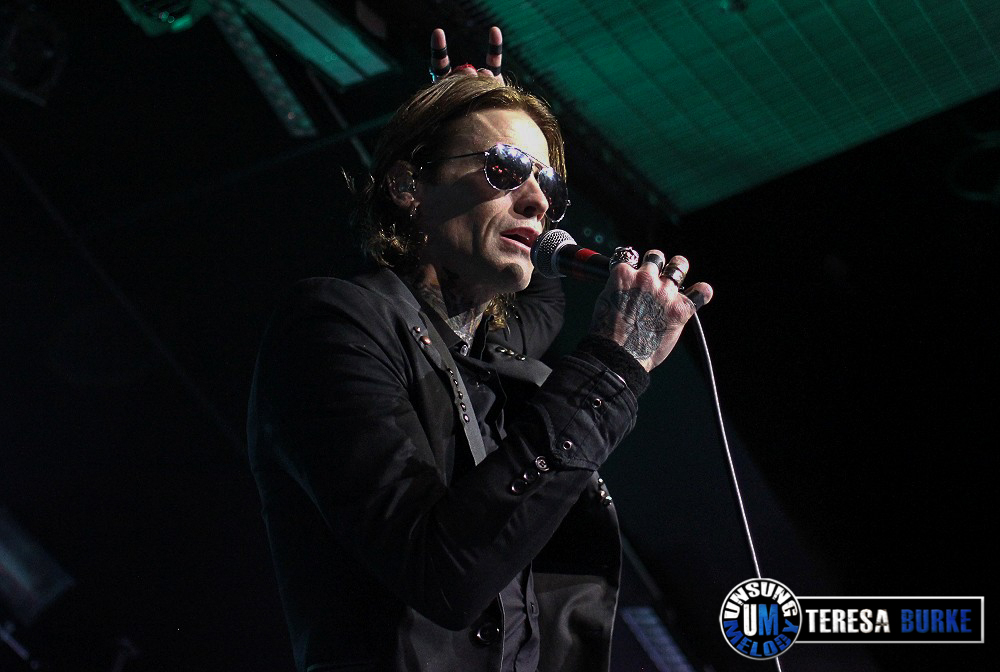 *Be sure and check out my photo galleries throughout the article. You can find my interview with Keith Nelson prior to the show here.
With the release of Confessions in early 2013 and a Best Of album available later that year, along with the fact that Buckcherry are no strangers to long touring cycles, it's a full year later and they are fast approaching their 300th show. Again. (They once celebrated 300 shows during the 15 album touring cycle.) As fans filed into Austin's Fuel Room, in a northern suburb of Chicago, on a Saturday night, everyone was ready to get the party started and rock out All Night Long. Austin's was another venue in a long list of many that have been sold out, so if by chance you missed this one, well, you missed a great night!
Having seen my fair share of less than desirable opening bands, I was immediately captivated by the openers, The Virginmarys. A long way from their home in England, this 3-piece band took the stage and got right down to business. Their sound was part classic 70's, part punk, and just plain old Rock 'n Roll and I thoroughly enjoyed myself. So much so, that their 11-song set flew by in a matter of minutes. They opened with Bang Bang Bang from their current album King of Conflict. With a slower intro leading up to crazy but cool sounding guitar notes, plus a steady drum beat, lead singer and sole guitarist, Ally Dickaty exploded into the chorus, "BANG BANG BANG take that gun and blow my mind." The third song of the night, Out of Mind, which to me had hints of Fleetwood Mac's Rhiannon, was a straight up classic sounding Rock 'n Roll song. Takin' the Blame, my fave song of the night, had the most heartbreaking sounding lyrics but the build up from the beginning of this song through to the chorus was magnificent. I could almost see it inciting a riot due to the intensity of the vocals during the chorus or at least opening up a mosh pit.
All night Ally had very little to say between songs. As one would end, almost immediately they were going into the next one. Although at one point he did tell the crowd that they were "ace." With his constant serious facial expressions and focused attitude, we also witnessed some pretty intense vocal moments that caused the veins in his neck to really stand out. As he remained behind the mic stand for the majority of the night, there were a few solos from time to time and it was then that he let loose and rocked out while playing guitar. Due to the layout of the stage, drummer Danny Dolan was front and center and almost immediately you couldn't help but notice the seriousness with which he played. With his big arms movements, focused expressions and motivation to keep the songs in time, he was entertaining to keep an eye on. Bassist Matt Rose, who also provided backing vocals, also played with the same focused intensity as the rest of his band mates. When he wasn't singing, he was rockin' out, hair flyin' right to left. There were a few times when I noticed he was getting lost in the moment as he appeared to become enveloped in the songs.
Running for My Life, with its low down and dirty sounding chorus, angry vocals, not to mention a great little guitar solo along with Dead Man's Shoes, with its super upbeat but gritty sounding chorus, were great to hear live. They ended their 40-minute set with their current single Just A Ride. All night these guys brought the goods and more than delivered an energetic live show. Those in attendance that night also appeared to enjoy their set. Needless to say, I would definitely see them again, and you should check them out as well.
The Virginmarys:
After a 30-minute set change, the lights went down, the intro music started and the crowd erupted in cheers. Each band member took their place on stage and as the opening notes of the first song started, Buckcherry kicked it into high gear as they launched into Lit Up. WOW! What a way to open the show. In the past, this song had been saved for later in the night, but I felt kicking the door wide open with this one really set the tone for the night. Josh Todd, with his bad ass Rock 'n Roll swagger, looked very snazzy. He had the front row, and probably the majority of the crowd, very much in the palm of his hand from the start of the show. A favorite song to many, I'm sure, the energy during Lit Up was electrifying. Keith Nelson's slide playing was an awesome bonus and he did not hesitate to get up close and personal with those in the front row. This lead into So Far, from their 2006 album 15, with its quick and fast guitar riff opening and a beat that made you want to bounce around. This lead into the title track of their 2010 release All Night Long. Whether Josh was singing, shaking a red tambourine or flashing a smile to the crowd, he was for sure singing with every ounce of his being.
For those that missed the memo, Kelly LeMieux has been playing bass for Buckcherry since last October. Almost immediately you noticed the crazed looking guy with the long wild hair flying. All night I felt he fit in with the band quite well. He even sang some backing vocals with Stevie Dacanay from time to time. For the next song, with its aggressive and fast-paced beat, they were not ready to let up on the intensity just yet. Josh asked who had Time Bomb and began to play one of my all time fave songs from that album, Fall. Eventually they brought the intensity level down a few notches with two of the slower songs on 15, Everything and Sorry. It was definitely sing-along time as the crowd seemed to be enjoying that part of the night.
When I see Dead on a Buckcherry set list I always hope for Dead Again, but this time they treated us to another from All Night Long. Josh may have mentioned that our generation was dead, but on that night, it was quite the contrary. This song has a real balls to the wall intro of driving guitars and drums. I remember reading an interview with Keith quite a few years ago where he mentioned that they wrote music that made people want to move. Well, with the groove in this song, the last thing you wanted to do was stand still. Even Josh was dancing and bouncing around the stage during the whole song. They kept the beat on the up and up as they went into another from Time Bomb, Porno Star. I'm personally very excited that this is making the rounds in the set list again. There is so much energy in this song, not to mention that dirty groove undertone.
While Josh didn't appear to do as much jumping around that night compared to what I've seen in the past, his funky dance moves were in full effect along with his very graphic hand gestures. Don't ever change Josh, don't ever change. Xavier Muriel, who had amazing lighting on him all night, really killed it behind the kit. With his hair flying and his facial expressions ranging from intense aggression to a smile that would light up a room, he kept time and a steady beat all throughout their set. Off and on during the show, Keith continued to solo at the very edge of the stage. Most times his expression was very serious as he focused on his playing but once in a while it would turn to all smiles as he would interact with the crowd by tossing guitar picks or when he was joking around with other band members. A couple times, Keith and Stevie met center stage and again on Keith's side of the stage and traded guitar licks during songs. They were constantly laughing, making faces and joking back and forth. I love when bands really interact with each other on stage.
The highlight of the night for me came when they played Sunshine. In all my years of seeing this band, I've only ever heard this song one other time and that was quite a few years ago. I have to say, it was still awesome to hear live after all these years. To me, this song is just as important to the 15 album as any other song that gets played more often. Then, much to my surprise, the band started to play an all too familiar cover as Josh sang a little bit of AC/DC's Big Balls. I looked around and saw many smiles on the faces of those in the crowd who were also singing along. Josh asked how many people had the new album Confessions before they played two new songs back to back. Gluttony, with its lyrics about excess and wanting more lead into Water. Prior to the show, I was talking to someone and she mentioned this particular song musically flowed like actual water. Well, I had never noticed that before and really paid attention when they played it. I could hear where she was coming from, plus I was reminded of how awesome this song sounds live.
For the next song, For the Movies, they went way back to the first album. It's still hard to believe that album came out 15 years ago. Some albums will always stand the test of time and this is definitely one of them. After the more mellow vibe of this song, they brought the night to a place that I'm guessing a lot of woman in the room couldn't wait to get to. Crazy Bitch, which also happened to be the fifth song they played that night from their 15 album, always goes over well. You know, I always find it interesting when a particular album in a band's catalog gets a lot of love on a particular night. To say the crowd went wild would probably be an understatement. Fans, particularly female fans, just eat up this song and that night was no exception. Part way through the song, they switched gears and everyone went side stage as Josh introduced each band member who then took advantage of a couple minutes for a mini solo. Up first were Xavier and Kelly. They played a funky, almost dance beat that had Keith and Stevie in the corner dancing like two girls in a night club. It was hysterical to see and all kinds of awesome. To see and listen to Xavier and Kelly play together was pretty awesome. Next up was Stevie. He played a solo for a bit at the edge of the stage and fans watched in awe and admiration. Finally, Josh referred to Keith as the Italian Stallion as he laid down some tasty licks for everyone to enjoy before the band eventually went back into the song to finish out the night. But wait, it wasn't over yet. The band was only gone from the stage for a couple minutes before they came back out for a two song encore.
On the set list, the next song was listed as Say Fuck It. Josh, who was now wearing a black N.W.A. hat called out to the crowd, "Can you say, Say Fuck It?" Once the music started though, I realized it was a cover of Icona Pop's I Love It. Let me tell you, the band was INTO it! The beat, the music, the slight lyric changes here and there (obviously replacing "I love it" but also changing 90's Bitch to, you guessed it, Crazy Bitch), made this a PERFECT song for Buckcherry to cover. Plus, based on the way Josh was dancing around on stage and how the other guys reacted while playing, clearly it was a fun song for them to perform as well. From what I could see, the crowd was really into it from all the dancing and singing along. I must add, dual guitars during the chorus? AMAZING. Trying to describe how awesome this song is live will probably never come across correctly so go discover it for yourself.
As Josh turned his hat backwards, they played one final song that completed their hour and 20 minute set with everyone in attendance having heard songs from every one of their six studio releases. Not too shabby Buckcherry, not too shabby. With that super funky opening, Too Drunk is a fun song to hear live and was sure to leave everyone in a happy mood. As band members said good-bye before leaving the stage, Xavier came out from behind his kit and handed out sticks. Stevie eventually came back out with his camera to take a "family" shot of the crowd. He took a few, so we'll see what ends up being posted on their social media web sites.
You know, I'm not sure if it was a coincidence or what, but by the end of the night I realized pretty much half of their set included songs with the "F" word in it. I couldn't help but wonder if I was crazy for noticing. I thought to myself, "Was this some sort of subliminal message of sorts, a theme for the night or what?" Regardless, Buckcherry played a very energetic set that showed just why they are playing sold out shows. They definitely left everyone wanting more. And if that wasn't enough, not long after their set was over, they headed upstairs to meet with fans who were taking part in the band's VIP option not to mention following that up with a regular M&G for those that bought the new CD that night. If you choose to participate, the night is clearly not over once the music ends. Buckcherry currently have dates listed through June. If it's been a while, or even if you recently attended a show, get out there and support the band and enjoy a great night of music. With varied set lists at each show, you never know what you're going to hear.
Buckcherry:
Keep up with Buckcherry below:
Official website
Facebook
Twitter