REVIEW: The American Dream Tour Featuring Bring Me The Horizon, Of Mice & Men, Issues and Northlane at the Best Buy Theatre in NYC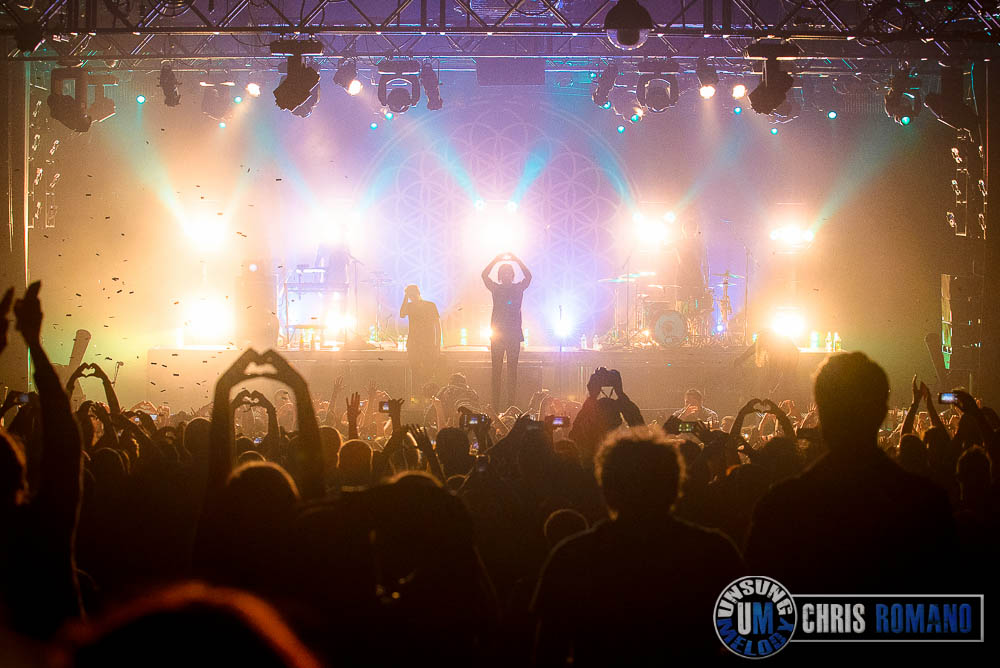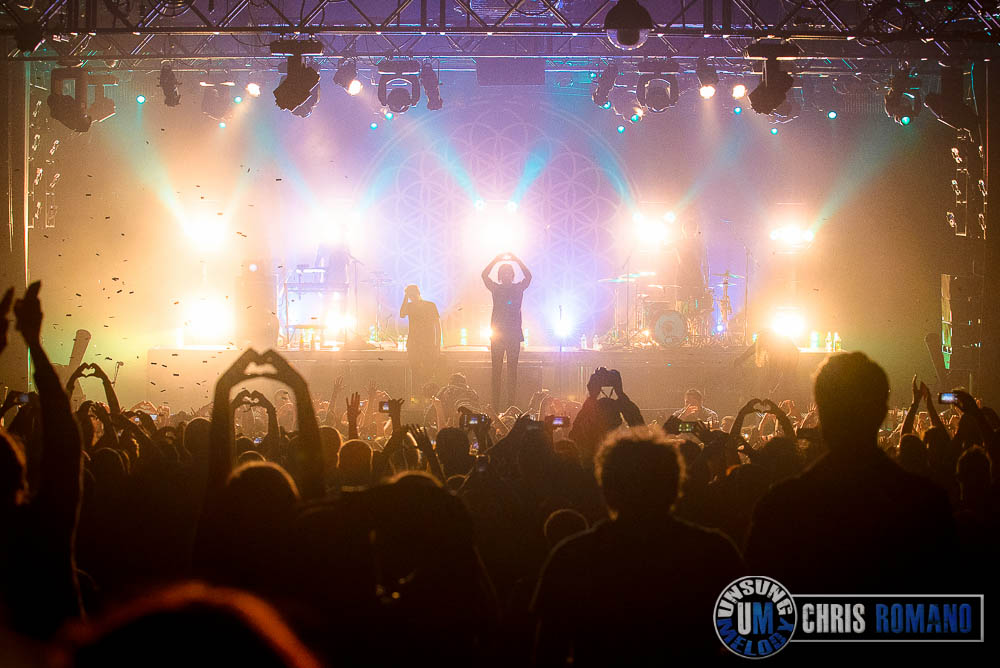 The second New York City date of the American Dream Tour, (which is opened by an Australian band and headlined by a British band, ironically) spent a second night at the Best Buy Theater in New York City's Time Square. For both nights, it was a packed house, with both shows selling out in just a few short hours after they initially went on sale.
Before I get into the openers, I just want to point out that one of my favorite live bands, letlive., was not on this show. They were on many of the dates before and after these NYC dates, but it looks like they made a trip to Australia for the Soundwave Festival for a few days. They will be back in NYC in May with Architects however, which I am quite excited for. So I suppose I'll let them slide this time. HA!
The first band on the night was Northlane, who made the trip to the US all the way from Australia. With a sound that's a bit metalcore and a bit progressive, they were a decent opener to help wake the crowd up. When I last saw them a few months ago, they almost tore the roof off of the much smaller Gramercy Theatre, and they were both not the headliner and missing one of their members (due to visa issues.) This time though, with the band at full force, I was hoping for something extra special.
Maybe they were a bit fatigued, but the band didn't seem to have the same amount of energy from when I last saw them. They sounded solid, but didn't seem to work the crowd up as much as I thought they would. It wasn't until their final song, "Quantum Flux", that they were all really jumping around and getting people crowd surfing.
Click here to view the Northlane photo gallery
Up next was the metalcore/r&b fusion group, Issues. Consisting of members of the (now defunct) metalcore band Woe, Is Me, Issues sucessfully blends the two sounds into something that's a bit electronica mixed with post hardcore – and it works, somehow. A friend that was with me is a huge fan of them (as he put it, "I am going to totally fan girl for Issues!") had a complete blast for their set, which mixed songs from their EP "Black DIamonds" and their first full length album, the self-titled "Issues".
With clean vocalist Tyler Carter yelling for sing alongs, and screaming vocalist Michael Bohn screaming for circle pits, Issues had a well set mix of whatever energy the crowd wanted to give. While musically, it's not really my cup of tea, I can't deny how fantastic they both sounded, and how well they worked up the crowd. Issues will be on Warped Tour this year, and I'm looking forward to seeing what they can do with an even larger audience.
Click here to view the Issues photo gallery
Main support for the show came from the metalcore band Of Mice & Men. I caught them a few years back opening for August Burns Red, and thought they put on a decent show then. "Is this it New York? I need more! From the left to the right, from the front to the back, I want everyone to jump!" yelled out front man and screaming vocalist Austin Carlilie. With a set comprised of songs from both their latest release, "Restoring Force", and their previous release, "The Flood", OMAN had plenty of fans in attendance that knew the words.
A huge surprise to everyone, Austin announced to the crowd, "We don't play this song on this tour, only tonight, this is Second & Sebring". It's always nice when a band changes up the set list, even by a little bit, when there is a second show at the same venue. With bassist and clean vocalist Aaron Pauley passing his bass to a guitar tech, Aaron joined Austin with jumping around the stage, while singing and screaming with the crowd. While the band has great energy on stage, I can't help but feel the playing was a bit sloppy. It seemed they sacrifice a bit of tightness for more movement, and sometimes that works for a band – especially with metalcore.
Click here to view the Of Mice & Men photo gallery
When a white curtain dropped, bright blue lights suddenly filled the Best Buy Theater, and black and white confetti covered the audience near the front of the stage. The energy was already through the roof when Bring Me the Horizon broke in to "Can You Feel My Heart."
While I did catch BMTH at Warped Tour this year, since I was essentially running around the entire day, I didn't get a chance to enjoy much of their set. This time however, I was able to ingest the full live experience – with fancy lighting and near perfect sound.
"Jump, jump, JUMP! DON'T STOP!" screamed out frontman and vocalist Oli Sykes during, "Go to the Hell, for Heaven's Sake." For most of the night, if he wasn't head banging, he was either jumping up and down like a pogo stick, or yelling for more energy, more crowd surfing, and more craziness in the mosh.
For the first time of the night, they slowed things down a little bit. As Oli took to the front of the stage, and in almost a loud whisper explained the meaning of the next song, "this is about a very common problem… this songs about bastards," which introduced, "And the Snakes Start to Sing."
"I wanna give a high five to each and everyone one of you – all you gotta do is crowd surf over!" Oli told the crowd, before breaking into "It Never Ends." "Don't let me down, Get the fuck up here!" he yelled out, demanding the crowd surfers get to him. With a tattoo on the palm of his hand that says, "High Five?", he definitely wanted those high fives. For four solid minutes, the crowd made the security at the Best Buy Theater work harder to catch people than they probably have in months.
"Chelsea Smile" brought more chaos. "Every single one of you move, this is the night we all fucking die!" With hand signals for wall of death in the mosh pit, and a battle command of "fucking kill each other!" the massacre during the breakdown of the song was one for the ages.
One of the last songs of the night, "Antivist", had easily the most singing along. One hilarious thing was that some kid managed to crowd surf on to the stage and run up to Oli Sykes. Seeing him, Oli gave him a huge hug, before continuing with the song. As numerous crew members ran after the kid to get him off the stage, the kid out ran them, stage dove back in to the crowd. Aaron Pauley from Of Mice & Men even joined in on the song, grabbing a mic, and singing the last chorus of, "middle fingers up, if you don't give a fuck!"
Returning to the stage one last time, the band ended up with "Sleepwalking," which began with another explosion of black and white confetti. One of the last things Oli said was, "If we come back, you'll come back, yes?" Which was met with cheers and screams that rocked all of Times Square.
Plenty of metal fans hate Bring Me the Horizon. I used to hate Bring Me the Horizon – until they released Sempiternal. With the release of the album, everything seemed to just click. Not a single one of those songs is weak, and it converted me to a fan. And to top it off, every one of the songs just sounds phenomenal when played live. With a set comprised primarily of songs from Sempiternal, its no surprise that I walked away feeling that this was easily one of the best shows I've been to in quite some time.
Click here to view the Bring Me The Horizon photo gallery
I'd even go so far as to say that in a live setting, Oli Sykes reminds me of the legendary Ozzy Ozbourne; with the way he constantly is telling the crowd to move, sing, jump, and go crazy. But hey – maybe it's just the accent.
My last words to Bring Me the Horizon: keep playing shows like that, you'll be headlining a venue like Madison Square Garden in no time.