A Perfect Circle – 1st Bank Center – Broomfield, CO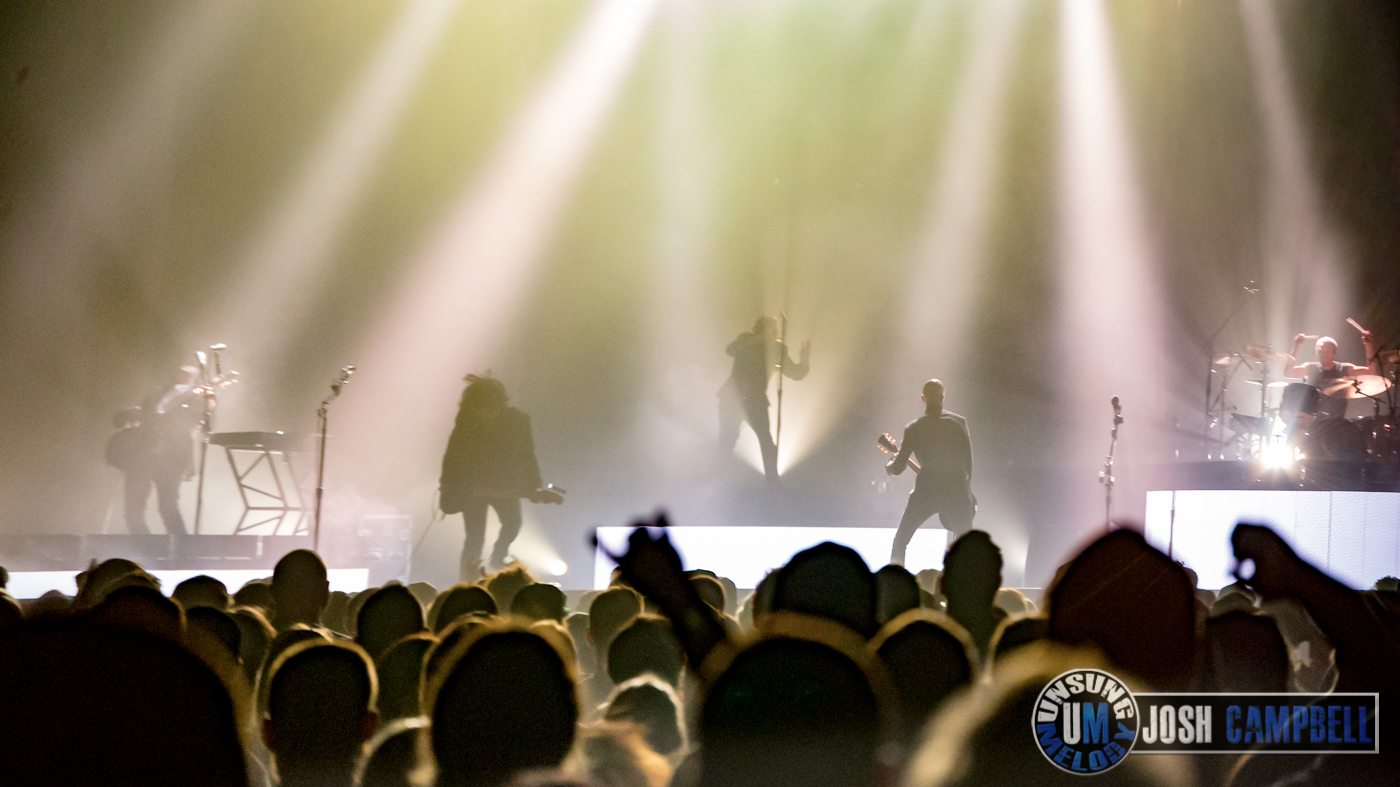 On April 17th, A Perfect Circle hit the 1st Bank Center in Broomfield, Colorado. The band returned to tour for the first time since 2011, and they are still a powerhouse.
Kicking off their set was The Package. The long, extended intro slowly coalesced into the thunderous chorus while the band performed behind a starkly lit curtain, casting silhouettes, while Maynard James Keenan would ebb and flow, while his shadow danced upon the silkscreen. While the remaining members almost stoicly stand guard amongst the shadows, the band's playfulness was obvious from the start.
As the sheet was cut down, the band parlayed the moment into The Hollow. With the curtain down, a new atmosphere was present: A looming, foreboding, almost menacing energy was pressed upon the crowd. The crowd of the sold-out show quivered at each vibration of the music. Throngs of people wavered and flickered, shaking and convulsing to the rhythm.
The remainder of the set had deep cuts and fan favorites peppered throughout. The Noose, Weak and Powerless, and Rose helped ease the band into their groove. Imagine, the infamous John Lennon cover, resulted in the crowd going more wild than before. The hauntingly powerful version seemed to bring us all onto our knees.
Further deep cuts and favorites led into their Depeche Mode cover of People Are People, Magdalena, and Vanishing. Vanishing would segue us into the new song Hourglass. Influenced by 80s synth pop, you can even hear a bit of influence of Green Jellÿ's song Three Little Pigs. This amalgamation of sounds and ideas present a very interesting new song, and a direction that is somewhat remiscent of Mer de Noms, A Perfect Circle's debut album.
In between songs, fervent fans, and perhaps Keenan-worshippers, would scream out "HAPPY BIRTHDAY" to Maynard, as it was his 53rd birthday. Toward the end of the set, Maynard noted it himself, and members of the crew and band presented him with a "birthday gift" and cake.
Feathers, a haunting cacophony of new melodies, lyrics and riffs, closed the set. The crowd slowly comes to the realization that it's the final song of the set, and no encore was presented. APC made their statement to the crowd, and performed more than admirably. Being a fan, it was a privilege to cover the show. What an amazing night of music and beauty!