Now that's entertainment. Foxy Shazam and Slash featuring Myles Kennedy and The Conspirators at Bogart's in Cincy!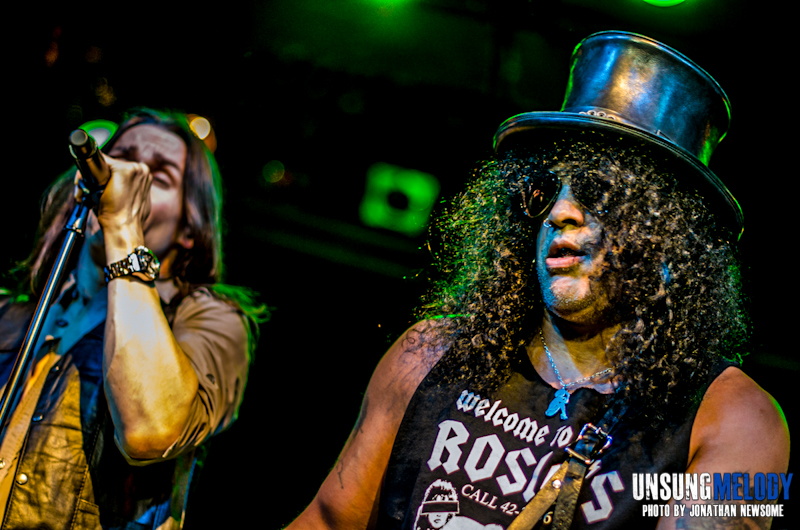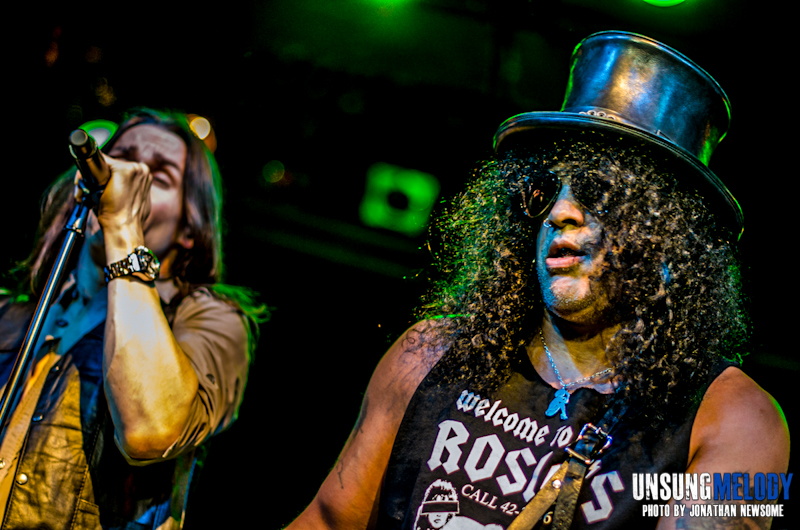 I made the 102 mile trip to Bogart's in Cincinnati, Ohio to catch, what is by far the most entertaining night that I believe I've ever experienced. To be honest, that's saying something. I'm a veteran of over 500+ shows and I've seen some pretty amazing things over time. This was my second time at Bogart's. I had seen Anthrax, Testament and Death Angel earlier this year there. I saw Foxy Shazam perform many years ago in Newport, KY and had heard so many good things about them since, that I was really eager to catch their set. I knew that this, being a hometown show, would be an amazing set to experience. Add in the fact that the headliner is none other than Slash featuring Myles Kennedy and The Conspirators, well you get the picture.
Opening the show was a band that I was completely unfamiliar with. The band was 21st Century Goliath, who are based in Charlotte, North Carolina. Their style is what I'd call sleaze rock. With song titles like Life's A Bitch, and Lipstick On My Dick, I think sleaze rock fits them well. Their set was fun, and seemed to go over well with the sold-out crowd. They are a band that I'm certainly going to find more information on, and if you were there, I'd hope you would do the same.
Next up was none other than the hometown boys in Foxy Shazam. The band was hand-picked to open for Slash on this tour, and as I'm sure the band is thankful for that…I believe I'm even more thankful. As I said before, I had heard a lot about the bands' live performances, and I wasn't 100% sure on what I should expect. I knew there were going to be antics. I knew there were going to be moments that would stand out. I was familiar with the new album, The Church of Rock and Roll, which by the way, will have a very high spot on our upcoming Top 10 releases of 2012. So, I THOUGHT I knew what to expect. Let me tell you something…that has never been further from the truth. The first thing that I was caught off guard by was that vocalist Eric Nally is now a blonde. I'm saying this is a good move on his part because he gets a ton of Freddie Mercury comparisons, and perhaps this is a great way to separate himself from that legend. I will add though, in my opinion there may be no other comparison that has more merit than Freddie Mercury. Vocally, both are equally amazing in their own right.
Onto the performance though. I'll continue by beginning with vocalist Eric Nally, again. He is equal parts Andy Kaufman, gymnast, and Eric Nally. His persona onstage is this weird little guy, that essentially is a lot like Andy Kaufman. While lines like, "If you can't afford Chili's, then go to McDonalds. That's what I do." may seem completely alien to most at a concert, but when you see the show and understand who the band is, you feel the power of the music, and see the effect that it has on the crowd. You'll quickly understand that the band knows exactly what they are doing on that stage. The band itself was just as unique and entertaining as Eric though. Even with all of his tumbling and running across the stage on all fours. Don't be fooled though, these guys can all play, and play very well. With all the movement, dancing, and crowd interaction, one would think that the music would suffer. That is absolutely not the case in this situation. The show was nearly perfect in every aspect. With as unique a flair as you will ever see, the show was entertaining in many aspects. From Sky White's memorable keyboard playing with a leg up on the keyboard itself, to trumpet player Alex Nauth's skeleton pants, and TREMENDOUS backing vocals, to the coolest mustache in the band, worn exclusively by guitarist Loren Turner. Foxy Shazam has created a troupe that is more Las Vegas than Cincinnati. Foxy Shazam has earned, in my mind, the title of the best band live that I have ever experienced. Highlights of the set for me were The Church of Rock and Roll, The Rocketeer, Unstoppable, Holy Touch, I Like It, and…Oh hell, who am I kidding? It was all amazing. No wonder the band come onstage to deafening chants of Foxy! Foxy! Foxy!
Headlining the set was the legendary Slash. This trek, as well as new album, features Myles Kennedy and The Conspirators. Knowing where Slash's success lies, it's no wonder that he has chosen Myles Kennedy to front this project. Myles is one of the more dynamic voices in rock music today. His work in Alter Bridge is an amazing testament to that. While I'll admit that coming in, I was a fair weather fan of Myles…seeing him live made a believer out of me. I personally think his voice is MUCH better live than it is on any recording to date. I'd actually like to see a live album from this tour, to relive the performance.
Let me touch on my thoughts of Slash for just a second. Slash is as mysterious a figure as rock has seen in ages, and he's earned the right to be called one of the greatest rock guitarists of this generation, as well as all time. I asked Daisy from Foxy Shazam about that fact before the show, and he said that Slash had spoken a line to him earlier in the day, just one line, and he had thought about it all day. He's just that mysterious and cool. Onto the set though. From his signature work in Guns N' Roses, and Velvet Revolver, to his solo records and work in Slash's Snakepit, he's shown time and time again that he's one of the best. He spread songs from each of those projects into the set, and delivered a performance where it seemed not one person there didn't know the lyrics. That was inspiring.
The crowd at Bogart's was one of the most trying and tiring experiences I've ever been involved with though. It was as if everyone pushed to the front to get as close as possible to the stage. Entering and exiting the photo pit was an absolute nightmare. I've never had to push my way through a crowd as tightly packed as that in my life, and I hope I never have to do it again. It was miserable and I thank God nothing happened that we needed to evacuate. There was absolutely no way to move within 300 feet of that stage. How on earth there was any movement at all during the set, was mindboggling to me. For most though, a little sweat from their neighbor obviously didn't bother them. So, in the end, I guess I'm just complaining.
The set was littered with some of Slash's biggest hits. As I mentioned, he covered all of the bands that he's been involved with over the years. Myles Kennedy absolutely nailed every style thrown at him too. He was smiling as big as anyone can smile on that stage. So, you just knew he was honored and having a great time fronting this tour. That was a great thing to witness. Slash was a man that lived up to his mystique as well. Never really changing emotion. Staring, posing, just ripping. He did what he does best, and that's be Slash. His solos were precise and his technique up close was mesmerizing. Being a guitar player myself, standing in the photo pit just inches from one of the greats made it extremely difficult to focus on photos. For the first time in a VERY long time, I was a bit starstruck, and I'm not afraid to admit that it was all well deserved. Having never had the chance to see Guns N' Roses live, I was very curious to see some of the songs performed. I wanted to experience the power of those classics, and feel the crowd hanging onto every note. Thankfully, Slash obliged by playing songs like Night Train (which I saw from the photo pit. OMG!), Civil War, Rocket Queen, Out to Get Me, and of course Sweet Child of Mine and Paradise City. Of all the GNR songs played live, my personal favorite was seeing Civil War. That song, for me at least, was mesmerizing live.
The band played a few songs from the last two Slash albums. Halo, Ghost, Back From Cali, Starlight and Anastasia were my picks. Seeing the blues jam, and Slash soloing just before Anastasia was a moment that I'll remember for the rest of my life. It was that good. The tone of a Les Paul being played through a Marshall, by Slash…it just doesn't get any better than that. Surprisingly, at least from my perspective, was how well Myles Kennedy pulled off the Velvet Revolver songs. He absolutely nailed Slither, and during the encore, he delivered perhaps an even better version of Fall to Pieces than Scott Weiland. Color me impressed.
As I'm sure you can tell by my writing thus far, this concert was much more than a concert. It was an event, and that's what live music is all about. If the tour comes near you, I assure you, you will get all the bang for your buck that you can ever imagine.