Nightwish at the Paramount Theater, Denver, CO – April 3rd, 2018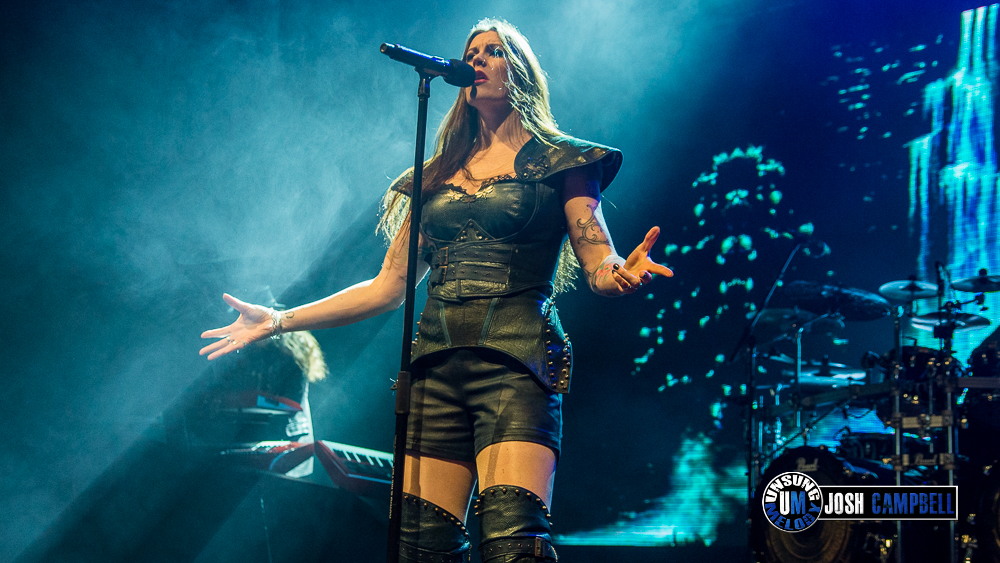 Decades. The title of both Nightwish's current tour, and recently released compilation album bring to mind the time that the band has toured the world, written incredible songs, gone through tumultuous times with former singers, and the image of passing time.
Make no mistake, this current tour is definitely a gift to their fans. The show is ONLY Nightwish, and a 2-hour long set. The set, coupled with fans receiving a copy of Decades when they walk in the door only drives home their appreciation of their long-time fans and supporters. Tuomas (Holopainen) and company realize they wouldn't be where they are today without them!
The current set kicks off with Troy (Donockley, pipes) taking the stage solo, and opening with portions of Swanheart, the first of many deep cuts they'll play this evening. The audience, entirely enraptured by the moody, melancholy and brooding melodies, break into cheers as Tuomas, Kai, Marco, Emppu and Floor take to the stage.
Among the throngs of cheers, the band break into the first full deep-cut track of the night, End of All Hope. This was quite a surprise, especially to me. Rarely played until the current tour, this was a very pleasant surprise.
Deep cuts and seldom performed songs such as 10th Man Down, Gethsemane, Sacrament of Wilderness, Deep Silent Complete, Dead Boy's Poem were interspersed between popular songs such as Nemo, Wish I Had An Angel, and Ghost Love Score. They were also peppered with a song or two that are so rarely performed, your jaw would drop when you hear it live. One particular song that comes to mind is The Carpenter, being played on the current tour, but hadn't been heard since 1998!
Nightwish has kicked off a worldwide tour that will satisfy even the most die-hard fan. The musicianship has never been better, and Floor's vocals seem to cover the best of both of the former vocalists. Don't hold off on seeing them this go-round! They're just getting warmed up!
Nightwish Gallery