My experience. The exclusive listening party for Black Sabbath's "13"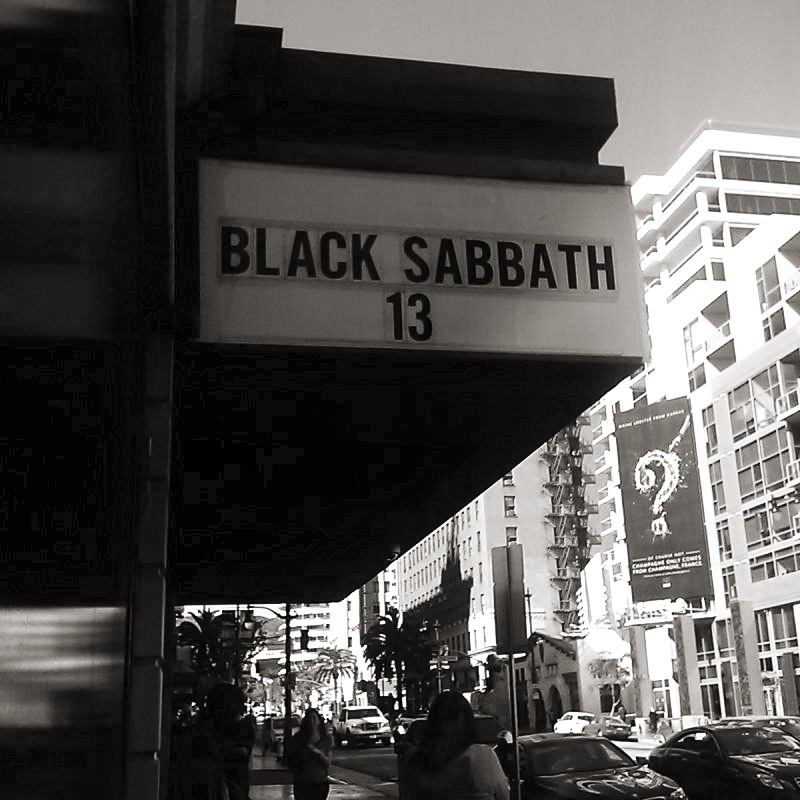 I had the honor of representing Unsung Melody at the exclusive listening party for the upcoming album 13. After 18 recordings, this highly anticipated album has been 35 years in the making. It's the return of the original members Ozzy Osbourne, Geezer Butler, and Tony Iommi. Stepping in for drummer Bill Ward during the recording sessions was Brad Wilk (of Rage Against the Machine and Audioslave)
The event took place at the Montalbán Theater (now ran by athletic brand Nike). Located on world famous Vine Street, just 1/2 a block south of the famed intersection of Hollywood and Vine. The modest marquee could be seen reading simply, Black Sabbath "13".
Underneath the old-fashioned marquee on the star lined street was a a small gathering of people waiting for the doors of the venue to open. The lucky participants were a few industry executives, press representatives from various media, and a group of some very happy Black Sabbath fans.
After the doors opened, they verified everyone's identity and made us check our cell phones before entering the lobby. I have no idea how 60-100 people got through two hours without their cell phones. We were treated to a hosted bar and some snacks before they opened the main theater.
Once inside, the crowd was greeted by Ozzy's son Jack Osbourne. He talked a bit about his reflection on the album and announced that there was a short film with the band members, filmed during the recording of the album. You can view most of them on the Black Sabbath YouTube channel. Here, they were played consecutively. Once the video was done, Jack Osbourne came back and made another short introduction to the album. The theater went dark and the sound went up. I'll include as much as I can on my feelings of each song. Obviously, having only heard each song once, I can't give a lot of insight. Still, it was such a rare experience, we wanted to share as much as we could with all of you.
End of the Beginning – Iommi's wicked guitar sets into a gorgeous foreboding doom. The drums in this song feel purposeful, yet understated as they juxtapose the levels of changing mood to this very multifaceted track.
God Is Dead? – This tune enters into a crushing three-time waltz and kicks into a bombastic hardcore scorcher. Driven by the beats of almost tribal drums and a low end, menacing, churning bassline. Ozzy's existential lyrical lament is delivered at an unusual pace. Punctuating the meaning behind the words until he hits the choruses where he switches into the full, familiar voice we all know and love.
Loner – This track is less intense and perhaps merging towards "radio friendly", but believe me, it is still a headbanger. For me though, it was however the least interesting cut on this new record. Granted, this was just one listen.
Zeitgeist – Opening with Ozzy's mocking sinister laugh, you don't know quite what to expect. Then bongo strikes and Butler's low thundering bassline ground the pretty but eerie track. Something about it seems suffocated, like the entire track is underwater. I can't wait to hear this one again.
Age of Reason – After catching your breath from the eeriness of the previous cut, Sabbath takes you on a wild ride. This striking, yet off-kilter moment tramples you like a herd of elephants. For the next seven minutes, you embrace the vicious chemistry of Butler and Iommi. They are absolutely beasts with their stringed instruments.
Live Forever – Riding in on the vicious riffs of Iommi, this track is so metal you can taste it. Maybe it was so intense that I was biting my tongue and that metallic taste was my own blood. Whatever the case, it was just that damn good.
Damaged Soul – It's a real throwback to early blues-influenced Black Sabbath. This one will certainly be looked at as a true Sabbath tune.
Dear Father – Again they hit you with enough power and passion to cause internal bleeding. I'm completely in awe of the heaviness presented before me.
The opening tracks are really commanding and deserve your undivided attention, and seem a bit top heavy for the start of the album. It feels like the impact could be better served once your are more immersed and invested in the LP. A couple of the tracks just aren't as strong as the rest, but then I can't think of any album I wouldn't say that about. I do feel this could ultimately be because of the song placements.
After the album was done, Osbourne, Iommi and Butler made a surprise appearance. The band was greeted with applause and cheering as Ozzy tried to speak. You couldn't hear him at first over the roar of the small crowd. They thanked the audience for listening and ended the evening.
I don't know if Sabbath resurrected the past as much as they continued holding true to who they are and honoring where they've come from. In the video, Iommi said "You can't always repeat what you've done, you've just got to go on. It'll be today's version of how it was 40 years ago, I suppose." As a non-musician, I am never all that sure what actual effect a producer has on an album. That said, the end product that Black Sabbath created with producer Rick Rubin at the helm is an album worthy of a band with their influence and stature.
This offering is weighty, rich, yielding, crushing, relentless, and gorgeous. It's meant to be played, not just listened to casually. Ozzy best said it himself in the video; "Black Sabbath doesn't write songs that you hear on the radio. We write musical pieces." 13 is bound to be one of the best offerings of music this year. The album is due out on June 11th. The disc is available for pre-order here.
Keep up with Black Sabbath below:
Official Website
Facebook
Twitter
YouTube