Let's Be Friends. Leogun in Knoxville, TN.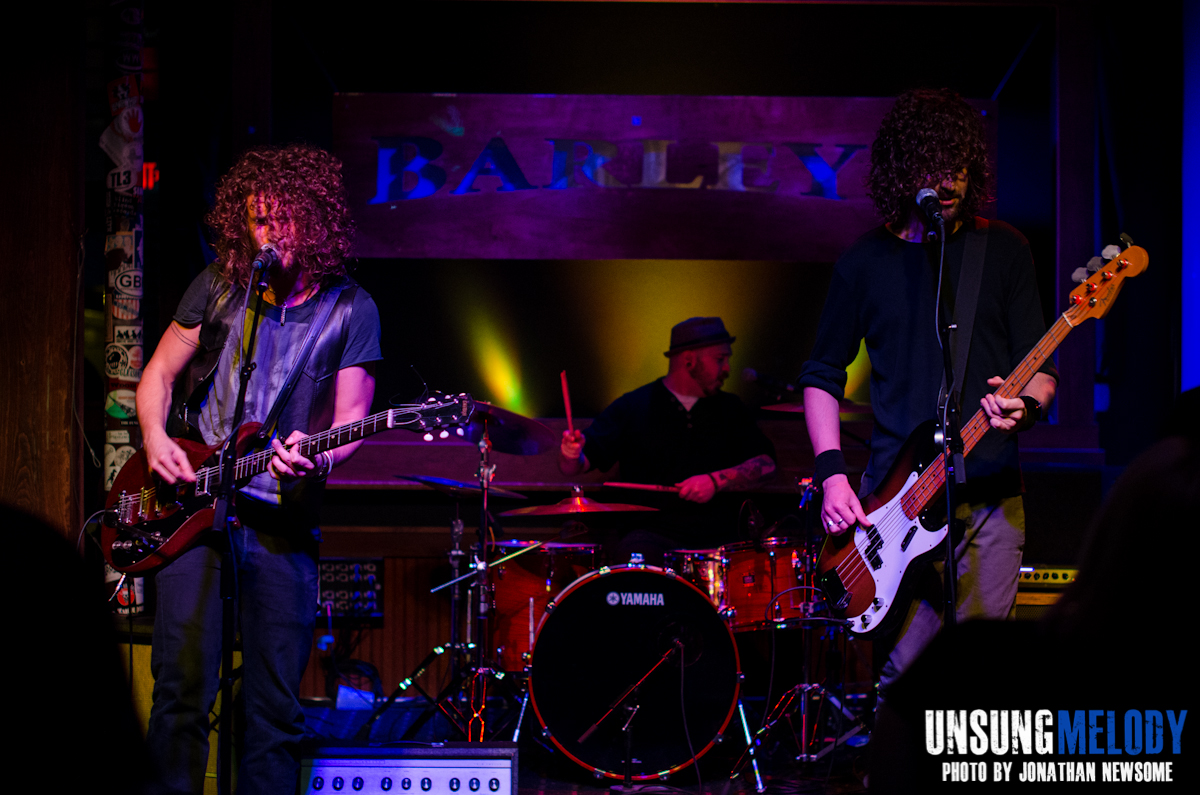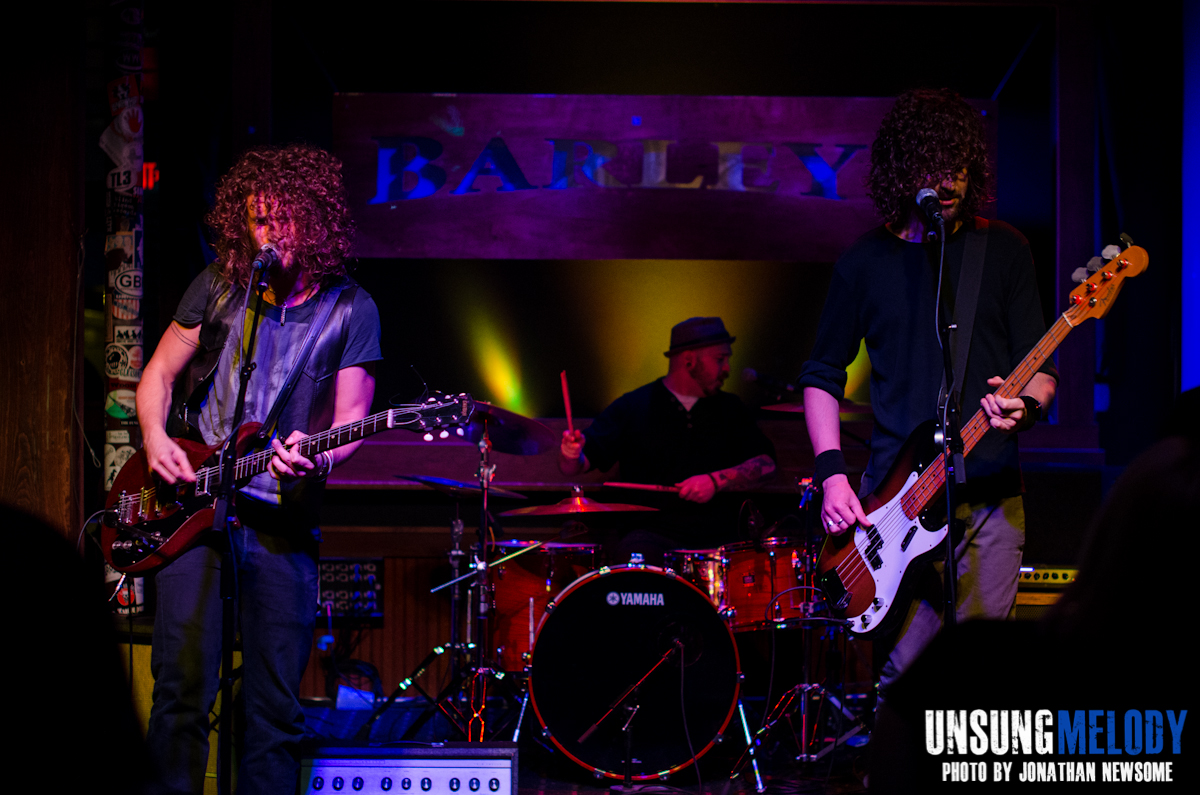 I'm never one to not pursue something when I believe in it. I've had my battles in life and I've always found a way to make things work. Some way, some how. Not too long ago, I found a little band from England called Leogun. I was blown away by their raw sound. So, I figured if they could make the trip to the States to tour, I could make the 185 mile trip to Knoxville, TN and catch them at an intimate venue. So, my son and I loaded up and headed South for the day. We arrived at Barley's Taproom and Pizzeria early enough to scope things out and see what we were in for. I was hoping it was a small stage, with decent lighting. Well, wish granted. As you'll see by the pictures, the stage was perfect for a trio and would've been very crowded for any larger band. After chatting it up with the guys for a bit, the show was about to begin. Then, it happened. My son, who is quite the fan of Leogun, probably more so than myself, turned to me and said of Tommy Smith (Leogun guitarist/vocalist), "If I had that accent, I would talk non-stop!" I found it rather comical and it's a memory I'll keep with me for a very long time. The show, was definitely a father/son event.
*Be sure and check out the photos from the show here.
Taking the stage around 10pm, Leogun quietly introduced themselves. No need to be chatty when your guitar talks as loudly as Tommy Smith's does. Breaking into What's It Gonna Take, a tune I'd never heard and from their forthcoming full-length album, Leogun grabbed the attention of those in the room and simply would not let go. Those in attendance quickly realized that this band was not one to be taken lightly. It's hard to put into words exactly what a Leogun show is like. Many words come to mind, but if I had to hone in on one that would be recurring, it would quite simply be…Intense.
I've easily seen over 1,000 bands in my lifetime. Very few have had the tenacious, ferocious, hair-flinging, musical abilities that Leogun has. Vocalist/guitarist Tommy Smith and bassist Matt Johnson have a very strong chemistry, as they've been band mates for quite some time. They both have quite the manes of hair going for them as well. (Yes, I'm jealous…) So much in fact, that it was rather difficult to catch a face in my camera lens! You take the chemistry of those two and mix in the thunder of Mike Lloyd on drums and you have quite the winning combination in not only my book, but for everyone in attendance as well.
The band played a 10 song set, which included a really fun cover of Jungle Boogie. Yes, that Jungle Boogie from Kool & The Gang. Don't fear though, it was definitely done up Leogun style! As the set progressed, I heard more and more new music and I became more and more intrigued. The song that pulled me in like the sirens at sea, was the absolutely EPIC song titled By The Reins. This one is an absolutely beautiful example of what Leogun is capable of. Think Led Zeppelin's Dazed and Confused thrown into a blender with Wolfmother's Joker and the Thief, add some Leogun seasoning and BAM! Instant classic. I'm not saying there isn't originality here, I'm simply trying to give you some insight into what I experienced. I've often said that music is my drug, midway into Tommy's solo, I was as high the stars in the Knoxville sky. Absolutely mesmerizing.
Following up that amazing moment, I felt would be nearly impossible. HAHAHAHA! I've never been more wrong in my life! (Don't let my wife see me admit I'm wrong, I don't want to have to make a habit of that. K? Thanks.) Out comes a little song called Piggy in the Middle. Pardon my language here, but HOLY SHIT! This blues boogie tune was quite possibly my favorite Leogun tune yet. This song is designed to make you move. There is nothing about it that will have you wanting to sit on your hands. This song mocks you and DARES you to try and stay still. I'll go ahead and tell you something and save you a bit of trouble here, you can't win. Piggy in the Middle will claim it's victory!! Let's go back to that word again for this one…Intense! Don't believe me? Check the video below and tell me I'm lying.
I want to mention drummer Mike Lloyd again. I found myself watching him rather closely and he reminds me quite a bit of Jean-Paul Gaster from Clutch. Both of them play a pretty minimal kit, but both of them hit like they're swinging Thor's Hammer. By the time the band hit the single Let's Be Friends in the setlist, Mike seemed to just be warming up and the hits just kept getting harder and harder. Seeing him add in some backing vocals on several songs, sealed the deal for me. Mike Lloyd is one of my favorite new drummers.
Speaking of Let's Be Friends, I looked over at my teenage son and his eyes were as big as saucers. The kid was in a trance and that was well worth any and all efforts on the night for me. If you are around teenagers much, you know that catching and especially keeping their attention is becoming harder and harder these days. We've seen plenty of concerts together before, but tonight was different. It was like he finally realized what he was witnessing. It was like a light switch went off and he got it. He was taking it all in and relishing every single moment. That my friends, was AWESOME!
Ending the set was the song that I so raved about in my review of the EP. (Which you can read here) The song is Everyday and as I said there in the review, I bet it turned into a long jam session. While it wasn't an extended version on this night, likely due to the time constraints on the set, it was every bit as amazing as I had imagined. It was almost magical. The intensity they brought to close the set, was absolutely inspiring.
See Leogun perform Everyday below:

As the band closed out the night, the crowd dispersed and we had the chance to once again chat with the band for a few moments before we all went our separate ways. I snagged a setlist for my son and the band was more than happy to sign it for him. He had a shirt on his shoulder, a cd in his hand, and a setlist that was as good as gold to him on this night. If the band itself wasn't impressive enough, the fact that they blew the mind of a 15 year old kid spoke volumes to me. This music, this band, has the mixture of all the right components to propel them to superstar status. Leogun is a force to be reckoned with.
Here's an interview our very own Caren Spitler did with Leogun in 2012:

Check out the video to Let's Be Friends by Leogun below:

Purchase your copy of the EP from Amazon by clicking the artwork below: