High On Fire featuring Kvelertak and Doomriders At Webster Hall In New York City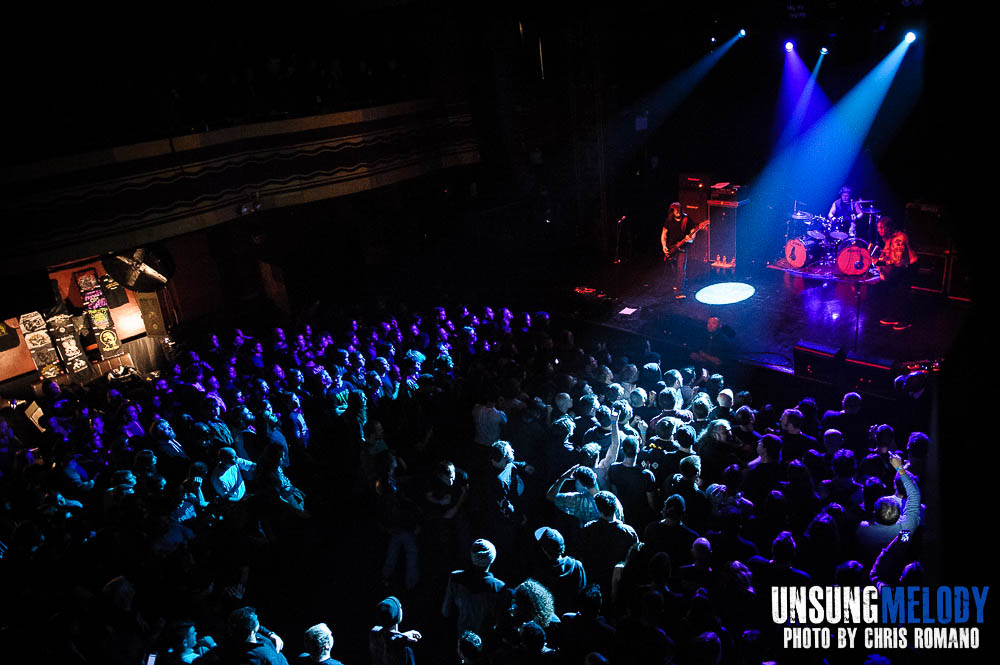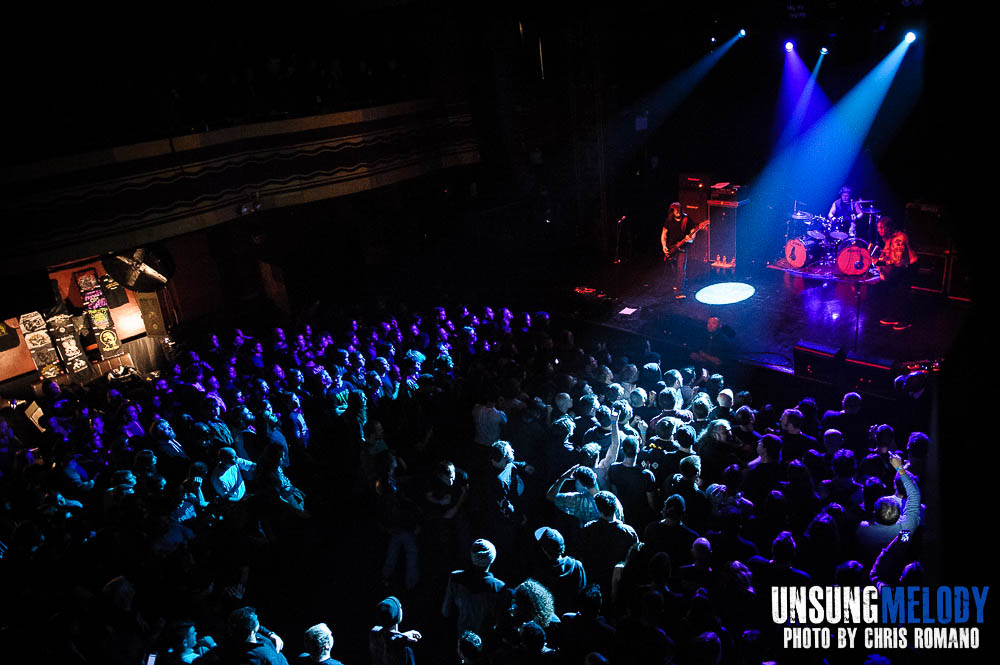 The last time I saw Kvelertak, I was in a small, packed, hot room, with 300 other crazy metal maniacs at the Studio of Webster. On their latest performance at Webster Hall, I saw them opening for fellow metal band High on Fire. Only this time, with about 1200 maniacs in the upstairs grand ballroom.
And damn, Kvelertak and High on Fire are damn good at bringing the heavy to Webster Hall.
Opening for the night were Doomriders, who are essentially heavy metal with a punk vibe. Fronted by guitarist/vocalist Nate Newton, who is also the bassist in hardcore punk legends Converge, Doomriders warmed up the crowd slowly by surely. While I wasn't able to spot a set list, I know they played a cover of some popular song, I'm just not entirely sure what it was. What I do know is by the time Doomriders were on their last song, the entire ballroom was filled with headbanging and cheering.
With stacks of Orange amps filling the stage, Norwegian metal/punk rockers came to the front. With shirtless vocalist Erlend Hjelvik wearing his signature owl helmet, the band stormed the stage, and did not let up for over 40 minutes.
There was a constant moshing presence throughout the set; from circle pits to walls of death, it seemed that everyone on the floor of Webster Hall had just as much energy as the band on stage. The audience watching on from the mezzanine seemed at odds; as they were possibly confused with lyrics, which are not only screamed by Erlend, but also periodically the other members of the band.
One can't deny the catchiness of the 5th song in the set however, "Bruane brenn." Easily my favorite of their catalog, the song had the crowd pulling out their best attempt at creating a Norwegian sing along.
While there was no climbing on the ceiling and playing on top of bars this time around, Kvelertak was still on top of their game. During the last song, the self titled "Kvelertak," Erlend jumped in to the crowd, standing as nothing but hands held him up, continuing to sing away.
Click here for my Kvelertak photos.
I could tell a large amount of the crowd was greatly in to them as the main support, and may have even wished they were the headliners. Personally, I've seen videos live performances from Kvelertak in Europe with crazy lights and pyro going off constantly – and the next time I see them here in the US, I want that!
Oh, and did mention that when I got back to the front of the stage to take photographs of the headliner, there was a bit of blood on the stage? Who or where that came from, I'm not entirely sure, but it wouldn't be the first time I've seen Erlend bleed while performing…
With the stage little emptier with the exception of some large bass amps stage right and guitar amps stage left and a drum kit in the center of both, things were set for the headliner of the tour, High on Fire.
Rarely does front man and vocalist/guitarist Matt Pike go on stage with a shirt on, and tonight was no exception. Opening with "Fertile Green," the band took to the stage with a heavy fury that never let up.
During the third song, "Fury Whip," members of the crowd started to crowd surf over the barrier, and I have no problem saying that the security at Webster Hall failed miserably to catch them. While I was still at the front of the stage taking photos, I saw about 15 crowd surfers fall hard over the barrier, as the one security guard had no idea how or if he even should catch them. Typically at metal and hardcore shows, the security is there in full force, ready and waiting to catch anyone that flies over the barrier, but not this time. I can only imagine a few folks left that night with some badly bruised ribs and broken noses.
In simple words, the bass for High on Fire was loud, and super, super heavy. Not a beat or strum went by that did not rumble the frail Webster Hall. Honestly, if they ever need to knock the old building down for some reason, all they need to do is have High on Fire come back and crank it up about 2 more notches, and the thing will crumble down!
Click here for my High On Fire photos.
"This is outta sight man, this is fuckin' rad!" Matt growled to the crowd, after the super fast song, "Cometh Down Hessian" left many breathless. He followed up with saying only, "Eyes, and Teeth," before riffing right in the song by that very name.
Finishing up with "Slave the Hive," and of course, probably High on Fire's most beloved jam, "Snakes for the Divine," the band played almost non-stop, with plenty of the aggression New York metal heads crave.
Easily, one of the most solid tour packages I've in a while. Doomriders had the crowd head banging, Kvelertak had everyone moving and cheering, and High on Fire had those on the floor beating one another senseless in the mosh. To top it off, each band had a similar sound, that blended quite well together. I'm quite certain that not a single metal fan was left disappointed this night, and I am even more than certain those that weren't fans of Kvelertak before hand, are now.
Click here for more tour dates.