A Recap Of The 2013 Edition Of Hootenanny In Silverado Canyon, CA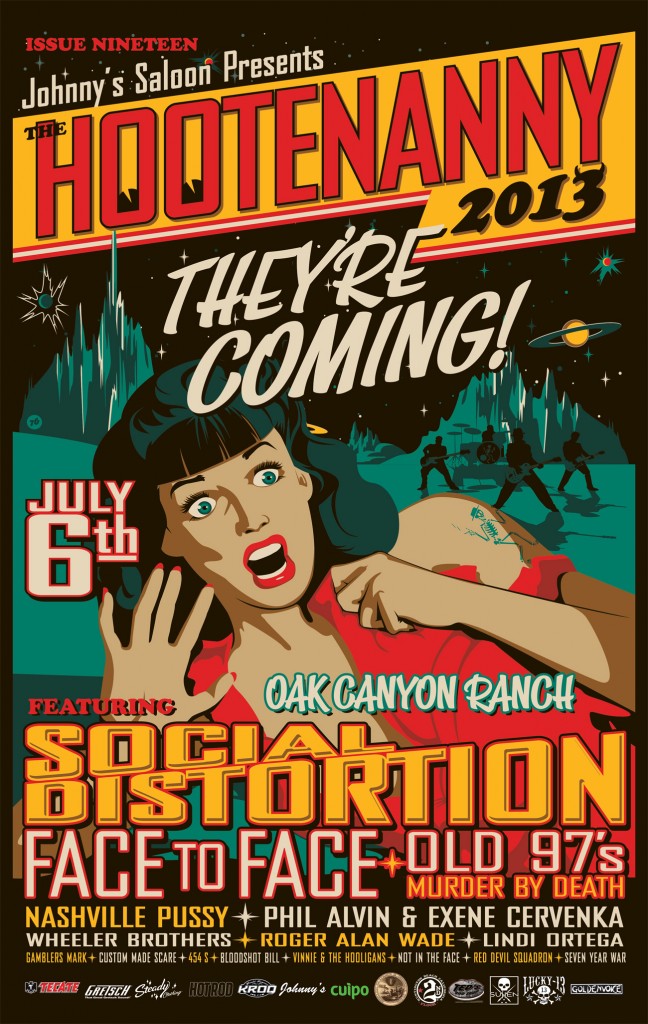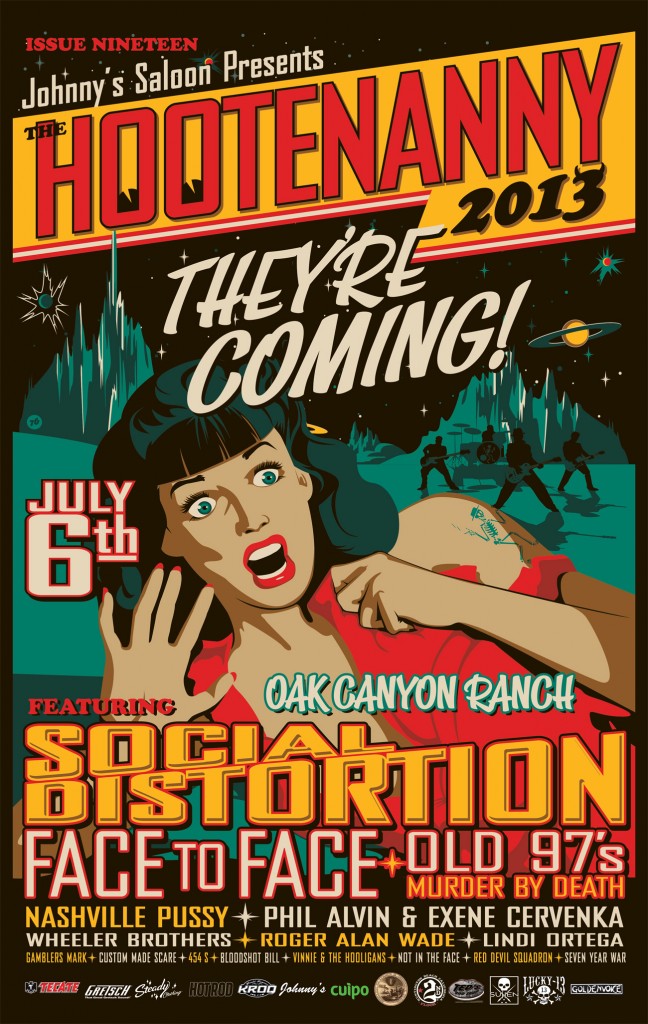 *This is Chris Spitler's first contribution to Unsung Melody. He is Caren's husband and we are thankful he was able to provide us with such a cool recap.
Beneath a clear blue sky and an – atypically – temperate sun, the shores of Irvine Lake were once again awash with the strains of the Hootenanny rhapsody. This year boasted the expected eclectic line-up, with sounds ranging from country twang to rockabilly rumble and pounding punk; all the things that make life worth living. L.A. Punk legend Exene Cervenka was even on the bill, teamed with the Blaster's Phil Alvin. Pile on to that some all-day eye candy in the form of sick hot rods and Kewpie-doll pin-ups, and all was set for a great afternoon.
We arrived late into Gambler's Mark set, most of which came floating over to us in the will-call line. This was disappointing because their strong rhythm section and slick ska-billy arrangements make them a band worth following. By the time we hit the lawn, they were wrapping up their last number – damn. Hopefully, we'll draw a better hand next time…
The disappointment was short-lived however, when Bloodshot Bill hit the stage and exploded in a whirlwind of steel guitar growl and cacophonous howl of maniacally cartoonish surf-scat, all punctuated by floor tom and high-hat. Crazy cool, hep cat!
Wandering about for a peek at the vendors and an icy refreshing lemonade ("Now with Blueberry!"), led us to the always-exceptional display of vintage and classic American metal; and then past the side stage where we caught the antics of Red Devil Squadron for a bit, before we realized that Lindi Ortega was on the main stage. We caught the end of her apparently excellent set, which closed with just her smoky vocals gliding over a crunchy-crisp guitar line dripping with mile-deep reverb grinding out a country-fried soul version of Aretha's "I Never Loved a Man." She may look tiny, but make no mistake, this little country cutie is a mighty musician with a simply amazing set of pipes.
Beneath the merciful shade of a spreading tree, the crazy-quilt of lifestyles and personalities that make up the Hootenanny demographic were once again metaphorically joined arm-in-arm as we sang along with Roger Alan Wade, who once again reminded us that "we are one big-ass happy family, in one big-ass family tree." Barn-yard cousin to Johnny Knoxville (clearly visible watching from the side of the stage), Roger gave us his usual whisky-soaked foul-mouthed irreverently sincere string of mini-songs, mixing lowbrow humor with honest sentiment, and not-too-shabby guitar licks. Always a highlight.
Next came perhaps the most unusual entry on the days program, the Wheeler Brothers from Austin, Texas. They brought with them a uniquely melodic mix of country blues-pop, delivered with an infectiously lively energy that seemed to surprise, and generally win over the sun-soaked crowd.
After a short break, during which the crowd was treated to some beautiful girls competing for the coveted title of "Miss Hootenanny," it was revealed (but not explained) that there would be no set from Exene and Phil Alvin – bummer.
Again, the disappointment was only momentary, as Nashville Pussy seized the stage and tore their way through a blistering set. They looked great and sounded even better. The Old 97s followed on their heels, delivering a well-crafted set of high-energy tunes. The crowd was now pumped up for the double-barrel punk-splosion to come.
They didn't have to wait long, as local legends Face to Face strode on stage and slammed into a no-apologies set of fearless fretwork and assault-weapon grade riffs, driven by the freight-train intensity of front man, Trever Keith, who kept the set cracking along with an equal mix of epithets and one-liners. Finally on the Hootenanny stage, the band made it clear, through their white hot energy, they plan to be back.
The knockout punch was thrown with uncompromising gusto by heavyweight headliner Social Distortion, who laid down a satisfyingly long set of old and new greats, Mike Ness sliding effortlessly from one classic punk anthem to another, surprising even himself with the youthful exuberance pouring forth from the sunbaked stage. This legendary band displayed the passion and power of an outfit far younger than their triple-decades would suggest. And the fans ate it up – with grilled onions, chipotle sauce, and sweet potato fries. The trees shook with the raised voices of punk rebels united in their love for some damn great rock and roll.
An excellent finish to an almost-perfect day. As we round the bend, sunset glinting off the lake, Hootenanny 2013 disappears into the rear view, and we cast our dreamy thoughts ahead to next years' bash, and what the days in-between may bring.